The Truth About Travis Barker's Friendship With DJ AM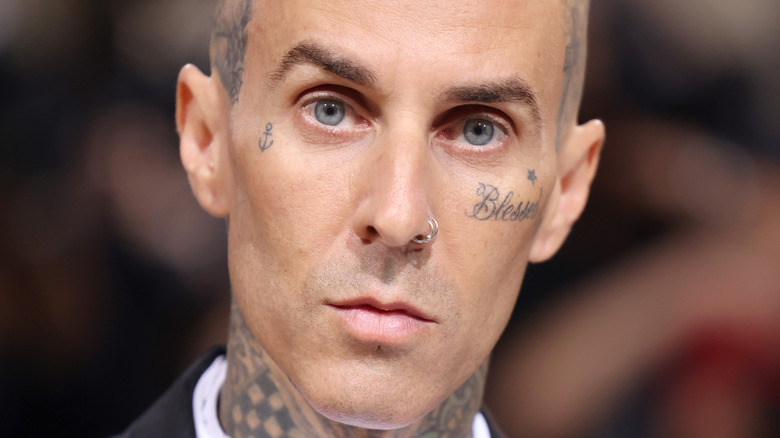 John Shearer/Getty Images
Travis Barker might best be known as the overly affectionate tattoo-clad boyfriend of Kourtney Kardashian by most of Gen Z, but for music lovers, he'll always be known as the rowdy drummer with a chip on his shoulder who found fame and fortune as part of the pop-punk trio Blink-182. 
The group's debut record "Cheshire Cat" gained traction during the early years of San Diego's skate punk scene, but its lilting melodies and racing beats were only a hint of things to come. The punk-rock trinity gained international fame and with the release of their chart-topping third album, "Enigma of the State," that featured lyrical themes of young love, adolescent frustration, and a soft sense of rebellion belted out over the backdrop of catchy pop melodies.
Barker — along with bandmates Mark Hoppus and Tom DeLonge — took an indefinite hiatus in 2005, according to MTV. The heaviness of being successful was replaced by the lightness of being new, allowing each member of the band to pursue new projects. By 2008, Travis Barker had become involved with up-and-coming DJ Adam Goldstein — known professionally as DJ AM — under the name TRV$DJAM. While their collaboration would become one of Barker's better known projects, it was ultimately short-lived and marred by tragedy.
Travis Barker and DJ AM formed a drum-and-turntable duo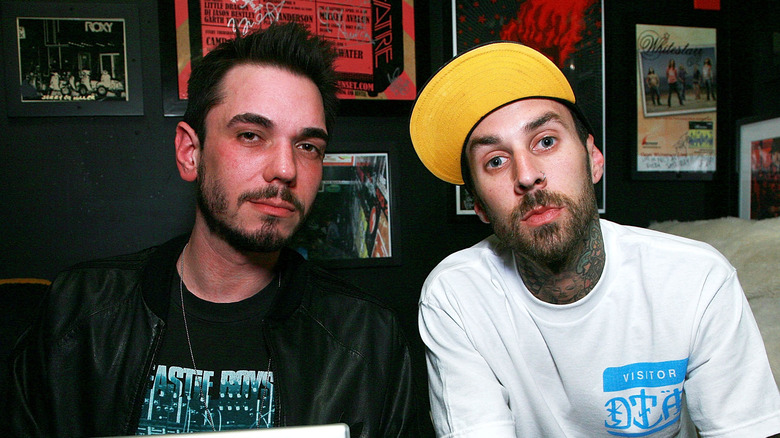 Tiffany Rose/Getty Images
DJ AM made a name for himself as a highly sought-after disc jockey who performed at some of Hollywood's most exclusive parties. He later gained notoriety for his high-profile romances with reality star Nicole Richie — the daughter of singer Lionel Richie — and singer-turned-actress Mandy Moore.
DJ AM began collaborating with Travis Barked under the name TRV$DJAM, with the drum-and-turntable duo performing their first string of shows in 2008 at The Roxy Theater in Los Angeles. It was during the doublet's premiere performance that they dropped their first mixtape, "Fix Your Face."
The pair continued to book shows to promote their debut album. They joined forces with Jane's Addiction frontman Perry Farrell and singer-songwriter Gavin Degraw in September 2008 to perform a free concert for college students in Columbia, South Carolina. After wrapping up their performance, Barker and DJ AM boarded a private jet back to California with their entourage, unbeknownst of the tragedy that was about to strike.
Tragedy struck twice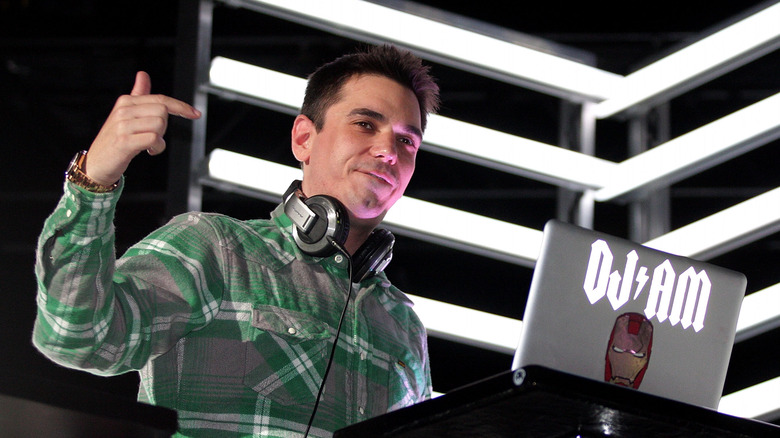 Noel Vasquez/Getty Images
As the Learjet 60 carrying Travis Barker and DJ AM barreled down the runway at 150 MPH, all four tires exploded, causing damage to the plane's hydraulic system, which in turn caused the plane's brakes to fail. As Today reported, the plane "skidded off the runway and burst into flames after striking an embankment." The disaster took the lives of the jet's two pilots, along with Travis Barker's assistant and security guard. Miraculously, both Barker and DJ AM managed to escape the burning wreckage, although both suffered serious burns and faced a long recovery.
Unfortunately, tragedy would strike twice for Travis Barker. Less than a year after surviving a harrowing plane crash, DJ AM passed away at age 36. The DJ and entrepreneur was found dead in his New York City apartment in August 2009 of an accidental drug overdose. The musician had been considered a model of addiction recovery, with 11 years of sobriety under his belt. Barker was distraught by the sudden loss of his friend and partner, Tweeting at the time: "My brother is gone. I love u and miss u, I'll never forget all the good times we had." He went on to write, "I'll never forget everything we've been thru and every time I play the drums I'll think of you. U were an amazing friend/DJ/human being." Barker hasn't forgotten his old pal, and continues to commemorate the disc jockey every year on the anniversary of his death.