Khloe Kardashian's Baby News With Tristan Thompson Sends Twitter Into A Tailspin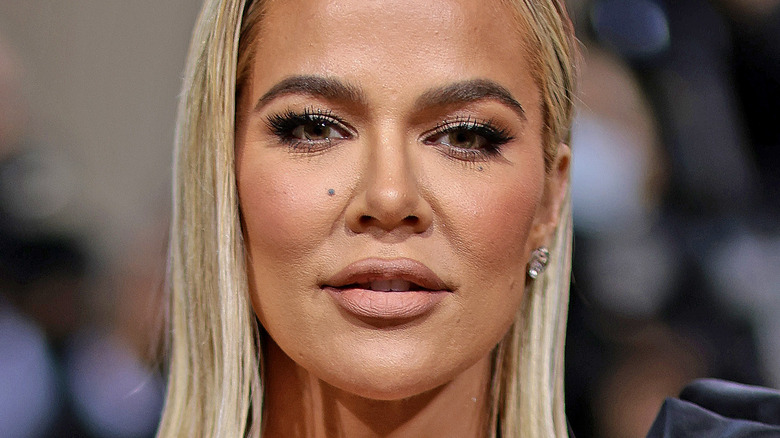 Dimitrios Kambouris/Getty Images
Khloé Kardashian's relationship with Tristan Thompson just got a whole lot more complicated. But first, let's recap: The reality star and NBA player, who share daughter True, notably dated (and were engaged, if you believe the rumors) on and off for five years before parting ways for good in 2021. They got embroiled in multiple cheating scandals throughout the course of their relationship, with Thompson most recently having fathered a child with another woman when they were still together. While Kardashian tried her best to keep their family together, she ultimately broke it off following the series of scandals. "I still think he's a great guy, and he's a great dad. He's just not the guy for me," she confessed during an April ABC News special.
Things had been looking up though, with reports that Kardashian had started dating a private equity investor she met through her sister, Kim, amid Thompson's reported attempts to reconcile. As an insider told People, the Good American founder's relationship with the mystery man is in its early stages, but she's excited about the prospect. 
But now, it looks like Kardashian and Thompson's relationship is far from over, as the two are having a baby via surrogate.
Twitter struggles with Khloe and Tristan's baby news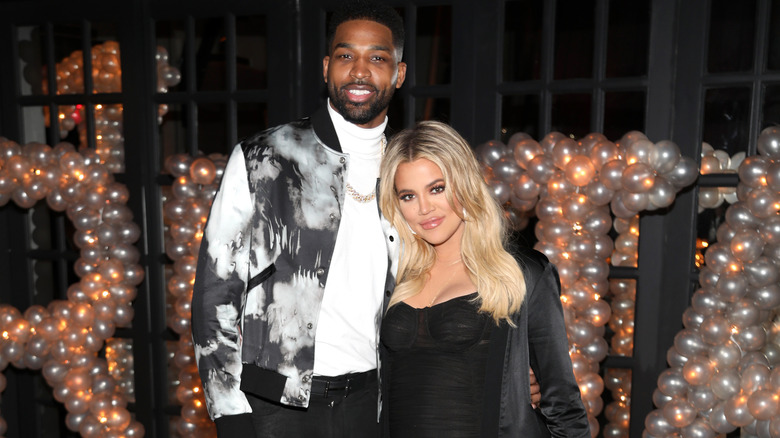 Jerritt Clark/Getty Images
People online can't seem to wrap their heads around the fact that Khloé Kardashian and Tristan Thompson may be back together again. Or are they really? A statement on behalf of Kardashian seems to be telling. "We can confirm True will have a sibling who was conceived in November. Khloé is incredibly grateful to the extraordinary surrogate for such a beautiful blessing," they told Page Six. "We'd like to ask for kindness and privacy so that Khloe can focus on her family." Interesting how there's no mention of Thompson, right?
Still, Twitter can't help but react, with fans expressing major surprise and disappointment. "Khloe Kardashian has 74 siblings and not one of them told her to leave this man?" one fan quipped. "So Tristan Thompson agrees to have another baby with Khloe Kardashian via surrogate knowing damn well another woman is carrying his baby," another fan pointed out. Meanwhile, a user expressed dismay, saying, "Khloe has literally been embarrassed in front of the world countless times. i really want women to stop allowing their very valid want for kids to cloud their judgements on who to have them with."
It's not clear whether the former couple is or will get back together, but Kardashian has always been open about wanting another child. "I might get some embryos and get a sibling," she told Thompson in a "Keeping Up With The Kardashians" 2020 episode, per E! News. "I might need to borrow some sperm or get some from you, but we'll figure that out later." That "later" is now, we suppose!