Inside Donald Trump's Tribute To Ivana Trump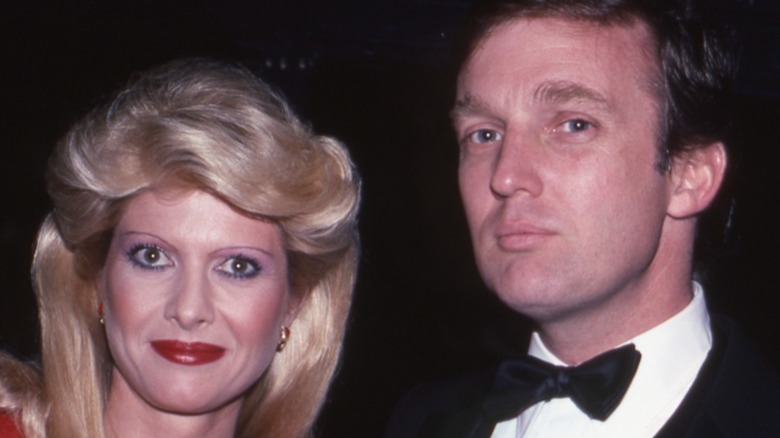 Sonia Moskowitz/Getty Images
On July 14, ABC7 New York confirmed that Donald Trump's ex-wife, Ivana Trump, had died at age 73. Responding to reports of a cardiac arrest, the FDNY found Ivana dead at her Manhattan home when they arrived on the scene. The Czech-born businesswoman was Donald's first wife, and mother to Ivanka, Don Jr., and Eric Trump. "Our mother was an incredible woman — a force in business, a world-class athlete, a radiant beauty, and caring mother and friend," the Trump family said in a statement (via Page Six). "She will be dearly missed by her mother, her three children, and ten grandchildren."
Though Ivana and Donald had a contentious divorce — largely due to his affair with Marla Maples, who he went on to marry — she and the former president reconciled in later years. In fact, when Donald ran for president in 2016, Ivana revealed that she had been quietly advising him from the sidelines, according to the New York Post. "We speak before and after the [political] appearances and he asks me what I thought," Ivana shared, adding that she coined Donald's, 'You think it I say it' catchphrase. In her novel, "Raising Trump" (via The Guardian), Ivana also mentioned that she and her former husband speak "about once a week." During an appearance on Good Morning America, the Trump matriarch further boasted about "having the direct number to [the] White House." 
Given that the pair were on such good terms, Donald shared his own heartfelt statement about her death.
Donald Trump called Ivana Trump an 'amazing' woman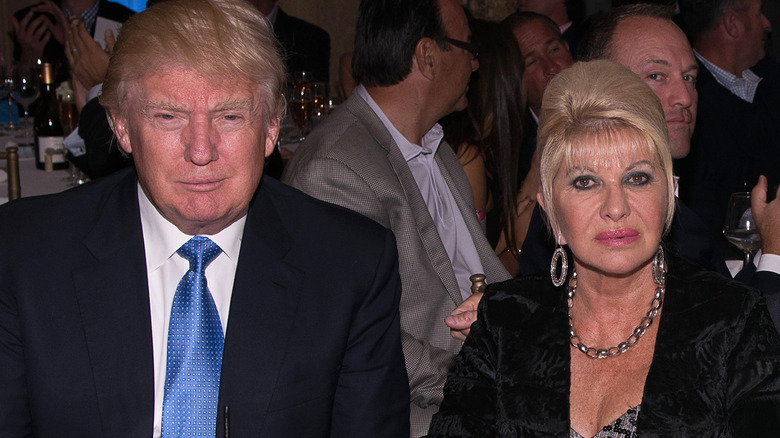 Dave Kotinsky/Getty Images
Taking to his newly-launched social platform Truth Social, Donald Trump confirmed Ivana Trump's death on July 14. "I am very saddened to inform all of those that loved her, of which there are many, that Ivana Trump has passed away at her home in New York City," Donald wrote. "She was a wonderful, beautiful, and amazing woman, who led a great and inspirational life. Her pride and joy were her three children, Donald Jr., Ivanka, and Eric." He concluded, "She was so proud of them, as we were all so proud of her. Rest in Peace, Ivana!" The original post has received thousands of likes and counting, in addition to being widely reshared on Twitter (from which Donald is banned).
Donald's words about familial pride appear to ring true, as Eric Trump has since taken to Instagram to share the news. There, he reposted the family statement and included a carousel of throwback photos with his mom. Ivanka Trump is reportedly "in shock" about her mother Ivana's death, as a source told The New York Post. The insider called the pair "super close," adding that Ivana had been spending time with her children in the lead-up to her passing. Indeed, family was always at the cornerstone of Ivana's life. "No matter how busy I was, I had breakfast with my children every day," Ivana wrote in "Raising Trump" (via ABC News). "Our bond was, and is, our most valuable possession."
Tributes continue to pour in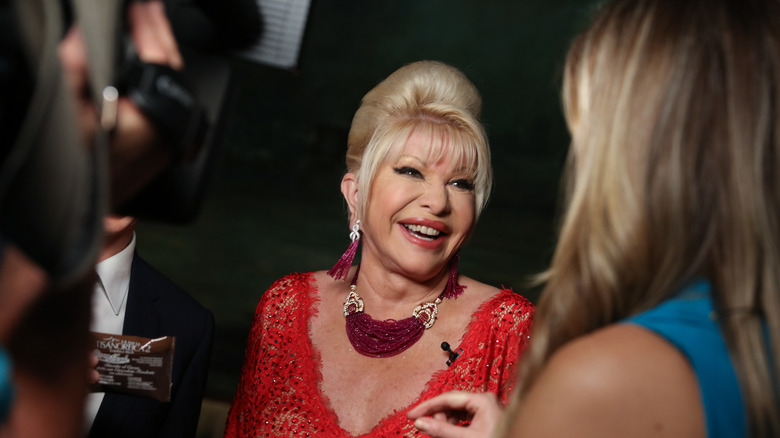 Rebecca Smeyne/Getty Images
Donald Trump's Truth Social note that Ivana Trump was loved "by many" certainly stands to reason, as evidenced by the countless tributes paid to her.
In addition to the devastated statement issued by Ivana's children, prominent figures in the worlds of media and politics alike have opened up about their personal memories with the former model. Piers Morgan took to Twitter to reminisce on how much fun he had interviewing her. "She was a fabulously entertaining lady," he wrote. Canadian TSC host Norm Murray had similar memories with the late businesswoman. "Truly one of the most charming, interesting and unique personalities I have ever had the pleasure of meeting and working with," he shared via Instagram. Tribute was also paid by former New York City Mayor, Rudy Giuliani, via Twitter. "Ivana Trump was a truly talented, creative and beautiful person," he shared. "She contributed greatly particularly to New York."
Ivana's loved ones in the fashion industry have also taken to social media to mourn their loss. Italian model Eleonora Pieroni shared an Instagram post detailing her most cherished memories with Ivana, including "many laughs together during our lunches at Cipriani." However, Ivana's close friend and fashion designer Domenico Vacca was unable to express his grief. "Too sad to write anything now," he lamented. "I am really sad and in pain." In death, as in life, Ivana made an impact. Her passing will surely be felt by those closest to her for years to come.