Joe Rogan's Controversial Comment On Unhoused People Is Met With Fury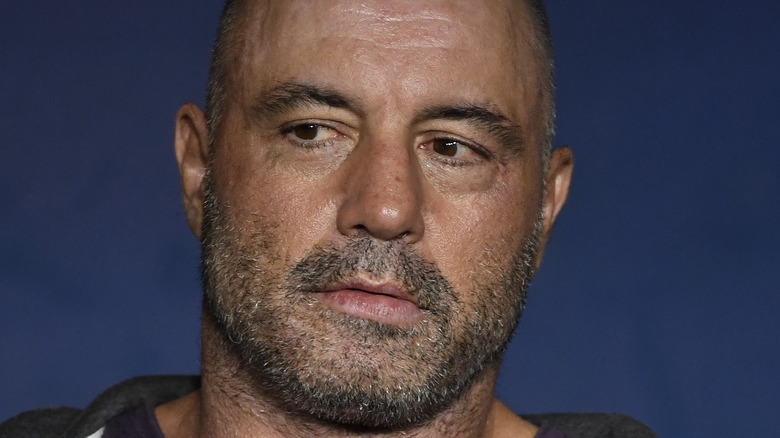 Michael S. Schwartz/Getty Images
"The Joe Rogan Experience" has been online since 2009, but the podcast's already massive popularity and impact reached new heights after taking on a political bent. In fact, The New York Times called it, along with Rogan himself, an "unlikely political influencer" ahead of the 2020 U.S. presidential election, raising the profiles of candidates like Andrew Yang and Tulsi Gabbard. Now a Spotify exclusive, each episode of "The Joe Rogan Experience" averages 11 million listens, per The Hollywood Reporter.
In both senses of the word, a major part of the podcast's appeal is its agenda. Often interviewing controversial guests shunned by other platforms, "The Joe Rogan Experience" highlights people and conversations you're not likely to hear anywhere else, for better or for worse. Also, Rogan doesn't necessarily identify with one political party or ideology, endorsing both progressive Bernie Sanders in 2020 as well as Republican Ron DeSantis in the upcoming 2024 election. Rogan has also criticized former President Donald Trump, accusing him of drug use. In 2021, Rogan faced particular scrutiny for an episode of "The Joe Rogan Experience" in which he interviewed Robert W. Malone, a physician who has spoken out against the COVID-19 vaccines.
As of late, he hasn't just left the controversy to his guests. Rogan continued to make several anti-vaccine statements himself, and old episodes have resurfaced in which he said the N-word. Even still, the podcast host has just made one of his most inflammatory comments yet.
Joe Rogan joked about shooting the homeless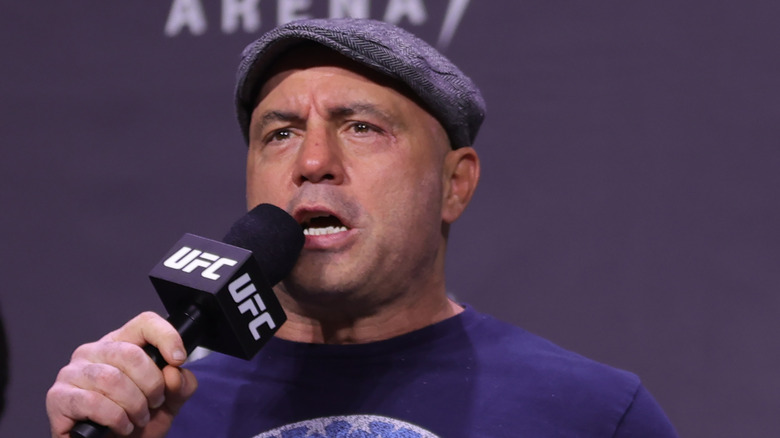 Carmen Mandato/Getty Images
In the July 14 episode of "The Joe Rogan Experience," Joe Rogan spoke with comedian Tom Segura about the unhoused people living in encampments in Los Angeles. When Segura described the encampments as "protected property ... by law," Rogan hit back, saying, "But they wouldn't arrest you if you shot somebody. Maybe you should just go shoot the homeless people."
In context, Rogan's remarks are seemingly a criticism of LA's response to crime rather than a serious suggestion. However, they still rubbed people the wrong way. One person tweeted, "Joe Rogan being a millionaire and saying we should shoot homeless people is basically the most American thing anyone has said ever." Another echoed their reaction, tweeting, "Sickening. Joe Rogan, who's worth millions, pontificates on the plight of homeless people, then decides the best solution may be just to 'shoot the homeless people.'" Some people took Rogan's comments to heart, tying them into recent instances of gun violence: "We live in a country where we wait for some crazy Joe Rogan fanatic to shoot a homeless person in order for people, like him, see that what they openly say has consequences."
Rogan previously lived in LA until moving to Austin, Texas in 2020. This isn't the first time he's criticized the city, having a past conversation with Ben Shapiro about its supposed decline. Rogan has yet to respond to the backlash, but time will tell if his next episode addresses it.