The Place Ivana Trump's Remains Were Taken After Her Funeral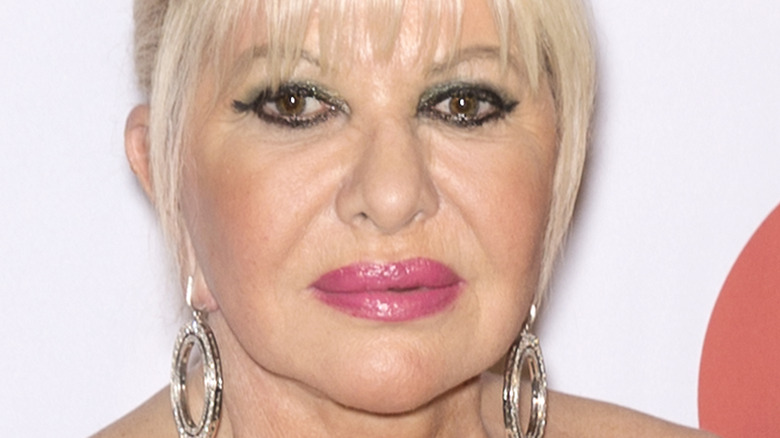 Ovidiu Hrubaru/Shutterstock
Ivana Trump's funeral took place in New York City on July 20, six days after her tragic death. As previously reported, Donald Trump's first wife and the mother of his three eldest children, Eric, Donald Jr., and Ivanka Trump, died in her home on July 14 after an apparent fall down the stairs. New York City's medical examiner later confirmed that the 73-year-old died of "blunt impact injuries of torso" (via Us Weekly), and declared her death was accidental.
A surprising array of guests attended Ivana's funeral, which took place at the St. Vincent Ferrer Roman Catholic Church on Manhattan's Upper East Side. Among them were her children, her friends, and her first husband, Donald Trump, who arrived with wife Melania and their son, Barron. The family was adamant that the service wouldn't be a solemn occasion, but rather a joyous celebration of her life. As society columnist R. Couri Hay, who was present, told People, they achieved that and more. 
"The room was filled with joy and drenched with tears," Hay shared. Amid the most touching moments were undoubtedly Ivanka and Eric's eulogies. While she called their mom a "trailblazer," he dubbed her "a force of nature." Following the private mass, the entire Trump family was photographed exiting the church behind the late businesswoman's golden casket before proceeding to her burial service. It was a private affair kept under wraps and away from photographers, but we're now learning a number of new details about it.
Ivana Trump was laid to rest at... a golf club?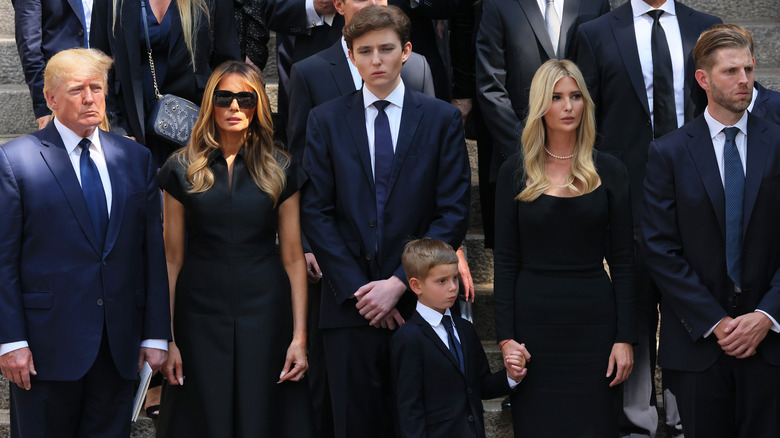 Michael M. Santiago/Getty Images
Once the service at Manhattan's St. Vincent Ferrer Roman Catholic Church came to a close, Ivana Trump's golden casket was carried into a hearse, which drove off leading a procession of family and friends down 9th Avenue, per the Daily Mail. The vehicle eventually entered the Lincoln Tunnel and drove the 50-odd miles to New Jersey to arrive at the Trump National Golf Club Bedminster. That's where Ivana's burial service and a private reception were held.
According to one insider who spoke with the New York Post, Ivana was laid to rest at the Trump National Golf Club cemetery as family and a handful of select friends looked on. The source also shared that former president Donald Trump (who didn't speak at the church service) said a few words, praising Ivana as strong and incredible. Their three kids also spoke. The 73-year-old was reportedly buried near the main clubhouse of the private club, which calls itself "the perfect destination for families seeking privacy and exclusivity." As the insider explained, "They have a private grassy area. It's just a very discreet piece of granite engraved with her name."
Back in 2017, The Washington Post reported Donald was planning to build a 10-plot cemetery for his family at the golf club, which would overlook the first hole. According to plans filed with authorities in 2014, "[He] specifically chose this property for his final resting place as it is his favorite property."
Who will inherit Ivana Trump's fortune?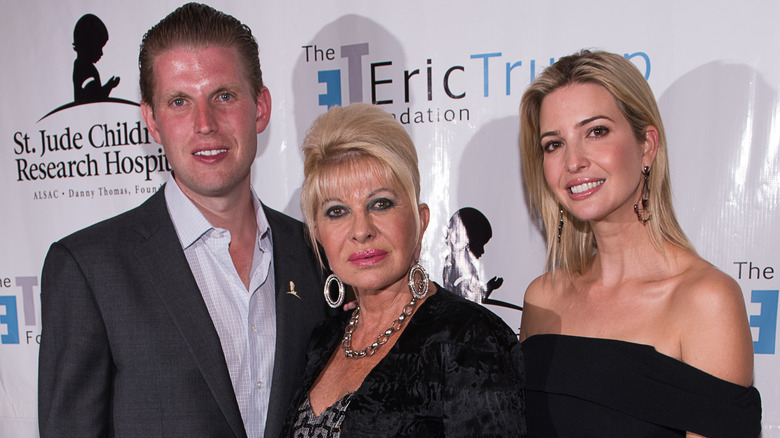 Dave Kotinsky/Getty Images
Ivana Trump once told Entertainment Tonight that she wanted to be known "as a good person [and a] good mother." Hearing her kids pay tribute to her, it's clear she succeeded on both counts. Speaking at her mother's funeral, Ivanka Trump gushed, per the New York Post, "Growing up, my mother didn't tell me a woman could do anything she wanted to — she showed me." She also shared how Ivana once taught them to catch fish, how she exemplified an impressive work ethic, and how she "expanded our minds."
Now, in addition to the life-shaping lessons she's left them with, Ivana will likely leave them with millions. At the time of her death, the Olympian-turned-model-turned-businesswoman had an impressive net worth of $100 million. She earned a large chunk of that when she and Donald Trump divorced in 1992 and she walked away with a reported $14 million, per Radar, plus $650,000 in child support, per the South China Morning Post. After that, she made her own fortune by launching various fashion and beauty projects, including the Ivana Haute Couture jewelry brand, which she sold on Canada's Shopping Channel, per NPR.
Staying true to her vow to always be a good person, Ivana's funeral was a charitable affair, as guests were asked to donate to Big Dog Ranch Rescue, per People. And while no will has been revealed, we can assume she'll continue with her mission in death as in life, likely leaving her fortune to her children and perhaps to some philanthropic causes.