What Really Happened Between Tristan Thompson And Larsa Pippen?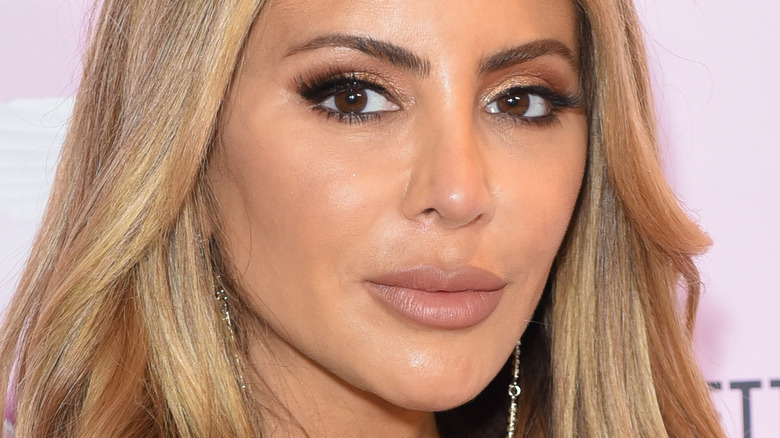 Presley Ann/Getty Images
So we all know about Tristan Thompson's history with Khloé Kardashian. The twosome's dramatic ups and downs have been very well documented over the years, from their blissful beginnings, to the birth of their daughter True, to all those notorious cheating scandals.
Amongst them? When Thompson was accused of being unfaithful to Kim Kardashian's sister in 2018, mere days before Khloé gave birth to True. Their time apart didn't last too long though and the couple found themselves back together again, only for Thompson to court controversy again the following year when rumors swirled he got a bit too close to Kylie Jenner's now former best friend, Jordyn Woods. But, sadly, that's not all. After Thompson and Khloé reunited once again, towards the end of 2021, it was revealed that the former had fathered a child with another woman. He issued a public apology via Instagram Stories, telling Khloé in January 2021, per Newsweek, "Khloé, you don't deserve this. You don't deserve the heartache and humiliation I have caused you. You don't deserve the way I've treated you over the years. My actions certainly have not lined up with the way I view you." That wasn't the last time these two hit the headlines though, as July brought the bombshell that Thompson and Kardashian were expecting their second child together via a surrogate.
One thing you may not know about in this saga though? Thompson's romance with former member of the Kardashian inner circle, Larsa Pippen.
Larsa Pippen claimed she once dated Tristan Thompson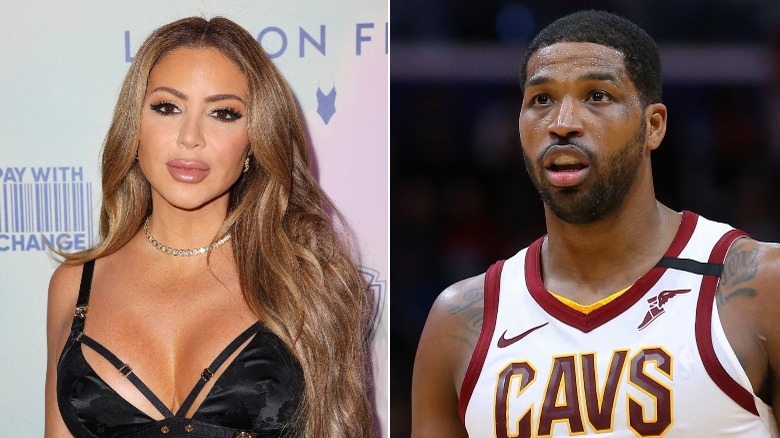 Alexander Tamargo & Jonathan Bachman/Getty
It turns out Tristan Thompson had a previous romance with Larsa Pippen, who you may remember was, at one time, a close friend to Khloé Kardashian's sister, Kim Kardashian. Pippen claimed to "Hollywood Raw" in November 2021, that she, in her own words, "was kinda seeing Tristan before Khloé" started dating him. Not only that, but she said she was responsible for the Kardashian clan getting entwined with the athlete, telling the outlet that it was because she invited him to one of Kim's parties — which is where he met the Kardashian clan for the first time. Then, according to Pippen's version of events, Khloé stepped out with him about 10 days later. "Which is fine, I don't even care. It's whatever," she said. "I'm the type of person that doesn't chase what's not for me. I will never chase a man; I will never put a leash on a man. I don't do that. I feel like, let you be great. If you want to be with other people, go ahead. I'm great by myself."
As for what Khloé made of Pippen's admission? Well, she appeared to cryptically share her feelings via Instagram Stories. Following Pippen's interview, Capital Xtra claimed the reality star posted several quotes online discussing women empowering other women and not being "bitter." Shortly after, she also unfollowed Thompson.
Did Larsa Pippen hook up with Tristan Thompson while he was with Khloe Kardashian?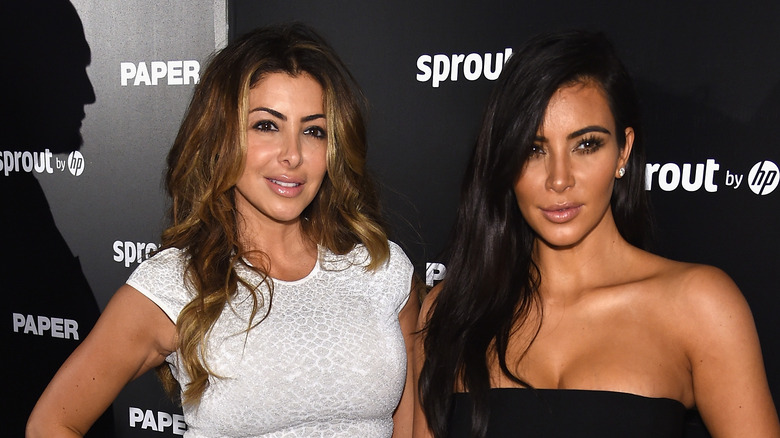 Dimitrios Kambouris/Getty Images
So, we know Tristan Thompson and Larsa Pippen apparently have a bit of a romantic history, but did that crossover into Khloé Kardashian's relationship with him? No way, according to Pippen. "I would never do that. That's not even my personality. If they love each other, then God bless. I think when you have a family with someone, it's really hard to break up," Pippen said on "Hollywood Raw," seemingly referring to the constant cheating rumors that surround the athlete. "I applaud them for working things out. I think it's great they are trying to work on their relationship. I'm really proud of them," she added.
Fans had speculated the Kardashians may have fallen out with Pippen over Thompson, but now that's been denied, what really had Pippen ejected from the inner circle? Pippen claimed to "Hollywood Raw" that Kim's former husband Kanye West wasn't her biggest fan, which may potentially have led to the major fallout. As for what the K family made of her comments, though? A source told Entertainment Tonight they weren't bothered. "They know why they aren't close to Larsa anymore and she's entitled to her opinions," they said. "Khloé and Tristan are in a great place as are Kim and Kanye. Larsa continues to say she doesn't care about no longer being close to the family, but people close to her know she does care and continues to talk about it."