Britney Spears' Racy New Photos Have Fans As Confused As Ever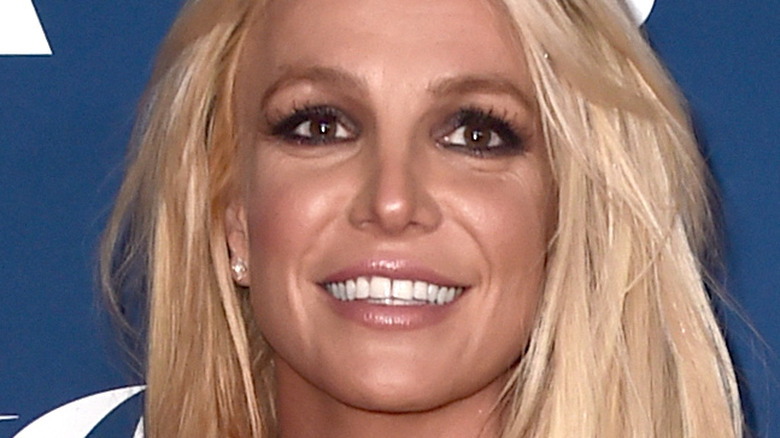 Alberto E. Rodriguez/Getty Images
Britney Spears has always been pretty active online, but her recent string of posts has people expressing concern for the pop star. It was just in April when Spears announced she was going to take a break from posting on her socials. "I'm going on a social media hiatus for a little while !!!" Spears wrote in a now-deleted Instagram post, per The Hollywood Reporter. "I send my love and God bless you all." The supposed "break," though, didn't last long, as the singer went on to continue sharing images and footage on Instagram, some of which have been racier than fans would have liked.
In early July, when Spears went on a honeymoon with her husband Sam Asghari, the "Toxic" singer posted several risqué photos of herself while frolicking around the beach. But at the time, she said that she was just enjoying herself, so fans need not worry about what she chooses to share on her page. "No this is not a girls gone wild campaign ... It's simply me living my life !!!" she wrote on the caption in a now-deleted post. "This is what happens when you do a two week yacht island vacation ... jumping from island to island is literally insane !!!"
Fans let her peculiar social media behavior slide at the time, but in her more recent posts, they can't help but question if it was really Spears sharing the seemingly intimate content.
Britney Spears shared a series of topless posts
After having the time of her life on her honeymoon, Britney Spears shared that she's now in London, and she made the announcement by posting several nearly nude photos and videos on Instagram in rapid succession. "Waking up in London with my Cabo thong !!!" she wrote in one post. In another, she shared a video of herself doing a variety of poses, with the background music set to Natalie Imbruglia's "Leave Me Alone" track. "🎃🎃🎃 When's Halloween 😳😳🤓🤓 ????" the caption read.
It didn't take long until fans flooded her comments section expressing concern for the star. "I love you but I'm getting Anna Nicole Vibes. Hope your ok," one fan wrote. "Are you ok?? I feel something is still wrong!" commented another. "All is not right in Brit's world. Something is very wrong and I'm worried about her," said another concerned fan. But there are others who came to her defense, too, saying, "yall are tripping. she's not doing anything that other women arent doing. Stop treating her like a f****** porcelain doll. She's a WOMAN."
Unlike her past racy posts, Spears has yet to offer an explanation as to why she decided to share these kinds of photos. But it doesn't look like there's trouble in paradise between her and Asghari. It's just surreal, man," he told "Good Morning America" of his marriage with Spears. "It's been a minute. It was way overdue for us. And we imagined this thing being a fairytale, and it was."