The Heartbreaking Words Ivana Trump Said To Eric Trump The Night Before Her Death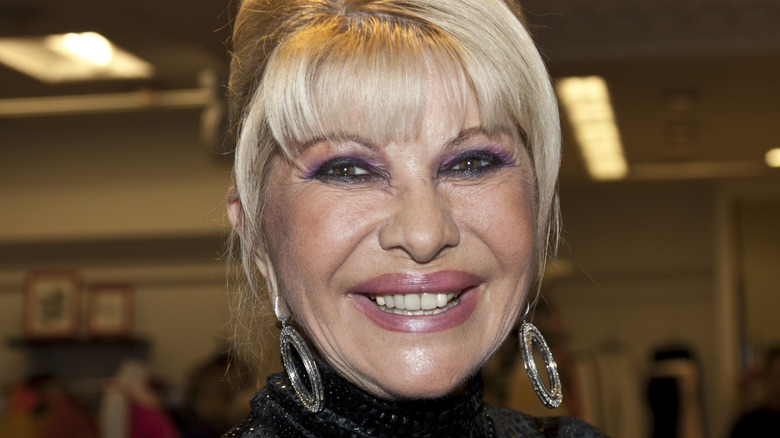 Lev Radin/Shutterstock
Ivana Trump was laid to rest at the Church of St. Vincent Ferrer on Manhattan's Upper East Side on July 20, per CNN. The 73-year-old had been discovered unresponsive at the bottom of her stairs on July 14. The New York City medical examiner ruled Ivana's cause of death was accidental, resulting from "'blunt impact injuries' to the torso," CNN reported.
The unexpected and tragic death of Ivana left friends and family reeling. Her close friend, Nikki Haskell, was still in "complete shock" when she was interviewed the following day. The socialite offered insight into Ivana's life before she died. Haskell said she had become increasingly isolated due to her fear over COVID and her struggle dealing with the death of her ex-husband Rossano Rubicondi. "She hasn't gone anywhere or done anything," Haskell told "Good Day New York." However, she said Ivana had been excited about an upcoming vacation to Saint Tropez they were taking.
Haskell said they'd texted regularly, but Ivana "really became very reclusive," which is a stark contrast to her previous life. Per The New York Times, back in the 1980s and '90s, Ivana and Donald Trump had been at the epicenter of Manhattan nightlife. The couple was a fixture at all the hottest events, restaurants, and high society soirees. The Czechoslovakian-born model-turned-business mogul loved to party as hard as she worked and was full of vigor and life — making the last words Ivana said to Eric Trump the night before her death all the more heartbreaking.
Ivana Trump's poignant and moving last words to Eric Trump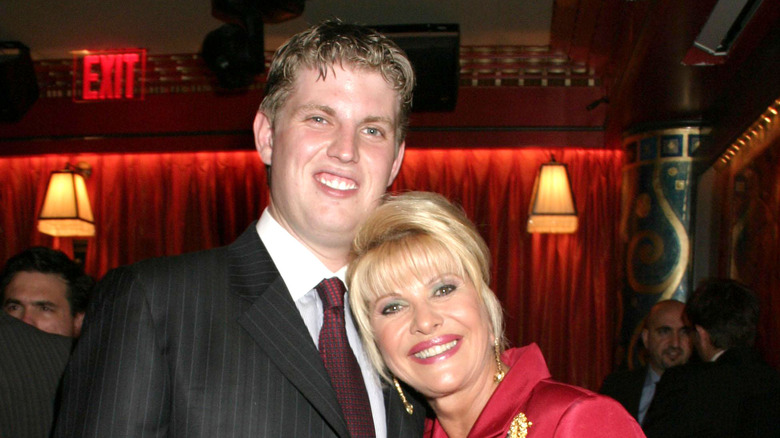 Everett Collection/Shutterstock
Ivana Trump's funeral united the whole of the extended Trump family on July 20. The New York Times reported that Melania Trump and Donald Trump attended with their son, Barron Trump. Ivana and Donald's three children — along with Tiffany Trump, his daughter with Marla Maples — were also among the mourners gathered inside the Church of St. Vincent Ferrer to remember the life of the former pro-skier, model, and businesswoman. While outside on the street, the Secret Service and NYPD jostled with the horde of photographers, reporters, and onlookers surrounding the church steps.
Fittingly, Ivana's coffin was "gold-hued." It sat in splendor on the raised catafalque as loved ones paid tribute to the larger-than-life socialite and mother of three. There were giant arrangements of red roses all around, a placard of Ivana's 1992 Vanity Fair cover that screamed "Ivana Be a Star!" and nuns scattered among the congregation.
Per WWD, Donald Trump Jr. and Ivanka Trump both gave moving speeches during the two-hour-long service. However, Eric Trump's revelation of his mother's last words to him was heartbreaking. He praised his mom's humor, fortitude, style, and "grit." He said that Ivana and his dad "loved each other, they respected each other, and they fought for one another." Then, Eric shared that he had spoken to his mom the night before her death, and that she had told him she would live to be 120 years old. "Only the good die young," Eric recalled her saying.
Ivana Trump is gone but not forgotten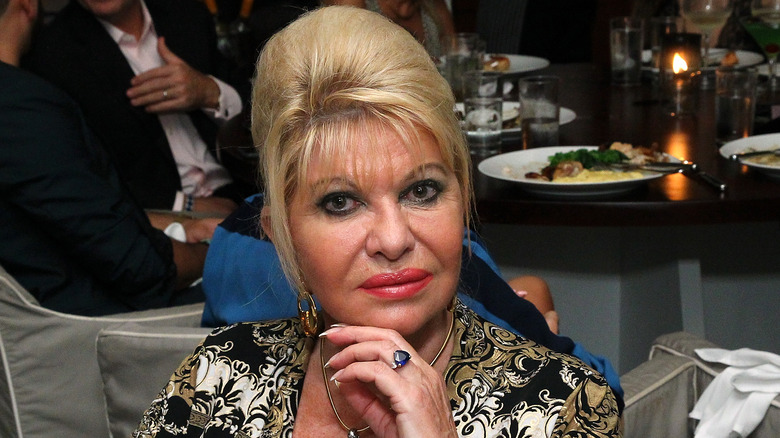 Astrid Stawiarz/Getty Images
Eric Trump's moving tribute to his mom, Ivana Trump, had the congregation in tears. However, Eric's fist-pump as he left the service had the crowd in cheers. The Daily Mail reports that as the family exited the church, they looked stoic, despite their father's supporters yelling, "Trump 2024!" However, when a woman yelled, "We love you! Trump 2024!" Eric retained his mourning look but couldn't stop himself from giving a fist pump. Shockingly, in contrast to his usual animated self, Donald Trump simply "made a hand gesture" to his adoring fans as if attempting to maintain an appropriate level of funeral etiquette.
The Donald took to the specially created media platform he was forced to build following his social media ban to pay respects to his late first wife. "A very sad day, but at the same time a celebration of a wonderful and beautiful life," the 45th president wrote on Truth Social (via Politico) before heading to the funeral. 
Donald and Ivana were married from 1997 until 1992, per the AP. Throughout their marriage, they were business partners as well as spouses. Ivana played an active part in expanding the Trump empire. She took over the running of one of the failing Atlantic City casinos and turned it around. Ivana also played a significant role in the interior design of the Trump Tower in Manhattan. Despite the couple going through a nasty and contentious split, they ultimately managed to forge a friendship over the years.