What Donald Trump Really Gained From His Marriage To Ivana Trump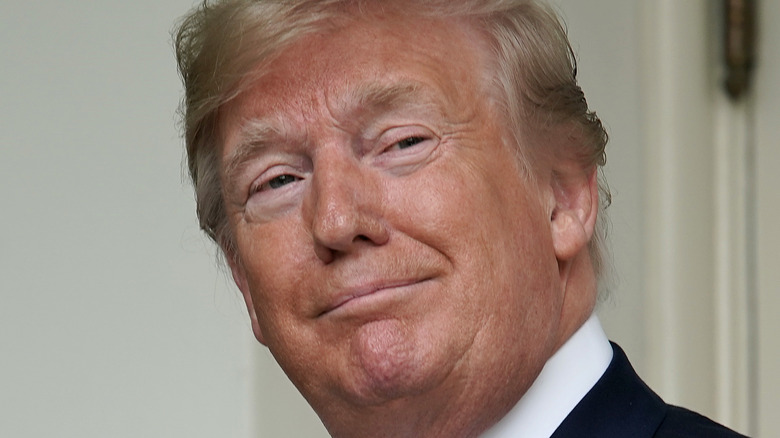 Chip Somodevilla/Getty Images
Donald Trump would not have been as successful without his first wife, Ivana Trump. According to The Washington Post, Ivana "created" the New York mogul, and without her, "The Donald wouldn't exist." Former Vanity Fair editor Tina Brown believes that Ivana was critical to Donald's success. "I do think Ivana was hugely important to Donald Trump's rise — she domesticated the beast socially," Brown told The Atlantic. "Before and after her, you never saw Trump at any top gathering or cultural opening. She brought him into circles he had ogled from outside and created a glamour aura." In 1987 Ivana ran Trump's Castle, his Atlantic City casino, for the salary of "$1 and all the dresses she wants," according to Newsweek. At the time, Ivana compared her job to "running a small city." The Donald repaid his first wife's hard work by having an affair with Marla Maples.
Donald and Ivana's divorce after his affair was ugly and like a "Real Housewives" episode before reality TV was invented! After two years of fighting, The Atlantic reported that after the Trumps' 1991 divorce, Ivana got a lump sum of $14 million, $650,000 a year for alimony and child support, an Upper East Side apartment, and a home in Connecticut. Thirty years after Donald divorced his first wife, White House aide Omarosa Manigault Newman told People that the former president talked to his ex-wife frequently, and Ivana was "one of the very few he listened to." But what Donald gained from his marriage to Ivana might not be what you think.
Donald Trump's divorce from Ivana showed him the value of negative attention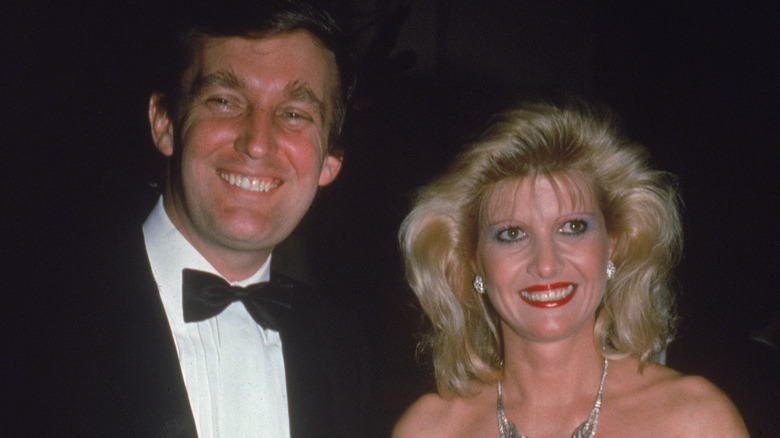 Mark Freed/Getty Images
One of the important lessons Donald Trump learned from Ivana Trump happened during their divorce. Donald learned after the divorce that even negative attention could reap rewards. Trump biographer Tim O'Brien told The Atlantic, "The lesson Trump drew from it was that he could endure a grotesque personal debacle, which he set in motion by his cheating on Ivana, and come out the other side even more an object of interest than he was before." After the New York City couple fought their divorce in the press, Donald's experience added to his superpower.
In a 2019 Washington Post op-ed, columnist Max Boot wrote, "What is the superpower that allows President Trump to fight a never-ending battle for ego gratification, money-making, and the Trump Way? It is a word so ingrained in him that he has no need to even say it: 'Shameless!'" Writer Kurt Anderson believes the former president is addicted to attention, telling The Atlantic, "I've never known anybody who is as dependent on attention as he [Trump] is." The writer continued, "But to me, it is in his case a jones like I've never seen. His obsession with fame is truly pathological ... He had a real addiction." Anderson co-founded the '80s satire magazine Spy, which regularly pranked Trump. Spy sent checks for 13 cents to wealthy celebrities; Donald and Adnan Khashoggi were the only ones to deposit the small checks, per the AP.
Donald took his lessons on negative attention to the White House.
Donald Trump used negative attention to get to White House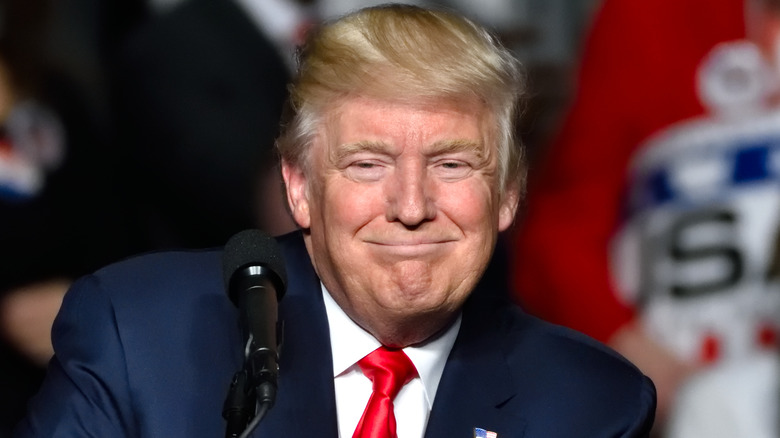 Evan El-Amin/Shutterstock
Donald Trump used negative attention by making scandalous claims in his presidential campaigns. When Trump announced his candidacy in June 2015 at Trump Tower, his outrageous remarks generated enormous news coverage. According to The Guardian, Trump said, "When Mexico sends its people, they're not sending their best. They're sending people that have lots of problems, and they're bringing those problems with us [sic]. They're bringing drugs, they're bringing crime, they're rapists. And some, I assume, are good people." After the New York mogul's announcement, the media constantly covered every word.
According to The Hollywood Reporter, CBS CEO Leslie Moonves told an audience in 2016, "It may not be good for America, but it's damn good for CBS." During a speech at an industry event, Moonves added, "I've never seen anything like this, and this going to be a very good year for us. Sorry. It's a terrible thing to say. But, bring it on, Donald. Keep going." Once Trump was in the White House, the news cycles he created drove huge clicks and ratings for media outlets. 
In 2021, Forbes reported that journalists complained Biden was "boring" after Trump. The complaints caused Biden press secretary Jen Psaki to quip in an interview with Good Luck America (via Insider), "If you find that boring, I don't know. Maybe you should work for Us Magazine and cover scandals in Hollywood." Whether it's news about Trump's fight with the secret service or the MAGA political rallies, the former prez clearly isn't going away soon.