Why Jeffree Star Tried To Start A Feud With Mason Disick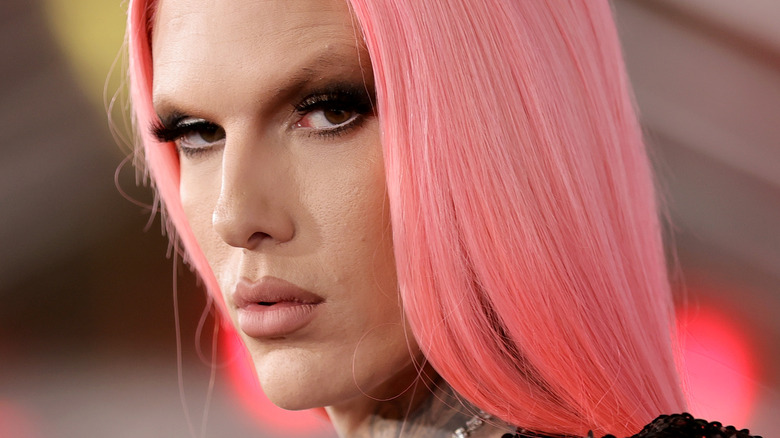 Amy Sussman/Getty Images
Love or hate Jeffree Star, it's hard to deny that the man has a knack for staying in the spotlight. The makeup mogul has had a somewhat remarkable rise to fame, getting his start in the bygone era of MySpace, where he gained fame and notoriety as one of the site's most compelling artists — so compelling, in fact, that he attracted the attention of up-and-coming rapper Nicki Minaj, who made one of her earliest appearances on his 2009 debut album, "Beauty Killer," according to Paper. 
After his music career faded, Star founded Jeffree Star Cosmetics and became a founding member of the YouTube beauty influencer scene, which quickly became notorious for its drama. Regardless of the beef behind the scene, the world of YouTube made Star an incredibly wealthy man.
Star traded in the glitz and glamour of Los Angeles for a more subdued life in Wyoming in 2020 (where he sells yak meat), but Star still has plenty of celebrity beef back in Los Angeles. One of his most surprising feuds might be with Mason Disick, son of Kourtney Kardashian.
Jeffree Star has a history of feuding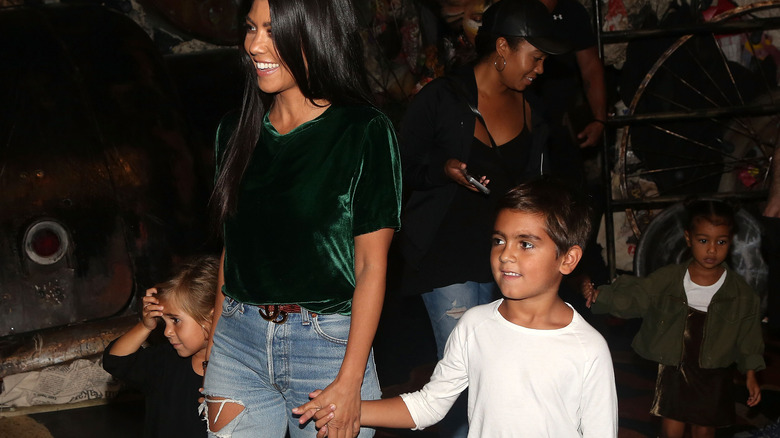 Bruce Glikas/Getty Images
Mason Disick isn't the only member of the Kardashian-Jenner clan that Jeffree Star has feuded with. Heck, even the legendary Kim Kardashian has previously apologized for defending the makeup mogul, which turned out to be an exercise in good judgment considering those left-field rumors that Star had an affair with Kardashian's ex-husband, Kanye "Ye" West, amid their divorce. Still, Disick is a child, so what gives?
The birth of this unlikely celebrity feud traces its roots back to April 2020, when 10-year-old Disick went live on TikTok with Addison Rae, one of the platform's most popular users. During their live session, fellow beauty guru James Charles chimed in and quizzed the live-streaming little one about his favorite beauty guru, and while Disick admitted that he didn't spend much time perusing makeup vlogs, he did have this to say: "I think James [Charles] — he's really nice ... Because Jeffree Star is, like, spoiled AF."
Mason Disick's comments seemed innocent enough, but Star, seemingly burned by the hot tea Mason had spilled, quickly clapped back in a since-deleted tweet (via the Independent): "I had $500 in my bank account six years ago. Maybe he's confused with his own privilege versus mine being self-made, hopefully his father can educate him soon!" And with that, a celebrity feud was born. 
Jeffree Star tried to educate Mason Disick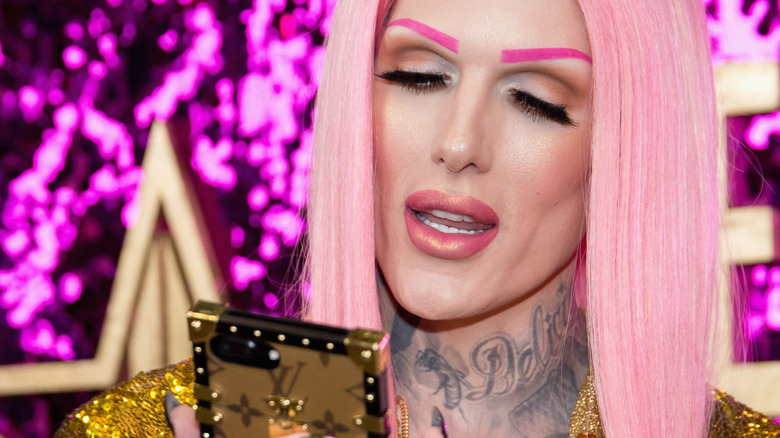 Tara Ziemba/Getty Images
It turns out the Mason Disick wasn't supposed to be on social media at all, Kourtney Kardashian revealed to Vogue Paris. Apparently, Mason had his Instagram account deleted by his parents after refusing to keep it private, but the troublemaking tween went behind their backs and opened up a TikTok account instead. Either way — the fans showed up for Mason and didn't understand why Star felt the need to engage with the minor's shady comment. As one user tweeted, "The fact that Jeffree Star, a grown man, is beefing with a ten-year-old, is hilarious. Mason Disick probably is a spoiled brat but c'mon man...he's TEN."
It looks as though the Poosh founder has put the kibosh on her son's social media presence for now. After an imposter claiming to be Disick appeared on Instagram, Kardashian explained her son had nothing to do with the account, or any others for that matter. "After months and months of thinking you would all know that is NOT Mason on these fake accounts, some of you don't. So I will spell it out clearly: that is NOT Mason on these fake social media accounts talking about our family," the reality star wrote on Twitter in June 2022.