Did Jennifer Aniston And Chelsea Handler Really Have A Falling Out?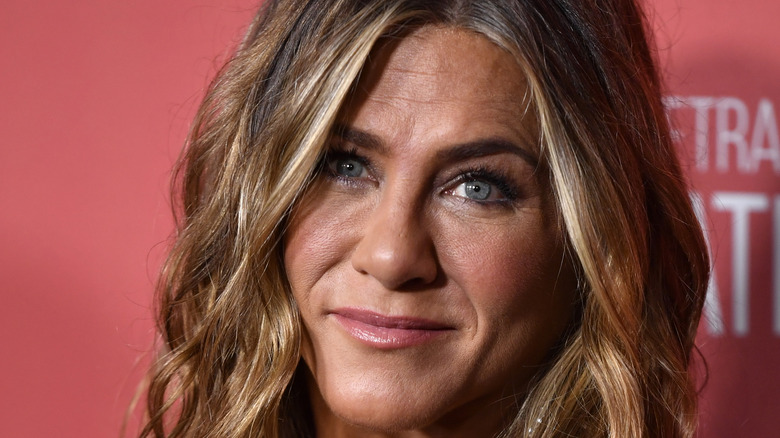 Frazer Harrison/Getty Images
Oh Hollywood, the glamorous epicenter of drama and a breeding ground for celebrity beef. A rift between celebrity pals can be as captivating as the roles they star in, whether it be the fallout between Florence Pugh and Olivia Wilde or Madonna's unlikely spat with Gwyneth Paltrow, fans can't help but stop and gawk. However, the squabble between Jennifer Aniston and Chelsea handler really had us reaching for our popcorn. The two made for an unlikely celebrity pairing: Handler rose to fame as a crass comedian with a caustic sense of humor, while Aniston is the soft-spoken rom-com queen that made a name for herself as Rachel Greene in NBC's "Friends."
Despite their differences, the two leading ladies forged a friendship that many of us thought would last forever. Heck, Handler became one of her gal pal's staunchest supporters when it came to her ex, Brad Pitt. So, did Handler and Aniston really have a falling out?
The two stars formed an unlikely friendship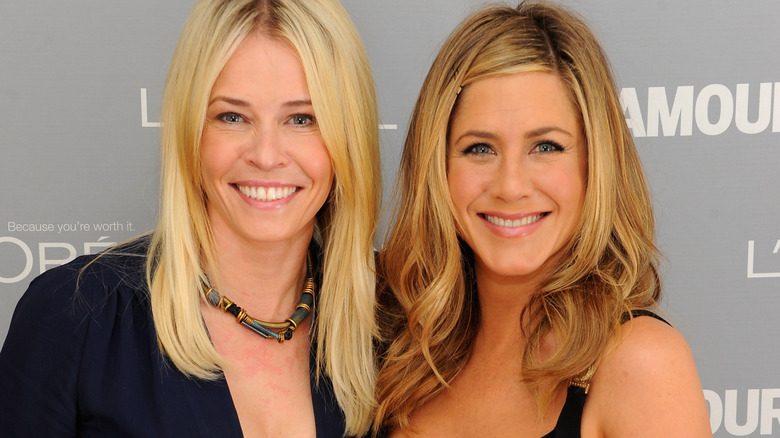 Dimitrios Kambouris/Getty Images
According to Radar, the two stars became friendly after Jennifer Aniston appeared on Chelsea Handler's late-night talk show, "Chelsea Lately," in 2010. Before long, the gal-pals had developed such a tight-knit friendship that at Glamour's 2012 Women of the Year awards, Aniston proudly proclaimed: "I'm madly in love with the one and only Chelsea Handler!" When Aniston tied the knot with Justin Theroux in 2015, the comedian snagged an exclusive invite to the ceremony, and sources say she even tagged along for the honeymoon in Bora Bora.
Eventually, the cracks in their friendship began to show. Sources say Aniston – who is notoriously private – became livid after Handler betrayed her trust. "Jennifer found out that Chelsea was spilling secrets about her marriage, and talking behind her back," a source close to the "Chelsea" star told Radar. "Everyone is surprised over this because they were such close friends, but Jen knew that it had to be someone really close to her that was talking — and found out it was Chelsea! When Jennifer found out, she flipped!" After booting Hander from her elite A-list circle, the outlet reports that Aniston insisted that her longtime publicist, Stephen Huvane, drop the comedian as a client. Ouch!
They appear to be on good terms now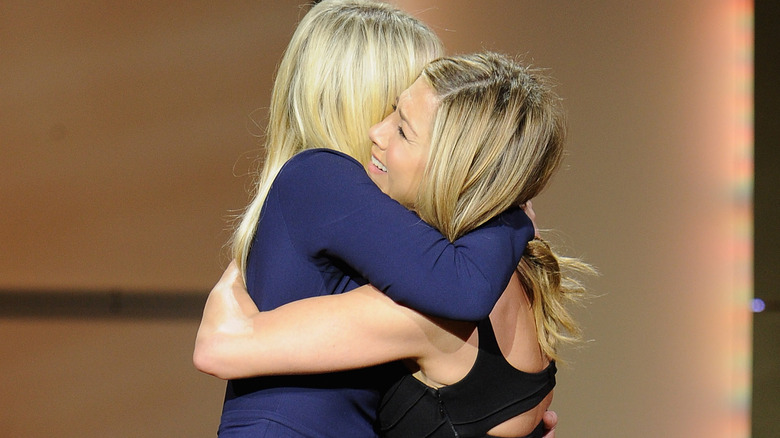 Theo Wargo/Getty Images
Chelsea Handler and Jennifer Aniston never explained the rift in their friendship, and it seemed like the two were at odds for years. However, in a surprising turn of events, the comedian was invited to Aniston's 50th birthday celebration in 2019, and it appeared that the two had finally patched things up. "No one but Chelsea and Jen know what happened between the two of them, but whatever is it, they have both moved past it and are friends again!" sources familiar with the matter told Straight Shuter, via Radar.
The demise of Aniston's marriage to Justin Theroux might have had something to do with their reconciliation. "Chelsea is the perfect wing woman for Jen, and they're already planning some single-gal getaways," sources explained to OK! Magazine. "They're really going to let their hair down."
Meanwhile, the "Chelsea Lately" host was asked by "The Project" guest host Katie 'Monty' Dimond if she and Aniston were still pals. "We are! We are! Don't read those magazines! Don't believe any of it!" Chelsea explained. "We're friends. Don't worry... I love Jen."