Brad Pitt Reveals What He Really Thinks Of Daughter Shiloh's Dance Career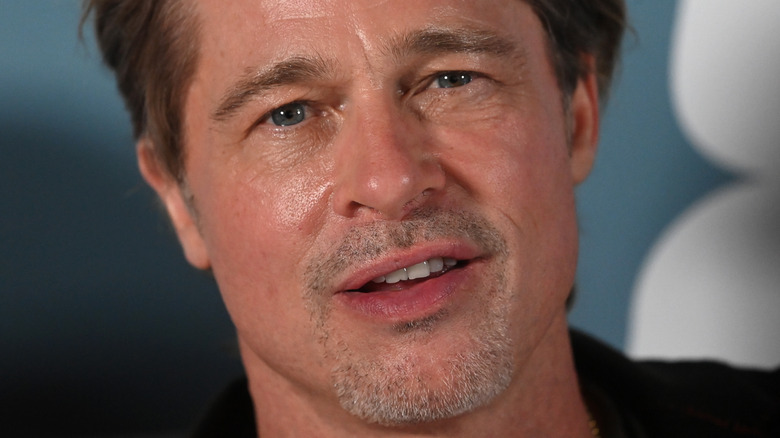 Dave J Hogan/Getty Images
Brad Pitt plays many roles in his life, and his career as a world-class movie star is one of them. The actor has appeared in countless hit movies like "Fight Club" and "Ocean's Eleven," and there's no doubt he is one of the most recognizable faces in the industry. But even though fans mostly know Pitt for starring in one hit film after the next, Pitt also plays another crucial role in his personal life: that of a father.
Pitt and his ex-wife, Angelina Jolie, share six children — Maddox, Pax, Zahara, Shiloh, and twins Knox and Vivienne. The famous family seems to keep things under wraps as much as possible, but fans will catch glimpses of the Jolie-Pitt bunch posing on the red carpet every once in a while, making for a photo-worthy moment. In 2021, an insider told E! News that Pitt is a great father who truly wants what's best for his brood. "He supports his kids and what makes them happy," the insider spilled. "They are old enough now where they can make decisions, and he doesn't stand in the way. He's encouraged them to be whoever they want to be." The same source revealed that the movie star "spends low-key time with his kids at home," and he likes to keep most moments with his kids out of the public eye. 
Meanwhile, daughter Shiloh Jolie-Pitt has been making a name for herself in the dancing world, and fans aren't the only ones impressed by her moves.
Brad Pitt is beaming with pride over Shiloh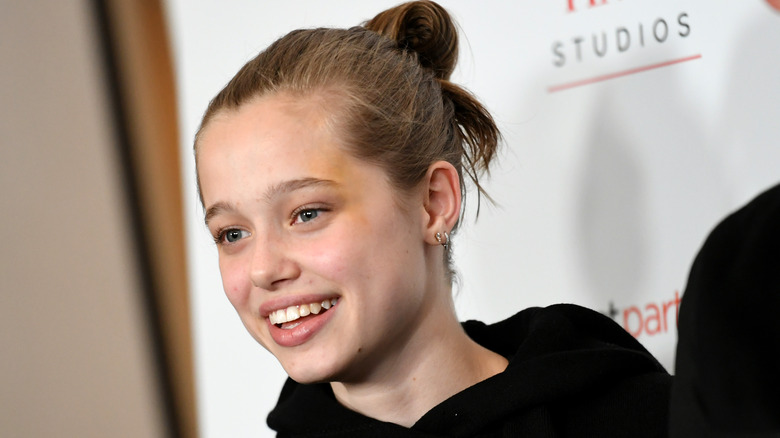 Jc Olivera/Getty Images
Brad Pitt is one proud papa. As a new video of his daughter Shiloh Jolie-Pitt's dancing career has gone viral on social media, the actor can't help but gush over his not-so-little girl. According to Entertainment Tonight, the actor walked the red carpet for his highly-anticipated new movie, "Bullet Train," when reporter ​​Nischelle Turner asked the movie star about his daughter's dance videos. 
"It brings a tear to the eye, yeah," Brad confessed before adding that Shiloh is "very beautiful." The star also joked about where Shiloh got her smooth moves. "I don't know where she got it from. I'm Mr. Two-Left-Feet here," he told Turner. Being the caring dad that he is, Brad also talked about how he wants his children to follow their ambitions, whether or not it be in acting. "I love when they find their own way, find things they are interested in and flourish," the star said. Can you even get over what a sweet father he seems to be?
In case you didn't know, the viral video in question originally captured Shiloh dancing to Doja Cat's song, "Vegas." However, an announcement under the video states that Shiloh's part has since been blurred "as requested by her family & lawyers." The comment explains, "This is to respect her privacy. Her focus is to train hard and improve while in a safe & controlled environment." Before the blurring, fans flocked to the comment section to applaud Shiloh's talents.
Brad Pitt's glimmer of hope in his bitter custody battle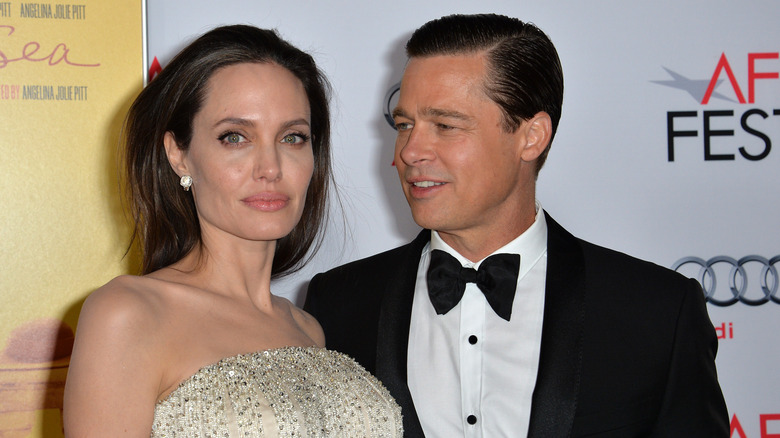 Jaguar PS/Shutterstock
There's no doubting that Brad Pitt is proud of his daughter Shiloh and all of his other kiddos, but that doesn't mean that things have been easy on the star's family in recent years.
Pitt's split from his ex-wife Angelina Jolie has been pretty messy, and one of the hottest points of contention is custody of the kids. Their bitter battle has raged on for years and it shows no signs of stopping any time soon. Pitt and Jolie called it quits in 2016, and much of the drama has been publicized, especially surrounding their six children. In April, a source told Us Weekly that Pitt thinks his ex-wife "will never agree to joint custody and is going to run out the clock until the kids are 18," and that after Jolie's actions, his kids "will want nothing to do with" him. However, the source also insists that despite the uphill battle, Pitt will not give up without a fight.
In June, a different insider told Us Weekly that Pitt has been trying to keep himself busy with work while Jolie continues to delay custody proceedings. "​​All he can do is work with his legal team and file the paperwork whilst responding to her claims," the insider shared. "Month after month goes by with one piece of red tape after another, endless jumping through hoops and bickering between their lawyers with no resolution." That's got to be tough.