How Johnny Depp Changed The Tattoo He Got For Amber Heard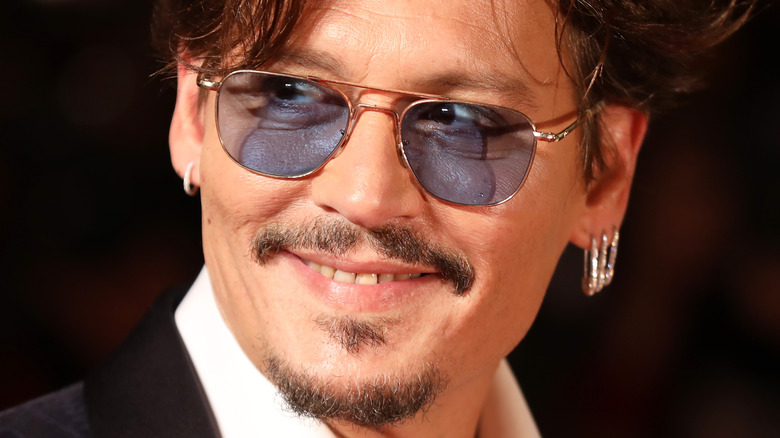 Tristan Fewings/Getty Images
Johnny Depp is a man of many tattoos.
His fans are aware that he has art all over his body, and apparently he started getting tattoos when he was a mere teenager. In a 1995 interview with The Washington Post, the "Edward Scissorhands" actor shared that he would immortalize key moments in his life by way of getting inked. "To me, it's like some journal — they all represent different times in my life," he dished. "If you see them, that's one thing — but if I explain them to you, that would be like walking you through my journal." He got his first tattoo before it even became legal for him to drink, and his ink collection grew from there. "I was a kid who dropped out of high school, who got his first tattoo at 17, who played rock-and-roll. That was just the chain of events."
Since tattoos are personal for Depp, it wasn't surprising that he dedicated some of them to his former lovers. He had a tattoo he got specifically for ex-wife Amber Heard, but he later changed it to something else when they parted ways.
Johnny Depp altered his tattoo for Amber Heard twice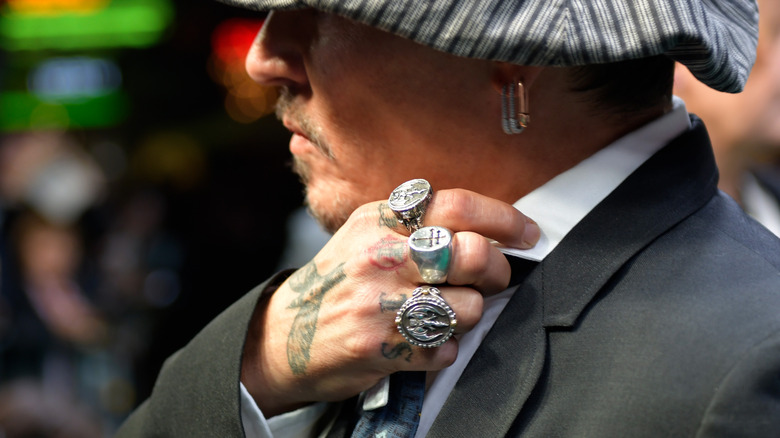 Thomas Lohnes/Getty Images
When they were together, Johnny Depp and Amber Heard apparently had nicknames for each other — Slim and Steve, per Deadline. Depp had the word "Slim" tattooed on his knuckles at the time, which he had altered two separate times once they called it quits.
As seen in photographs obtained by Us Weekly, Depp had the word "Slim" changed to "Scum" first. Two years later, his Hollywood Vampires bandmate Tommy Henriksen shared a photo of Depp's freshly-inked knuckles in a since-deleted Instagram post (via People). But instead of "Scum," the word had been changed to "scam," with the letter A inked in red and patterned after the anarchy sign. He confirmed the latest change in an interview with GQ, although he did not discuss the reasoning behind it.
He did, however, confess to feeling angry and hurt over what had happened. "The last three or four years has felt like a perverse situation that was inflicted on me. It hurts," he admitted.
Johnny Depp's knack for changing tattoos
Tattoos aren't forever for Johnny Depp, who has a history of altering the tattoos he once dedicated to his lovers. He notably got the words "Winona Forever" inked on his right bicep when he dated actor Winona Ryder, but had it changed to "Wino Forever" when they broke up. Interestingly, when Depp testified in London's High Court in 2020 for his libel case against The British Sun, the tattoo became a piece of evidence, because apparently, he had slapped Amber Heard when she made fun of the amended ink, per Vanity Fair.
He notably lost the case at the time, but he won by a wide margin in his defamation lawsuit against Heard two years later. He celebrated that by reportedly getting brand new ink, too. He got an illustration of a broken arrow on his wrist, which he apparently got from a tattoo studio in Oslo. The tattoo took six hours to complete and per the Norwegian website VG, the tattoo is a symbol of "a new start and new hope" after "burying the battle ax" (via Geo News).