The Plastic Surgery Procedure Kathy Griffin Regrets Getting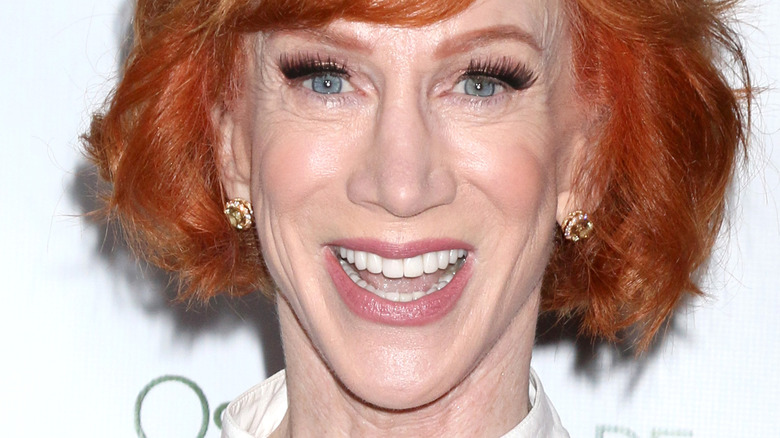 Kathy Hutchins/Shutterstock
Kathy Griffin has made a name for herself in the comedy industry and uses her celebrity encounters to make fans laugh during shows. According to Brittanica, the Oak Park, Illinois native began her comedy career in the '90s, performing in a show called "UnCabaret." Eventually, execs discovered her talent and her career took off. Griffin is now one of the most well-known comedians in the entertainment industry and she also has a New York Times bestseller with her memoir.... And she'll be the first to tell you she does.
The star has never been shy about poking fun at fellow celebrities in her stand-up routines and those jokes have been her bread and butter throughout most of her career. One of the biggest headlines of Griffin's life came when she poked fun at Donald Trump by holding a dummy version of his bloodied head in her hand. At first, Griffin apologized for the joke, as she received intense backlash, only to later retract the Trump apology. Since the incident, Griffin says she's had trouble getting work because she's still blacklisted. "No agency will touch me. No network will touch me. No streaming service will touch me. Nobody," she told the Chicago Tribune in 2019. "And yet, I'm an earner. I've made them all money, and I'll make them money again. I have to dig myself out of this hole."
Griffin always feels that honesty is the best policy, which is why she also has no qualms about her plastic surgery regrets.
Kathy Griffin talks botched plastic surgery job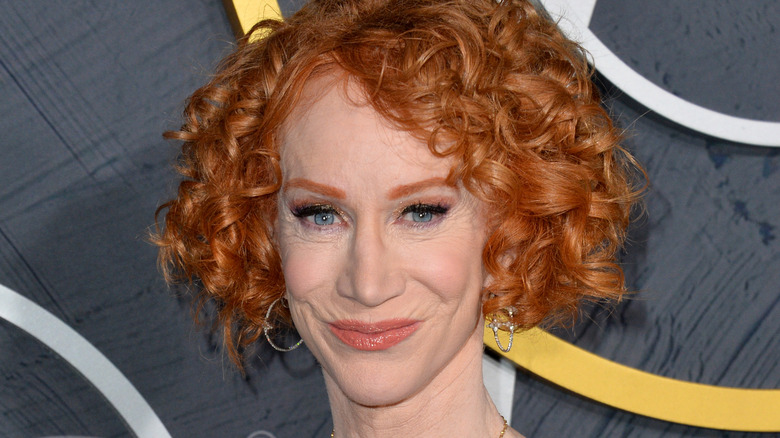 Featureflash Photo Agency/Shutterstock
Kathy Griffin is no stranger to telling it like it is, which also applies to the hot topic of plastic surgery. In Hollywood, it's not uncommon for stars to go under the knife for various procedures, but that doesn't always mean it comes with no regrets. Griffin is one famous name who wishes she would have skipped out on a particular procedure: liposuction. According to New York Daily News, Griffin talked about her botched operation in her book, "Official Book Club Selection: A Memoir According to Kathy Griffin."
To give fans a visual, the comedian included a photo of the area where she got the liposuction done, sharing that it was "so heinous you can't even believe it. And it's a picture of my botched liposuction that looks like a CSI crime-scene photo." Griffin added that she "wasted time worrying about" her "looks" in her memoir. "I am a comedian. I'm not on the runway in Milan. Believe it or not, people don't come to see me really thinking I'm going to look like Jennifer Aniston."
Griffin also opened up about her surgery on "The Rosie Show," saying she chose to go under the knife after a few kids taunted her over her looks. She also told host Rosie O'Donnell that, when she was older, an agent told her she would be more successful if she didn't have "that big nose."
Inside Kathy Griffin's other scary medical news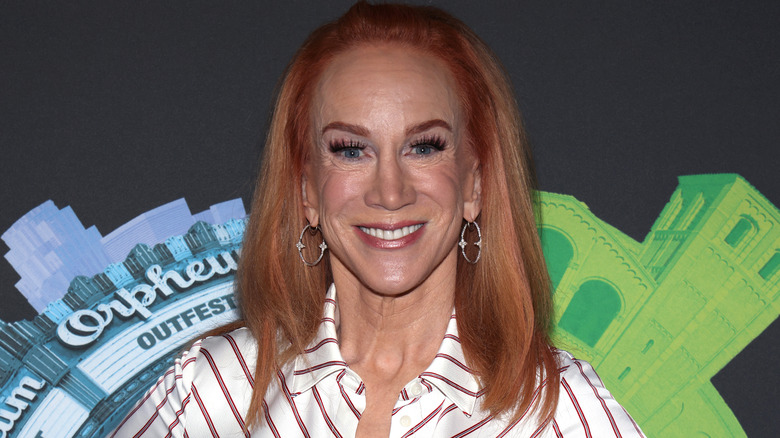 David Livingston/Getty Images
Plastic surgery is not the only scary medical ordeal that Kathy Griffin has dealt with in her life. In 2021, the comedian shared a lengthy post on Twitter as she opened up about her ongoing health battle. "I've got to tell you guys something. I have cancer. I'm about to go into surgery to have half of my left lung removed," Griffin wrote. "Yes, I have lung cancer even though I've never smoked!" Luckily, Griffin also shared that the doctors felt optimistic about her prognosis since the cancer had not spread. "Hopefully no chemo or radiation," she added. She subsequently urged fans to stay on top of their health by making regular medical appointments.
Although the surgery and diagnosis were incredibly tough and scary, Griffin shared some welcome news with her fan base just a few months later during an appearance on "Jimmy Kimmel Live!" "I'm cancer free. I don't know why, I had a tumor, right? And I've never smoked, and it was in there for 10 years," she told the late-night host. "So get this, they took it out, and they found it on another scan. So I go in, and here's the thing: when you're a comic, it's horrible when the doctors want to do their material on you." In true Griffin fashion, she still finds humor in the scariest of situations.
Since her surgery, Griffin has returned to her old self, hanging out with her famous pals and sharing adorable videos of her dogs.