Shiloh Jolie-Pitt Inspired One Of Angelina Jolie's Career Decisions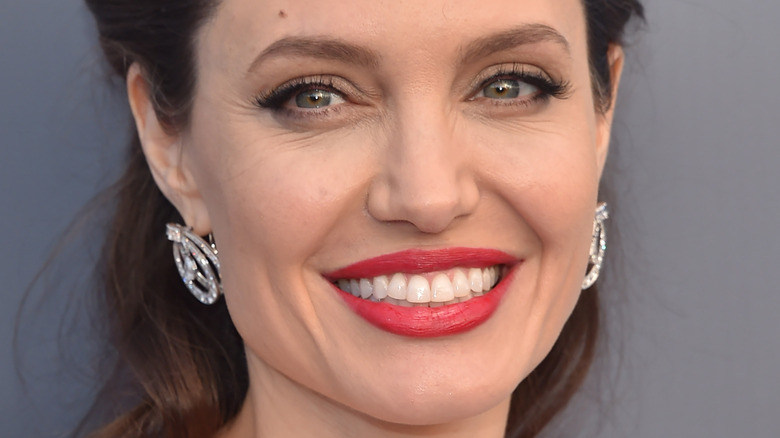 DFree/Shutterstock
Angelina Jolie has made it no secret that she and her six kids are incredibly close. As many know, Angelina and her ex, Brad Pitt, share sons Maddox, Pax, and Knox, along with daughters Shiloh, Vivienne, and Zahara. The actor has talked about her children on several occasions during interviews, and her role as a mom seems to far surpass any role she's landed in a movie. In 2021, the "Maleficent" star gushed about her kids and how much they teach her on a daily basis.
"They're pretty great people," Jolie told People for the outlet's "Kindness Issue." "And because there's so many of them, I think they've had a very significant effect on each other. It's not like I'm the head of anything. I'm very honest with my kids. And I'm very human with my kids." The actor added she was excited about the "different stages" and "feelings and curiosities" her children each were going through. "And you can't figure out who they are if you don't enthusiastically develop with them," she told the outlet.
Interestingly, it was because Jolie is so in tune with her children that she ended up booking a certain movie role.
Angelina Jolie appeared in The One and Only Ivan because of Shiloh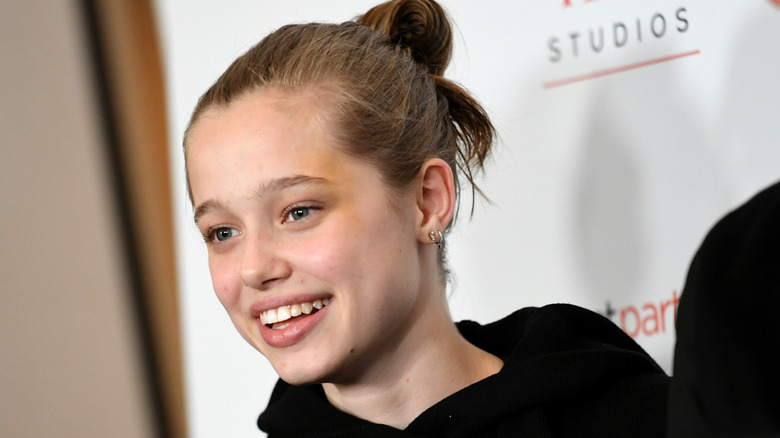 Jc Olivera/Getty Images
Oftentimes, parents serve as inspirations to their children — but kids also have a way of inspiring their parents to do wonderful things. In the case of Angelina Jolie and Shiloh Jolie-Pitt, her daughter proved to be the reason Angelina signed on for a particular movie role. In 2020, Angelina revealed that Shiloh loved "The One and Only Ivan" book, which sparked her own interest when she heard about the film. "My daughter Shiloh read the book. She loved it, and she loved Ivan. Then I just inquired who was making it, what was happening with it," she told "Good Morning America."
Angelina ended up signing on for "The One and Only Ivan," and she voiced Stella, the elephant mom in the movie. The actor also explained the more profound meaning of the role, which her daughter inspired. "She's really worried that when she dies, she will not leave her child in a safe place. And she needs to find a way to empower others to protect her child," Angelina told "GMA." "That's very different from playing an elephant in a kid's movie."
Angelina Jolie and Brad Pitt are both proud of Shiloh's talent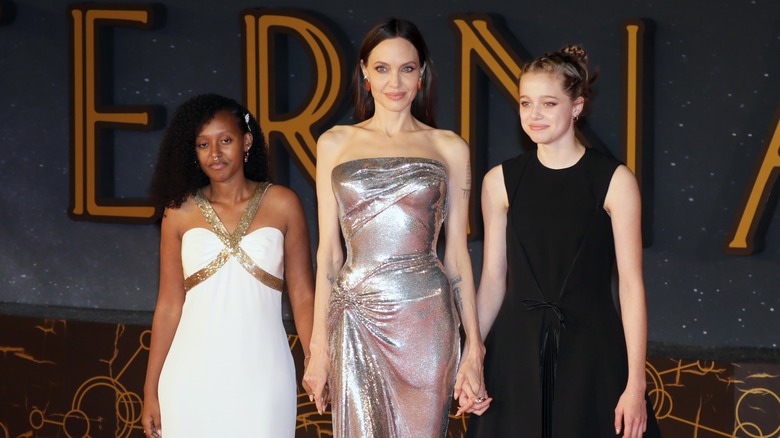 Gennaro Leonardi Photos/Shutterstock
Shiloh Jolie-Pitt is a big inspiration to both of her famous folks. In 2022, Shiloh went viral for her dance moves to Doja Cat's hit song, "Vegas." Once fans spotted Shiloh in the video, it took off — and as of this writing, the YouTube video has amassed over 2.5 million views, primarily thanks to Shiloh's appearance. Sadly, all the attention caused the YouTube page owner Hamilton Evans to make a drastic change. "Unfortunately Shiloh's group, as requested by her family and lawyers, has been blurred out temporarily. This is to respect her privacy. Her focus is to train hard and improve while in a safe and controlled environment," he wrote on a pinned post. "Please respect the decision that has been made."
When asked about Shiloh's dance moves in an interview, Brad Pitt couldn't help but beam with pride. "It brings a tear to the eye, yeah," Brad told Entertainment Tonight, adding that his daughter is "very beautiful." The star also joked about where Shiloh learned to bust a move. "I don't know where she got it from. I'm Mr. Two Left Feet, here." An insider also told Hollywood Life that Angelina Jolie was loving this stage in her daughter's life. "Angelina's amazed by how talented Shiloh is, but more than that, she loves to see how happy Shiloh is when she's dancing," the insider shared. 
Hopefully, fans will get to see a lot more of Shiloh and her killer moves.