The Sadie Sink And Finn Wolfhard Dating Rumors Explained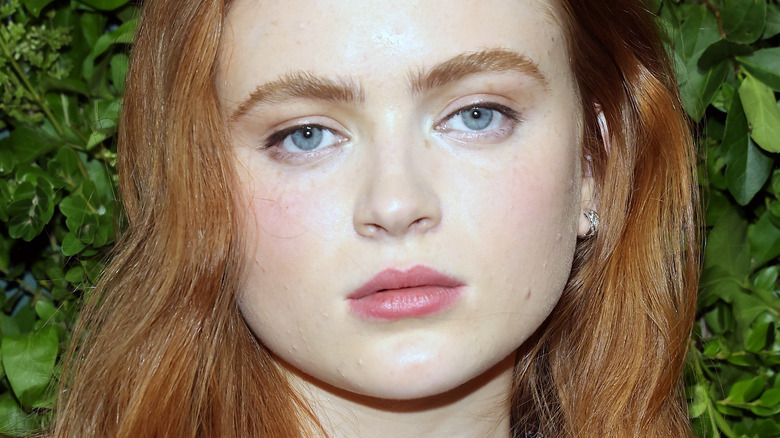 Taylor Hill/Getty Images
We always love a good story of actors falling in love on-set. While the rest of us are struggling to find significant others through dating apps or the good 'ol bar, our favorite stars often meet the loves of their lives during the filming of shows and movies.
The cast of "Stranger Things" is no different. Natalia Dyer and Charlie Heaton are a power couple both on- and off-screen. The two met on the set of the hit Netflix sci-fi drama in 2016 and have been together ever since. "That first audition, we did a chemistry read with [Heaton and] Natalia, and sparks were flying," series co-creator Matt Duffer told GQ in 2020. The two have kept their relationship mostly low-key, but Dyer once shared that she loved dating someone who understands her job. "It's an interesting thing to work with somebody who you go home with," she told Refinery29. "It's always really fun. We're really comfortable with each other, so we can play and feel more free, and we can talk about it before."
With Dyer and Heaton going strong, some fans can't help but "ship" the other actors on the show. For instance, there were rumors that Sadie Sink and Finn Wolfhard were once an item — but is there really truth to it?
TikTok sparked the Sadie Sink-Finn Wolfhard relationship rumors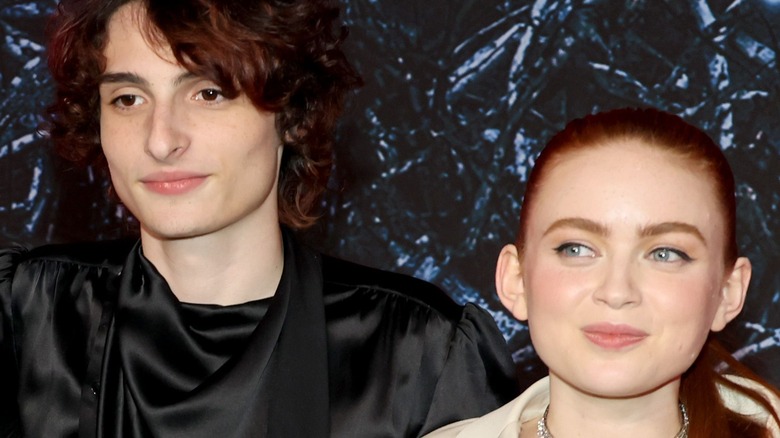 Cindy Ord/Getty Images
According to TikTok, Sadie Sink and Finn Wolfhard are in love — or, at least they used to be. It's unclear who initiated the rumor, but there were several posts going around that the two had struck up a romantic relationship. But as it turns out, they were all just baseless rumors, and fans took to Twitter to express their frustration about people spreading lies.
"st tiktok lies ALL THE TIME, sadie and finn never dated and its just spreading fake rumors and creating fake drama between the cast who is literally like family," one fan said. "'Finn and Sadie are dating,' 'Finn and Noah wanna kiss,' 'Millie and-' why do y'all want the Stranger Things kids to date?? It happened on the Shameless set, chaos ensued, and now the actors involved won't even acknowledge the show. this is what y'all want??" tweeted another frustrated fan. There are also fans who reminded people to respect the stars' privacy. "Can you just leave alone Sadie and Finn ? actually ALL OF THE CAST ?! They can't interact with each other in front of the camera anymore, cant even look each other properly just because of your silly assumptions!" they wrote.
Fans were only right to get defensive for their favorite actors. After all, even the stars themselves have opened up about struggling with privacy issues. "It just upsets me when people try and push the boundaries, and I just wish people were more respectful," Millie Bobby Brown said in her Instagram Story in 2020 (via Teen Vogue). "I'm still trying to navigate this all, and it's so overwhelming."
Sadie Sink and Finn Wolfhard may be involved with other people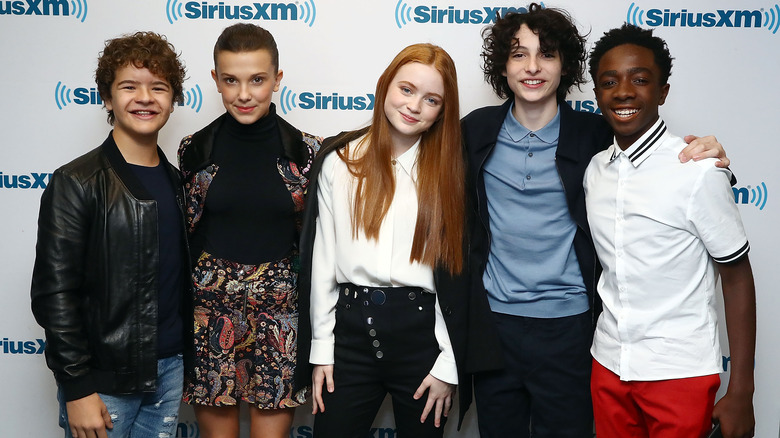 Astrid Stawiarz/Getty Images
Like their peers, Sadie Sink and Finn Wolfhard are incredibly mum about their dating life — and rightfully so. Sink doesn't seem to be dating anyone, but Wolfhard is reportedly in a relationship with actor Elsie Richter.
In an interview with The Washington Post, Wolfhard opened up about how fans threatened to dox Richter if he refused to confirm their romance, which resulted in him posting a photo of them together. "They're like, 'Oh, okay, I'm so sorry. We love her,' " he told the publication. "It all fades literally once you're like, 'Hey, calm down. It's cool. I'm a real person.' It's almost like a trance or something. Maybe it's a power thing."
As for the rest of the cast? They said they treat each other like family. "We are siblings. We argue all the time," Millie Bobby Brown told the Daily Mail in 2018. Wolfhard even said that there used to be "rivalries" between them. "When you start a show that young, there's drama and there's rivalries because it's like school. And then you become older, and you stop caring," Wolfhard said. "I think it's actually such an incredible thing to come back to each other and be like, 'Wow, I really understand you. We're all going through this thing together. I love you.'"