Tristan Thompson Seemingly Tries To Make Things Right With Maralee Nichols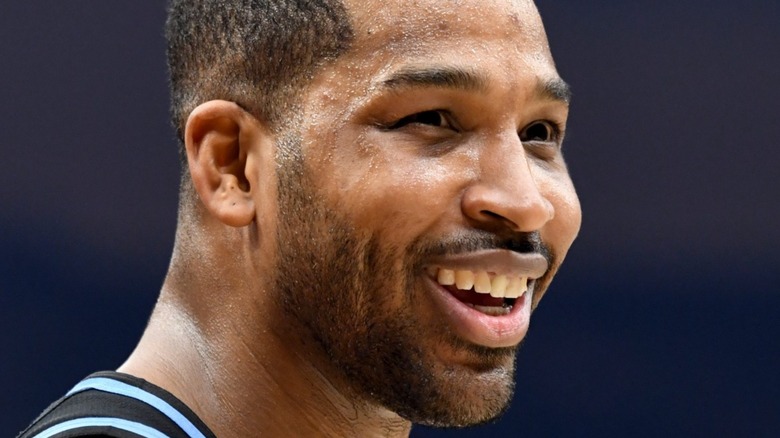 Jason Miller/Getty Images
The Tristan Thompson/Maralee Nichols paternity scandal was one for the messy books. However, it looks like Thompson is taking steps to fix things for the sake of his infant son.
To recap, Thompson and Nichols conceived a baby boy in March 2021 while he and Khloé Kardashian were still together. However, they were already broken up by the time the news broke, and to make matters even more confusing, they also found out they were having their second child together through surrogacy only a month before Nichols' son Theo was born in December 2021. Because of this complicated and messy web of drama and lies, Kardashian has reportedly remained pretty cold toward Thompson since.
After the truth of the paternity was revealed, Thompson released a statement on Instagram Stories. He took "full responsibility" for his actions and stated that he looked forward to "amicably raising" Theo with Nichols. However, per Page Six, Nichols saw no responsibility or support whatsoever in real life, including child support. Now, it appears that the basketball player is changing his tune. 
Tristan Thompson is now paying child support
As Page Six reported on August 18, the basketball player is trying to make things right with Maralee Nichols...at least financially. An attorney for Tristan Thompson reportedly sent a letter to the media outlet stating that Thompson "is paying, and has paid, child support to Ms. Nichols retroactive to the date she delivered the child." Though financial support may have been established, Thompson reportedly still hasn't met his son Theo, who is now 8 months old.
There has been no word from Nichols to confirm or deny these comments. Per Us Weekly, the trainer had previously filed a request for $47,000 a month from Thompson in child support. It is not clear whether she received that amount or not. Nonetheless, the trainer also appears to be moving on with her life. Per her Instagram, Nichols is back to spending time in the gym as well as spending quality time with Baby Theo. Only time will tell if Thompson is a part of the baby's life as his father.