Sarah Hyland And Wells Adams Have Exciting Relationship News To Share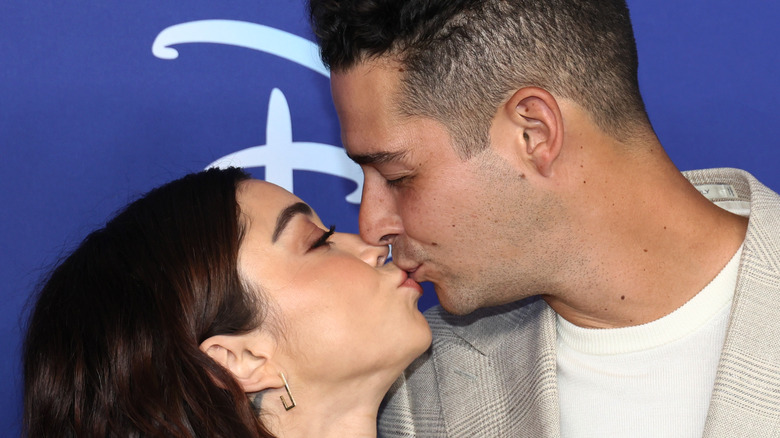 Dia Dipasupil/Getty Images
It is proving to be a big year for actor Sarah Hyland and her partner, former "Bachelorette" contestant Wells Adams. Though she first skyrocketed to fame as Haley Dunphy in ABC's hit sitcom "Modern Family" — which began in 2009 when she was only 18 and ended its long run in 2020 — Hyland's career is going strong. While she recently starred alongside Dylan Sprouse in the rom com film "My Fake Boyfriend" in 2022, she also made headlines for replacing Arielle Vandenberg as the host of "Love Island" in the show's fourth season, a role which she continues to hold. She is also set to star in the upcoming Peacock series "Pitch Perfect: Bumper in Berlin," which is set to premiere in November 2022. 
Throughout all this, Hyland has also made time for her relationship with Adams which began in 2017, and has only become more serious in the years since. According to Adams himself, the two first met through social media, flirting on Twitter after Hyland began posting live updates of her thoughts on his "Bachelorette" season. 
In 2019, their relationship took a serious turn when Adams proposed to Hyland; they planned on getting married shortly thereafter. However, like many other couples around the world, Hyland and Adams had to postpone their wedding on account of the COVID-19 pandemic...until recently, that is. Now, three years later, Hyland and Adams are excited to share some very happy news about their relationship.  
Sarah Hyland and Wells Adams are married
On August 8, Sarah Hyland teased to her fans the possibility that her engagement to her fiancé Wells Adams would finally take a big step with an Instagram post of the two of them, in black-and-white, in a California field. "2 years of would be marriage bliss," Hyland wrote. "I Love You to Pluto and Back. Let's make it official already." 
Now, two weeks later, it appears as though it has become official as the happy couple have officially wed, per People. According to Metro, the wedding took place at a California vineyard over the weekend and was well-documented by Hyland on her Snapchat, as well as on the Instagram page of Hyland's "Modern Family" co-star Sofia Vergara who attended as a guest. Also at the ceremony were several of Hyland's other "Modern Family" co-stars, including Jesse Tyler Ferguson and Nolan Gould. 
When it comes to taking her now-husband's last name, Hyland has not yet decided. While she is not inclined to do so, she also saw a certain appeal to it. "I do like being called 'Mrs. Adams' when we're on vacation and stuff," Hyland told E! News in July, "and if the reservation's under his name, I'm like, 'Oh my god, I'm so cute.' But I don't know. Haven't decided on it."
Congrats to the happy couple!