Leah Remini Skipped Her Best Friend Jennifer Lopez's Wedding For A Reportedly Good Reason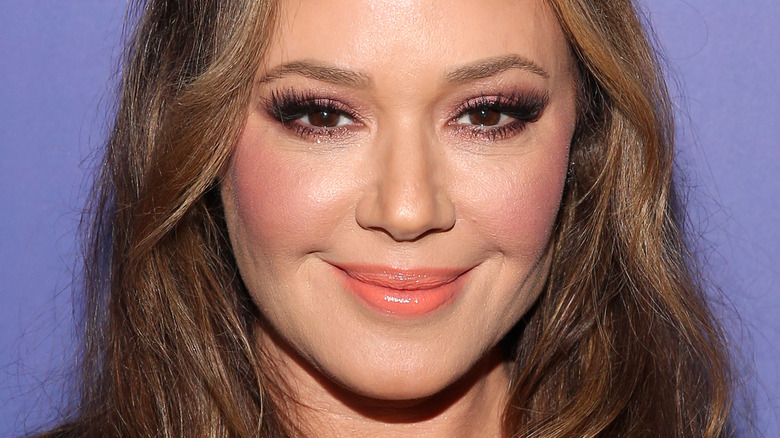 Jesse Grant/Getty Images
Jennifer Lopez and Leah Remini have been best friends for years, but fans noticed that Remini was nowhere in sight during J.Lo's wedding to Ben Affleck in Georgia.
The two go way back, having been introduced to each other by Lopez's ex-husband, Marc Anthony, in 2004. "Well we met because I was friends with Marc Anthony and I met Jennifer at a premiere of Marc's movie 'Man on Fire' and she had flawless skin, and she was funny and annoying," Remini told E! News. "And I was very upset that up-close she was prettier and she had a sense of humor, which made it worse and she wasn't stupid which made it worse." They hit it off from the get-go and haven't left each other's side since. "We understand each other's lives," Lopez said in an appearance on "The View" in 2018, adding that they are also pretty much a mirror of each other's personalities. "We have similar lives, and similar careers, and we understand nuances that other people don't understand, so that also bonded us."
Fans also have Remini to thank for helping confirm that Bennifer did indeed get back together, but many are wondering why she was not present for their grand celebration. As it turns out, "The King of Queens" star was preoccupied with something personal.
Leah Remini was busy with mom duties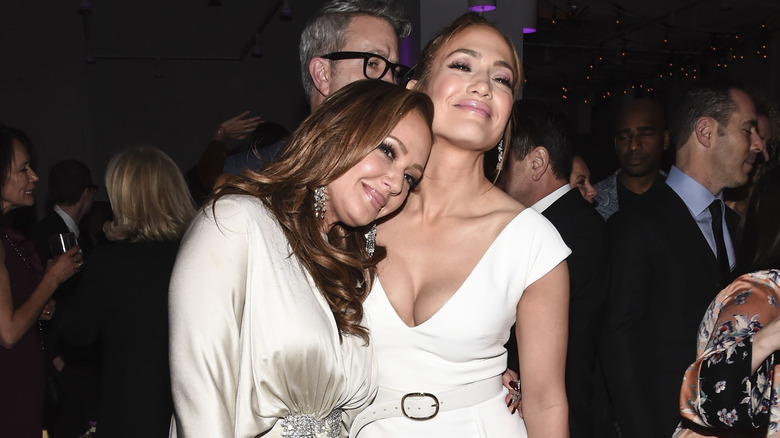 Daniel Zuchnik/Getty Images
Leah Remini was absent from Jennifer Lopez and Ben Affleck's nuptials not because she didn't want to support her bestie, but because she was trying to be a good mom to her college-bound daughter.
Per TMZ, Remini was not able to make the trip to Georgia as she was trying to make the most out of the remaining time with her 18-year-old daughter, Sofia, before she heads off to college. The outlet confirmed that the actor was invited but wanted to put being a mom first. The star once opened up about drifting apart from her kid largely because of her involvement in Scientology, so no one can really blame her for choosing to be with her daughter. "To moms who can't see their kids today because of Scientology's Disconnection policy, I celebrate you for never giving up the fight to get them back," she tweeted on Mother's Day 2019. "And to the moms who disconnected from their kids, I hope you realize this breaks their hearts. You DO have a choice."
It also doesn't seem like there's bad blood between Lopez and Remini. After all, Remini credited the "Jenny from the Block" singer for supporting her during her Scientology exit. "It was a tough moment for her," Lopez said on "The Ellen DeGeneres Show" in 2014 (via E! News). "It's all she knew her whole life. When you're raised a certain way and you're around people for a long time, whatever that is, it's going to be hard. We're good friends."
Leah Remini wasn't the only one missing due to family commitments
Like Leah Remini, Casey Affleck also had some tough decisions to make when it came to scheduling and family. Jennifer Lopez's bestie wasn't the only one missing from her and Ben Affleck's big day. The groom's little brother was also unable to attend. A source told People the actor was forced to skip the nuptials "because of family, parental obligations at home."
Casey was snapped out and about with his girlfriend Caylee Cowan, enjoying a sweet treat in Los Angeles the day before Ben and Lopez said "I do" in Georgia. The day after their wedding, Casey was seen hanging out with his two sons, Indiana and Atticus Affleck, from his previous marriage to Summer Phoenix. It seems like there's no bad blood between the bros, though. Casey took to social media to pen a lovely ode to the happy new couple. He welcomed his sister-in-law to the "dysfunction" that is their family. He also shared his love and some advice for the new Mrs. Affleck.
"Good things are worth waiting for. Here is to twists and turns, new beginnings, and finding new reservoirs of old love," Casey captioned a pic of the three of them on Instagram. "Welcome to the family. Get ready for some real dysfunction! Kidding. I am kidding," he added, reassuring Lopez that she's a "gem" and that all of the family "love you so much!" Casey's mention of "twists and turns" was made more poignant because the photo he posted was a throwback pic from 2003, when Affleck and Lopez reunited again after splitting — only to split once more and find each other again nearly two decades later.