The Show You Didn't Realize Emma Hernan Appeared In Before Selling Sunset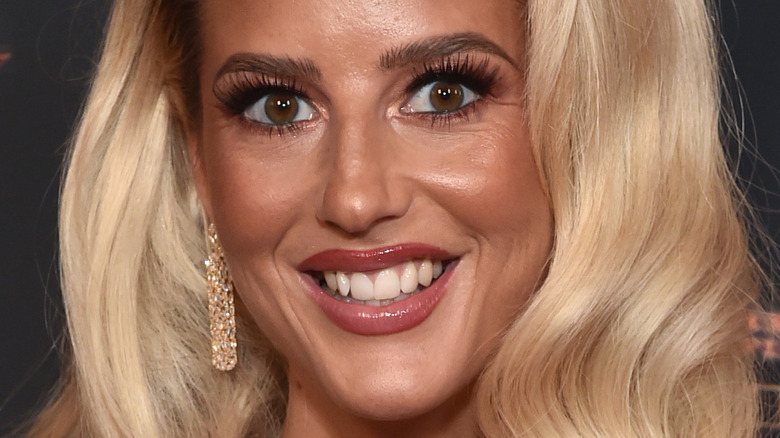 Alberto E. Rodriguez/Getty Images
Emma Hernan has made quite the splash on "Selling Sunset." The gorgeous businesswoman and Real Estate Agent joined the popular Netflix reality series for Season 4, bringing with her plenty of juicy storylines due to a rocky past with the show's resident drama queen, Christine Quinn. It turns out that both once dated the same man, but have differing takes on what really happened way back when. All that escalated into a full-blown feud between Quinn and Hernan, which may have snowballed into reports Quinn will not be returning for Season 6.
"I came in like a rocket. I'm definitely enjoying it. It's been a fun ride for sure," Hernan said of joining the show on E! News' "Daily Pop" in January, admitting that she was initially hesitant about signing on the dotted line because of her past with Quinn. But there was one big thing pushing the real estate superstar to give the series a try, as she explained, "It was an opportunity for me to go out there and show everything that I've accomplished on my own as a woman entrepreneur. I've worked really hard my entire life." But "Selling Sunset" actually wasn't her first opportunity to show the world her entrepreneurial side.
Hernan actually had her foray into the reality TV world back in 2016, as you may have seen her pop up on a drama-filled show before and not even realized it...
Emma Hernan's 'Southern Charm'
Reality TV fans, prepared to have your memory very much jogged. It turns out Emma Hernan actually once made a cameo on none other than Bravo's "Southern Charm," popping up in Episode 9 of Season 3, titled "Saints and Sinners." TikTok user Ally Manor brought this forgotten appearance to fans' attention, sharing the scene in which Hernan and a friend can be seen being introduced to Craig Conover and Shep Rose at a house party during a boys trip to L.A. "Nice to meet you, Emma. Are y'all California girls?" Rose asked Hernan in the clip, before he then smiled while telling the camera during a confessional, "Sometimes, there's too many options in the buffet."
That blink and you'll miss it glimpse seemed to be her appearance on the show, but plenty of fans also recognized her on Twitter in the wake of her "Selling Sunset" fame. "I spy Emma from 'Selling Sunset' on Season 3 [of] 'Southern Charm,'" one person tweeted alongside the clip, while another wrote, "Omg! Now emma from selling sunset making an appearance on my southern charm binge too?! i love reality tv!!!!!!" Us too. Us too.
Emma Hernan is focused on 'Selling Sunset'
While we would never rule it out completely, it's unlikely Emma Hernan will be popping up on "Southern Charm" again anytime soon. One place we will see her face, though? Back on "Selling Sunset," of course! The reality star is clearly pretty excited for Season 6 of the reality show, and she made that very clear on Instagram in August. Hernan shared a gorgeous shot of herself and Chrishell Stause posing in long gowns on Instagram, as well as another showing the duo posing with their "Selling Sunset" co-stars and bosses, Jason Oppenheim and his twin brother, Brett Oppenheim. "Who is excited for the new season?!," she wrote in the caption, hinting they may have been filming while urging her followers to share in the comments section what they wanted to see happen in Season 6.
One thing we know is happening in the new episodes? New cast members! While we know Christine Quinn is reportedly out, Nicole Young and Bre Tiesi (yes, the same Bre Teisi who welcomed a son with Nick Cannon in July) will be joining the glamorous cast for Seasons 6 and 7, per People. Another thing you can always put your money on when it comes to the Netflix hit? Drama, drama, drama, and we're sure they'll be plenty of that too.