The Truth About Matthew Perry And Julia Roberts' Forgotten Relationship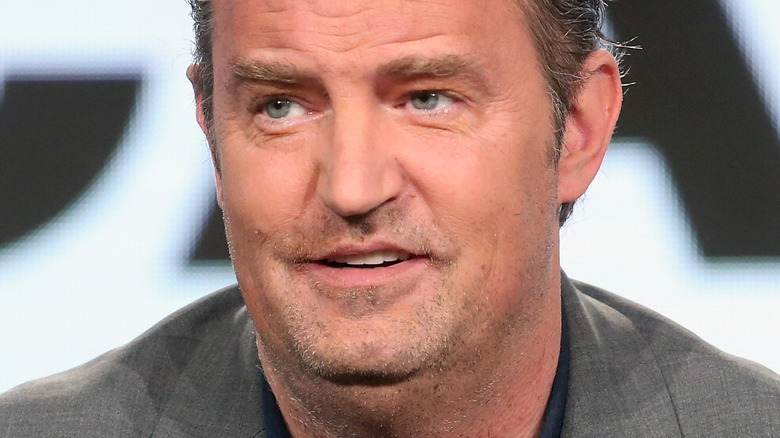 Frederick M. Brown/Getty Images
When it comes to the "Friends" cast's real-life romances, they pretty much all got overshadowed by Jennifer Aniston and Courtney Cox's relationships with Hollywood royalty Brad Pitt and David Arquette, respectively. However, some of the remaining cast dated their fair share of celebrities. For example, Matthew Perry, who played Chandler Bing, briefly dated A-list actor Julia Roberts. She once guest-starred on "Friends" as Susie, Bing's former classmate who posed as a romantic interest in order to get revenge over a childhood prank. And while they had sizzling chemistry, they didn't start dating until after her appearance.
Even though reports of their relationship are sparse, we know that the pair dated for about a year from 1995-1996. Around that time, both actors public acknowledged their relationship. According to E! News, during an appearance on "The Late Show With David Letterman," Roberts dished on their fling. "[Matthew Perry] called me up ... out of the blue," she said. "I was very nervous because he's awfully clever and funny and handsome." Unfortunately, their relationship didn't last very long. And after it was over, Perry addressed fan's speculation about their rumored courtship, to which he jokingly replied "Get out." However, he referred to the relationship in the past tense, confirming that the "Friends" star was single again. "It's like the busiest guy in the world trying to go out with the busiest girl in the world and it just didn't work out," Perry said. (via KoiMoi)
Matthew Perry convinced Julia Roberts to shoot Friends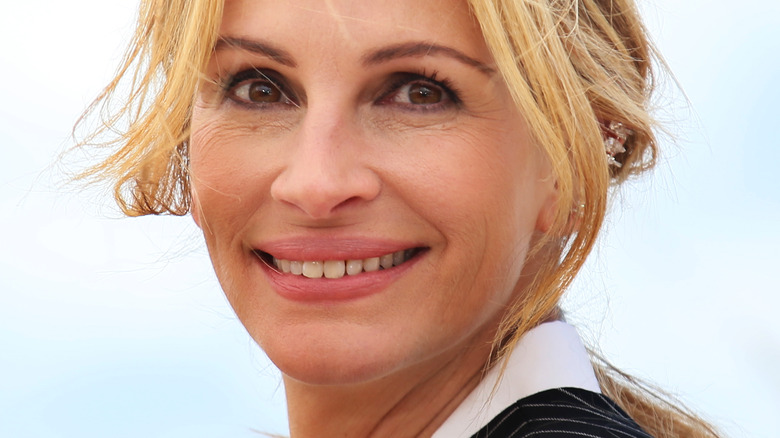 Denis Makarenko/Shutterstock
Matthew Perry and Julia Robert's relationship may not have started until she appeared on "Friends", but they were already acquaintances. Still, Perry had to do some legwork in order to get her to agree to do the show. It all started when producers were looking for big names to appear in the sitcom's 1996 Thanksgiving special. They asked Perry to reach out to Roberts, who had already starred in "Pretty Woman" and "The Pelican Brief," hoping her star power would help bolster interest in the show's steadily growing popularity.
Ultimately, Roberts agreed, but with one caveat: Perry had to write a paper on quantum physics. "My understanding is that Matthew went away and wrote a paper and faxed it to her the next day," said writer Kevin Bright, during a roundtable for The Hollywood Reporter.
Whether or not Roberts was actually impressed by Perry's research skills has never been revealed, but she certainly appreciated the effort. According to "Friends" writer Alexa Junge, who spoke with The Hollywood Reporter, Perry's charm sparked Roberts' interest "from afar." She added, "There was a lot of flirting over faxing. She was giving him these questionnaires like, 'Why should I go out with you?' And everyone in the writers' room helped him explain to her why." She added that, while Perry probably didn't need help, the writers did their best to swing the vote in his favor.
Jennifer Aniston also dated a Friends guest star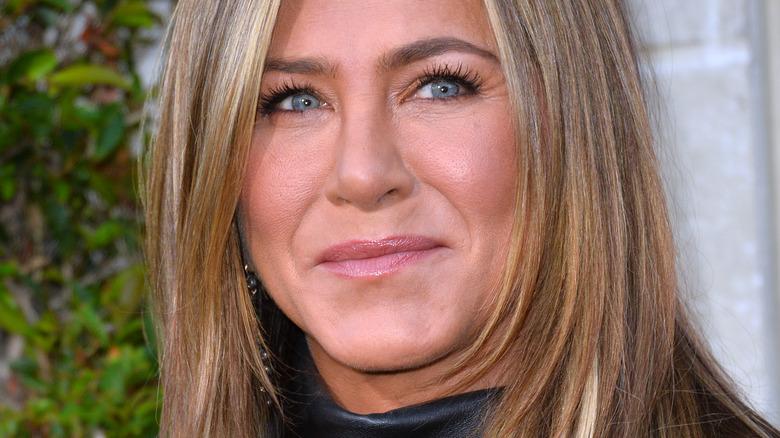 Featureflash Photo Agency/Shutterstock
Matthew Perry isn't the only cast member who dated one of his "Friends" guest stars; Jennifer Aniston also allowed business and pleasure to overlap. And no, we're not talking about her five-year marriage to Brad Pitt and his iconic guest stint during 2001's "The One With The Rumor." Prior to meeting Pitt, Aniston also dated Tate Donovan, who appeared as Joshua Basset, one of Rachel Green's clients who she fought hard to impress, even though he didn't seem interested at first.
According to Page Six, the pair dated from 1995-1997. Unfortunately, their relationship fizzled right as Tate joined the show, which made filming difficult for him. While he was happy to "be on the team," the actor told Us Weekly, "The only bummer was Jennifer and I were breaking up at the time. And so that was tricky to sort of act, and act like we are just meeting each other, and falling in love, or whatever, interested in each other when we're sort of breaking up. That was just tough." 
Despite Donovan's difficult time working with his ex, his overall experience was very rosy. "Those six people were amazing to me. They were fantastic. It wasn't cliquey for me at all. I was lucky," admitted the actor. He went on to say they were all "very compassionate about the whole breakup" and that "those guys were so great to me when they sort of didn't have to be."