Is Sister Wives Star Christine Brown Dating Anyone After Leaving Kody?
It's been a tough few years for Christine Brown and her former "husband" Kody Brown, but she finally seems to be in a good place. Fans of the couple's hit TLC show, "Sister Wives," have watched all aspects of Christine and Kody's relationship play out on screen, and it's no secret that they have gone through many ups and downs along the way. In 2021, Christine shared some surprising news with fans on social media, revealing she was leaving Kody. "After more than 25 years together, Kody and I have grown apart and I have made the difficult decision to leave," she wrote on Instagram. The reality star also pointed out that she and Kody would "continue to be a strong presence in each other's lives as we parent our beautiful children and support our wonderful family."
Once Christine shared the news on her Instagram page, Kody also penned a statement of his own. "Christine's decision to leave comes with a great deal of sadness. We enjoyed many years together, and I have a large amount of respect and admiration for her," he told his followers on Instagram. Like Christine, he also pointed out that the couple would still come together for their children. As the two are polygamists, they never legally married, but instead enjoyed a "spiritual marriage." In Touch Weekly shares that the couple had six children together during their relationship. 
So, is Christine ready to get her feet wet and dabble in the dating pool?
Christine Brown dishes on dating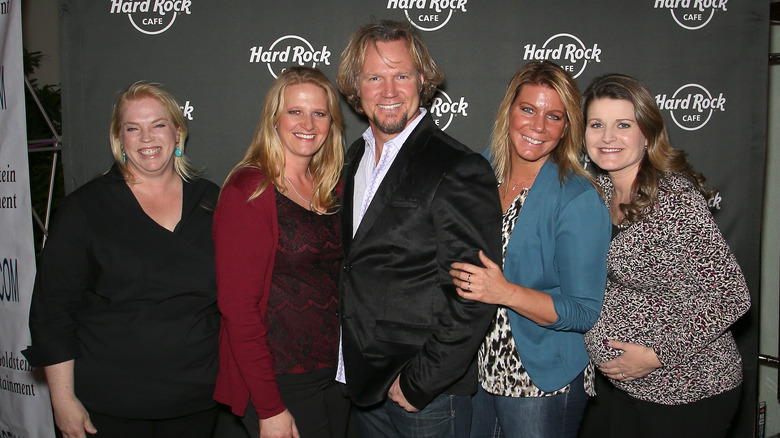 Gabe Ginsberg/Getty Images
Is Christine Brown ready to find love following her split from Kody Brown? In an August interview with People, the "Sister Wives" star revealed whether or not she's ready to date, and her answer may surprise some. "I would love to date. Love the idea of the end having a romantic partner," Christine told the outlet. However, she also shared that her daughter is one of the reasons she's chosen to stay out of the dating pool for the time being. "But I talked to Truely about it the other day, and she's like, 'Mom, I really like our life how it is now.' Down the road. I'm just going to let fate take care of that one," she added.
But what happens when she is ready to date? Christine has a few qualities in mind for any potential suitors. "I want a guy who actually loves me and wants to be with me intimately," she confessed to the outlet. "I will be a monogamist from here on out." The reality star added that at the end of the day, she just wants to be a role model for her kids and encourage them to "do what's going to make you happy," which she also hopes to do.
For now, Christine seems to be keeping busy with her new life in Utah, and she frequently shares photos on her Instagram feed, including one where she attended a baseball game in Salt Lake City with her daughter, Ysabel. Happy definitely looks good on Christine!