Kylie Jenner Almost Had An Entirely Different Name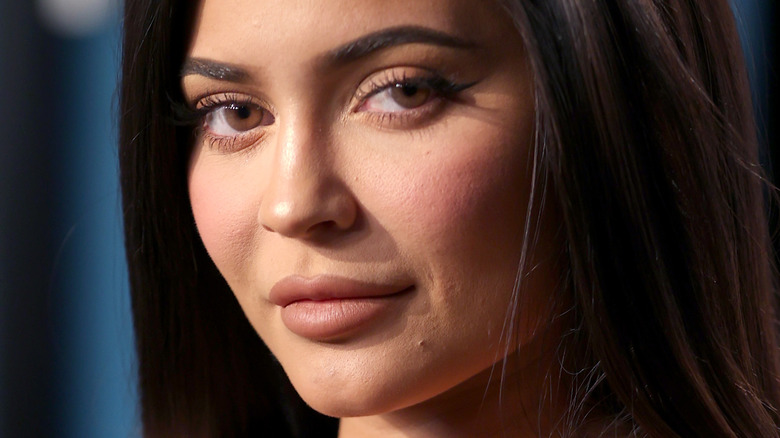 Rich Fury/vf20/Getty Images
It is no secret that Kris Jenner likes her first initial. The Kardashian-Jenner matriarch gave her five daughters names that match her own: Kourtney, Kim, Khloé, Kendall, and Kylie. Interestingly, Kris isn't the one who started the tradition. Her mother, Mary Jo, was into the letter K herself. In addition to naming her eldest Kristen (yes, Kris is not her actual name), M.J. named her second daughter Karen. Kris's children stopped the naming tradition in its tracks, though. For the most part, the Kardashian-Jenner children have favored unusual names, and many have even opted to skip the centuries-old American naming culture of giving babies middle names.
Of Kris's six children, only Kourtney and Rob Kardashian gave their children a second forename, according to Elle. Kim simply went with first names and the father's last name for all four of her and Kanye West's children: North, Saint, Chicago and Psalm. Khloé also opted to forego a middle name for True. It's unclear whether the same pattern will be used for the baby boy Khloé welcomed in August.
The same applies to Kylie, who named her daughter with Travis Scott just Stormi Webster. The name of Kylie and Scott's son, born in February, is still unknown as they decided to change it from Wolf. However, the original did include a middle name: Jacques, after his father's real first name, according to Elle. Choosing the perfect name is clearly important for Kylie. As it turns out, Kris also struggled to name her.
Kylie Jenner almost had another K name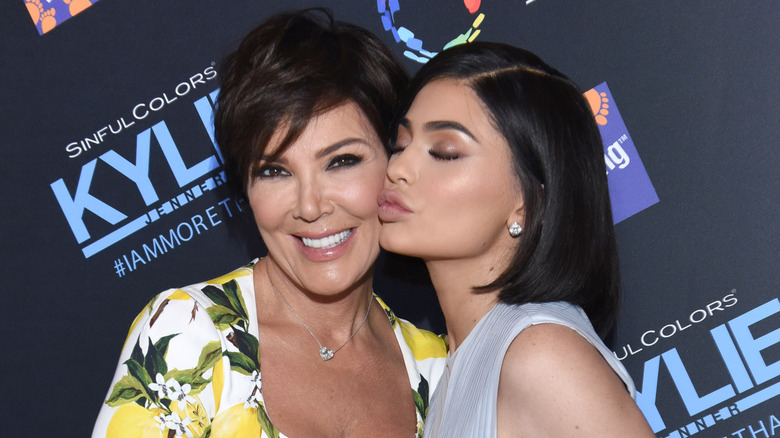 Vivien Killilea/Getty Images
When Kris Jenner was pregnant with her last child, she considered a series of names, including Jane, Sophia, and Kelly, Kris revealed during a December 2019 episode of "Keeping Up with the Kardashians" (via Elle U.K.). But the one that nearly stuck was another K name. "My name is Kylie but it was almost... Kennedy," Kylie revealed in an August 15 TikTok video. She disclosed how she feels about it in the caption. "Doesn't' hit the same." Fans had thoughts about it, too. "No Kennedy would have been elite and rich coastal girl vibes," one fan commented, which garnered more than 17,000 likes.
Another thought it clashed with her sister's. "Love that name but it would've been too close to Kendall [Jenner]," wrote another fan. Kris might have agreed with the second TikTok user. At that point, the momager was even willing to skip her preference for K initials. What really mattered was that the name paired well with the name of her other Jenner daughter. "We just kept saying: 'Kendall and... Sophia. Kendall and Jane,'" Kris explained on the "KUWTK" episode.
Kris and the rest of the family kept going until they found the perfect match. "It was 'Kendall and Kelly,' and then when we got to 'Kendall and Kylie,' we were like, 'That's it.' Kendall and Kylie had to go together,'" she explained (via People). Kylie's middle name was much easier to narrow down. And, unlike her other children's, Kylie's is another K name.
Kylie was named after Kris Jenner herself
Theo Wargo/Getty Images
It appears Kris Jenner wanted her last child to carry her own name. "Kristen. My middle name and my moms name," the cosmetics mogul revealed in a 2016 tweet, making her full name Kylie Kristen Jenner. Kylie seems to like it. When she created a lipstick color inspired by her mother, she opted to use that moniker instead of its better known short form. "O.M.G.!!!!! I am so honored that Kylie surprised me and named a LipKit after me!!!!! It's called Kristen," Kris raved on Twitter. While Kris had a hard time coming up with names for her last two daughters, she used their middle names to honor real-life people.
With her oldest's, Kris is keeping a dear friend's memory alive. Kendall's middle name is Nicole, one that means a lot to Kris. "My middle name is after Nicole Brown Simpson because that was my mom's best friend," the model shared in an April 2019 Snapchat clip shot by Kylie (via Elle). Kris was pregnant with Kendall when O.J. Simpson's ex-wife was slain in 1994.
Before Kris's then-husband Robert Kardashian successfully defended the former football star in Nicole's murder, the four of them had been close friends, Kris detailed in "Kris Jenner... and All Things Kardashian" (via Entertainment Tonight). Kris and Nicole's friendship continued just as strong after they divorced their respective husbands. And Kendall understands the weight of her mother's decision. "I'm honored to have this name," she added.