Why Johnny Depp Would Be Alright With Never Winning An Oscar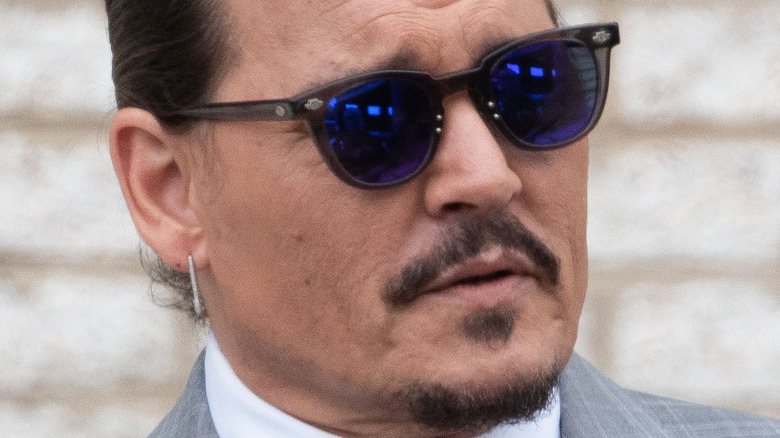 Consolidated News Pictures/Getty Images
Johnny Depp is one of the most famous actors in Hollywood, and it's safe to say he's enjoyed a pretty successful career. People know Depp from hit films like "What's Eating Gilbert Grape," "Pirates of the Caribbean," and of course, "Edward Scissorhands," where he showed off his killer barber skills. The actor is undoubtedly one of the most recognizable faces in the industry and fans follow his every move. But, even though he may be a household name, that does not mean he likes all of the glitz and glamour that come with being a star. In fact, Depp has spoken on several occasions about how he isn't too keen on being in the spotlight.
In a 2020 interview with Variety, Depp spoke about his celebrity status, and he didn't shy away from sharing why he doesn't consider himself a star. "First and most important is to never consider yourself a Hollywood celebrity," he told the outlet. "That's death and grotesque." Depp added that he's "always been drawn to people who are diligent." He also applauded the San Sebastian Film Festival in Spain. "This festival always has the least of ... let's call them Hollywood types," the star shared. "I feel San Sebastian is truly a festival about cinema, about the filmmakers, about the people who work on them and get these films made, which is miraculous."
It's easy to see that Depp doesn't thrive in the spotlight like many celebrities, so winning an Oscar isn't exactly at the top of his list.
Johnny Depp doesn't want a gold statue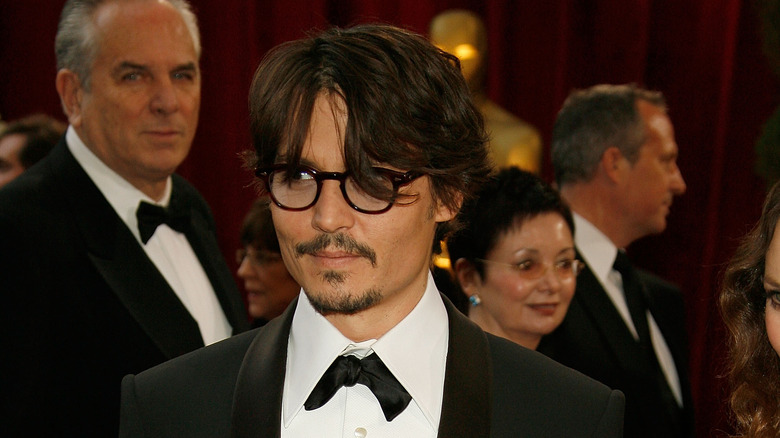 Vince Bucci/Getty Images
Winning an Oscar is one of the greatest honors in film in Hollywood, but Johnny Depp doesn't play into all of that awards mumbo jumbo. According to Vanity Fair, the actor talked about his dislike for the Oscars at the London Film Festival in 2015. "I don't want to win one of those things ever, you know," Depp confessed, adding he doesn't want to have to talk in front of a crowd. "The idea of winning means that you're in competition with someone, and I'm not in competition with anybody," he confessed. In true Depp-fashion, he didn't stop there. "They gave me one of those things, like a nomination, two or three times," he said, mentioning that just receiving a nod "is plenty" and, in his eyes, better than winning. 
This is not the first time Depp expressed his disdain for awards shows. According to iFod, the star also talked with Movieline about how he didn't want to present an Academy Award in 2001. "I was really uncomfortable with the idea. I'm not very good at public speaking and I didn't want to make a complete fool of myself. But somehow I agreed because I was going to be introducing Neil Young," Depp shared. The star explained that the Academy pitched a whole speech for him to say, but he didn't want to do it because of his "nerves." Instead, Depp said "two sentences," and after that, he "left immediately."
Johnny Depp still has love for his fans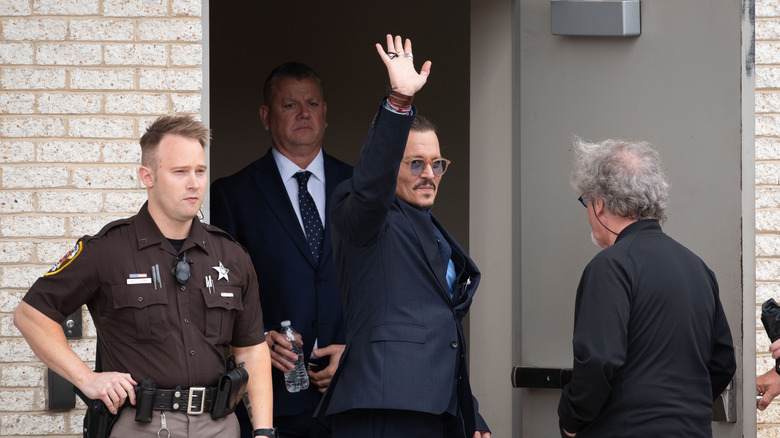 Consolidated News Pictures/Getty Images
While Johnny Depp doesn't love living his life in the public eye, that doesn't stop him from making one headline after the next — both in his personal and professional life. One of the most followed storylines of his career happened off-camera with ex-wife Amber Heard, as it seemed the duo couldn't keep their name out of the headlines. In case you have been living under a rock, Depp sued Heard for penning a 2018 op-ed, in which she didn't name Depp, but mentioned her experience with domestic violence. In turn, Heard counter-sued Depp.
In the televised court battle, neither Depp nor Heard held anything back, and their lawyers left no stone unturned. Every day he arrived at the trial, Depp had a line of fans who served as a support system for the star when he and his team pleaded their case in court. Maybe one of the perks of fame? On June 1, a jury ultimately sided with Depp, awarding him $10 million in compensatory damages, and another $5 million in punitive damages, while the jury gave Heard $2 million. 
Following his huge win, Depp thanked his fans for all the love in a lengthy social media post. "I am, and have been, overwhelmed by the outpouring of love and the colossal support and kindness from around the world," he shared, adding that he hoped his "quest" for justice helped other people in the same situation as him.