Bruce Willis' Wife Emma Heming Shares Touching Outlook On Life Amid His Aphasia Diagnosis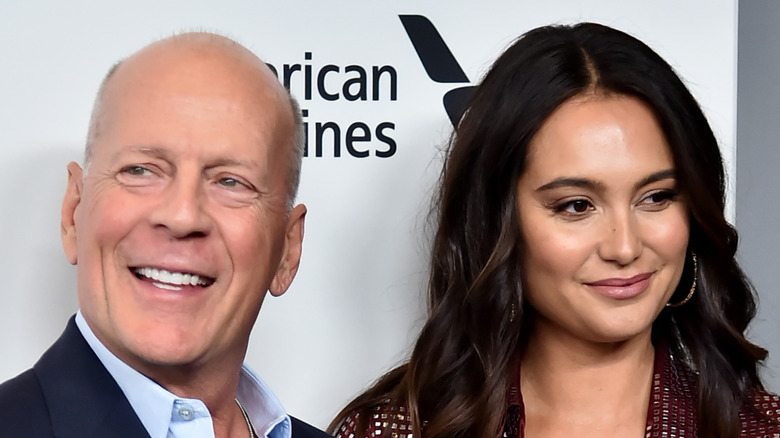 Theo Wargo/Getty Images
Earlier this year, Bruce Willis shocked his fans with some heartbreaking news. Despite his career as one of Hollywood's most iconic action heroes in films such as "Die Hard" and "Armageddon," his family's statement revealed a more vulnerable side. On Instagram, daughter Rumer Willis said, "Our beloved Bruce has been experiencing some health issues and has recently been diagnosed with aphasia, which is impacting his cognitive abilities. As a result of this and with much consideration Bruce is stepping away from the career that has meant so much to him." Bruce's wife Emma Heming, ex-wife Demi Moore, and daughters Tallulah and Scout also posted the message.
Aphasia is a language disorder resulting from brain damage, meaning he would have difficulty delivering his lines. Per the Mayo Clinic, it usually stems from a stroke, head injury, brain tumor, or other degenerative diseases, but Willis and his family have not revealed the cause.
Since the sad announcement in March, Willis' family has continued to stand by him, spending as much quality time as they can. Thankfully, his current wife Heming gets along great with Moore, who remains a big part of the family, as well as their three adult daughters. In the months since Willis' diagnosis, they've all leaned on each other to get through the tough times.
Emma Heming says Scout Willis gave her words of wisdom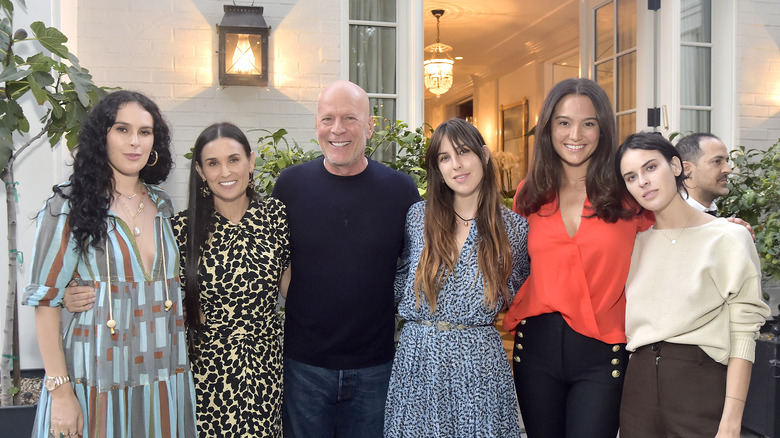 Stefanie Keenan/Getty Images
It's not uncommon for children to clash with their step-parents, especially in Hollywood — however, the Willis family doesn't seem to have that problem. In fact, in the wake of Bruce Willis's aphasia diagnosis, his wife Emma Heming has grown closer than ever with his adult daughters from Demi Moore. In the caption of a new Instagram video, Heming shared a quote from her second step-daughter, Scout Larue Willis, writing, "As my step-daughter @scoutlaruewillis told me, grief is the deepest and purest form of love. I hope you find some comfort in that too."
Heming hashtagged the post "#nationalgriefawarenessday," which falls on August 30. The video shows some of her happier moments over the past few months, including gardening, painting, and working out. Before the shout-out to Scout, Heming said, "This was the summer of self discovery — finding new hobbies, going out of my comfort zone and staying active. My grief can be paralyzing but I'm learning how to live alongside it."
Although he's still alive, Heming's words about grief are almost certainly in reference to Bruce's diagnosis. While he didn't appear in the video, she regularly posts him spending time with their young daughters, Mabel and Evelyn. Scout replied to Heming's kind words in the comments, saying, "This is so beautiful! I'm so proud of you, I love you so much!!!" With so much family drama going down elsewhere, the Willis clan's touching interactions stand out in the best way.