Britney Spears Gives Clear Message To Estranged Sons Amid Devastating Family Feud
Tinseltown/Shutterstock
Britney Spears has shared a heartbreaking message for her two sons as their family drama continues to hit the headlines. Spears' relationship with her boys, Jayden James and Sean Preston, has been pretty strained recently (Spears children did not attend her June wedding with Sam Asghari), with the star going head-to-head with their dad, her former husband, Kevin Federline.
Things really seemed to boil over for the former couple when Federline used Instagram in August to leak private footage of Spears interacting with her boys, which the children had filmed years earlier. That came as the former backup dancer started speaking publicly about the mother of his children and her now-ended conservatorship, getting very candid in an "ITV News" interview. In it, he claimed their boys didn't like how much skin Spears likes to show on her Instagram account and had chosen not to spend regular time with her, revealing they hadn't seen her in months. Spears then hit back via Instagram Stories, writing (via HuffPost), "It saddens me to hear that my ex-husband has decided to discuss the relationship between me and my children. As we all know, raising teenage boys is never easy for anyone." She then claimed she'd had a rocky relationship with her kids long before she started posting risqué snaps online, adding, "I gave them everything. Only one word: HURTFUL..."
Now, Spears is speaking out again about her family drama with a message for her children.
Britney Spears wants to reconcile with her children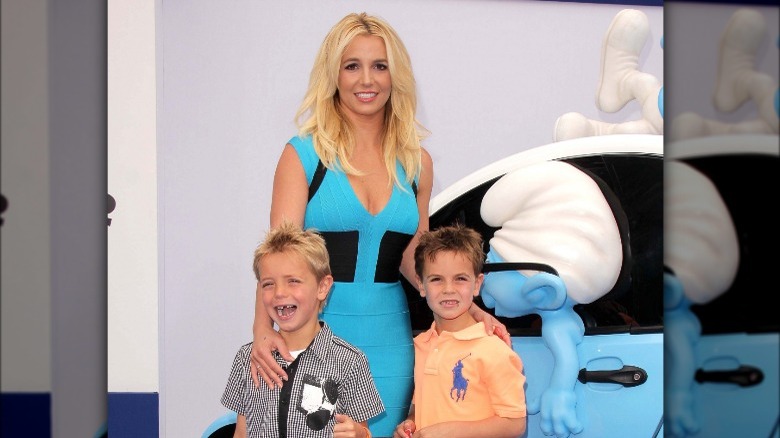 s_bukley/Shutterstock
Britney Spears is hoping to rebuild her relationship with her two children, revealing all in a very candid Instagram post on September 1. In her lengthy statement, Spears said she was "saddened to know his outcry of saying I wasn't up to his expectations of a mother" and shared her hopes that one day she would meet up with her boys again face to face so they could speak properly about what's been going on. Spears also claimed in the post that she worked so hard over the years in for her children, before taking aim at Kevin Federline by writing, "It's horrible to see your dad be a hypocrite and say the media is horrible yet he has you talking about personal matters to them."
Spears' touching post appeared to be in response to Federline and her two sons appearing on "ITV News." Mail Online shared clips from the sit-down ahead of its September 2 airing, revealing that the trio spoke candidly about life with Spears is really like, while Jayden James expressed his hopes to reunite with his mom — though noted it would take a while and a lot of effort for things to be good again.
Spears' post also coincided with Federline and the boys sitting down with "60 Minutes Australia," with a preview of the September 4 interview showing the former rapper saying of his time with the pop superstar, "It was amazing. Until it wasn't."