Why You Never See Todd Chrisley's Brothers On The Show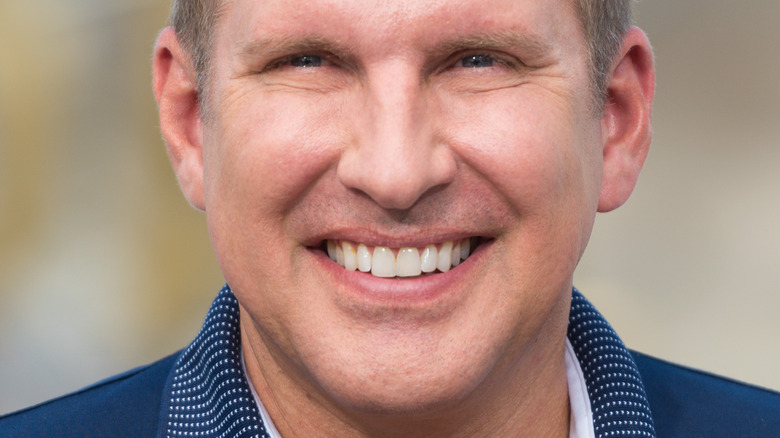 Noel Vasquez/Getty Images
"Chrisley Knows Best" viewers know all about the Chrisley children and their dynamics with the family, but one thing we don't often see — or even hear about, for that matter — is Todd Chrisley's relationship with his own siblings. 
Like his children, Todd was raised with siblings: two younger brothers, Randy and Derrick Chrisley. In a heartbreaking blow to the family, Celebrity Net Worth Reporter revealed that Derrick did not survive infancy, though what led to his passing is not public knowledge. Derrick, however, is just a year younger than Todd, and based on images shared to Instagram in early 2020, it seems they spent a ton of time together growing up. That said, Todd hasn't said much about his childhood with Randy, or the nature of their relationship today. In fact, in one of the images he shared of the two as kids, he simply penned a cryptic message. "If only I could go back in time and know what I know now... " he wrote. Todd also limited comments on the post, hinting that whatever it is he knows now, it's something he'd prefer to keep private. 
The real question, though, is what do we know now about Randy Chrisley ... and is there any particular reason why he hasn't been featured, or even mentioned, on "Chrisley Knows Best"?
Randy Chrisley has been linked to scandal more than once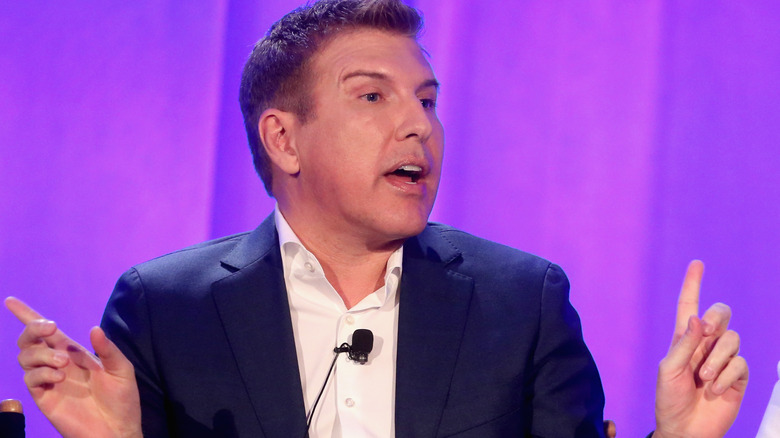 Frederick M. Brown/Getty Images
With Julie and Todd Chrisley being found guilty in their fraud trial, this family is no stranger to scandal. However, Randy Chrisley has had his own fair share of drama over the years ... and that may have been a deciding factor in his absence on the show.
Back in 2016, Todd revealed via Instagram that his brother's nasty divorce had dire consequences for the entire Chrisley family. "Pamela has been involved in a scheme with other individuals ... to extort hundreds of thousands of dollars from our family because my brother filed for divorce from her," he wrote. Todd also revealed that two arrest warrants had been issued against his former sister-in-law, for both harassment and blackmail. Radar later reported that on top of demanding money, Pamela had also made threats of physical violence against both Todd and his mother Faye Chrisley. Interestingly, it seems that Todd and Pamela never had a relationship, as he told the outlet, "I do not know Pamela and I will fortunately never have to." 
Unfortunately, that wasn't the only time the younger Chrisley brother was linked to scandal. Prior to the divorce drama, Randy himself was arrested for stealing $22 worth of candy. According to Radar, Randy initially said he'd "put candy in his pants because he did not have room to carry it." However, Randy quickly admitted wrongdoing when the responding officer realized that his pants had been "taped to his legs, preventing the candy from coming out."
Randy Chrisley also had health issues when the show started
Aside from his links to scandal, there's also a chance health issues played a part in Randy Chrisley's absence from the show.
Per Us Weekly, Randy was diagnosed with stage 4 cancer back in 2014. In a statement shared with the publication, a Chrisley representative revealed that the family was devastated by the diagnosis, but that they were optimistic that he would make a "full and speedy recovery." The statement also asked for both fans and the media to give them some space. "The family is asking for privacy and respect during this process," the representative appealed. Given that "Chrisley Knows Best" had premiered earlier in 2014, the first few seasons of the show would have coincided with his recovery, so it only makes sense that he wasn't featured. However, the family has also made good on a promise made in their statement: "There will be no further comments regarding this matter." The family has seldom spoken publicly about the diagnosis, Randy's recovery ... or Randy at all, for that matter. 
From scandals to health scares, there are a number of possibilities as to why Randy has never made an appearance on the show. In light of Todd Chrisley not knowing his brother's ex-wife (via Radar), there's even a chance of a rift between the siblings at some point. However, it could also have something to do with Randy simply preferring privacy. At the end of the day, we guess the Chrisleys know best.