The Tragic Reason Dove Cameron Started Therapy At 8 Years Old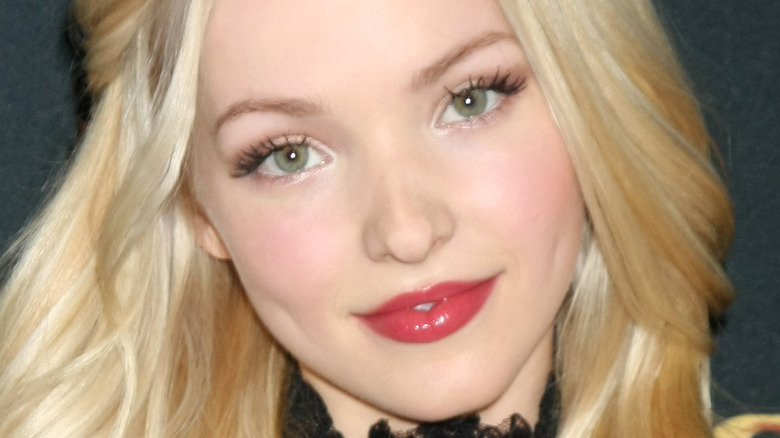 Kathy Hutchins/Shutterstock
Dove Cameron may be most famous for being the squeaky clean star of "Liv and Maddie" on Disney Channel, bringing joy to millions of kids in the roles of twins Liv and Maddie Rooney for the show's four season run between 2013 and 2017, but underneath that happy persona lay a childhood littered with tragedies.
Cameron has lived through some unimaginable hardships in her life and has been very vocal about the work she's done on herself to get her to the happier place she's in today. The star has shared a number of techniques that keep her strong and happy, including stopping saying negative things about herself. "I realized that, when I would tell myself that I'm a worthless nothing, I'm basically saying, 'Everyone else is the best, and I am the worst.' But who am I to decide that? No one knows better than me in the same way that I don't know better than anyone else," she explained to BeatRoute in 2021. That same year, she shared on Twitter that she'd turned off her text notifications and will only look at her messages when she decides to.
Cameron has also been very vocal about her experience with therapy and the effects its had on her life, revealing the shocking incident that happened in her childhood that caused her to seek help as a young child.
Childhood tragedies led to Dove Cameron seeking therapy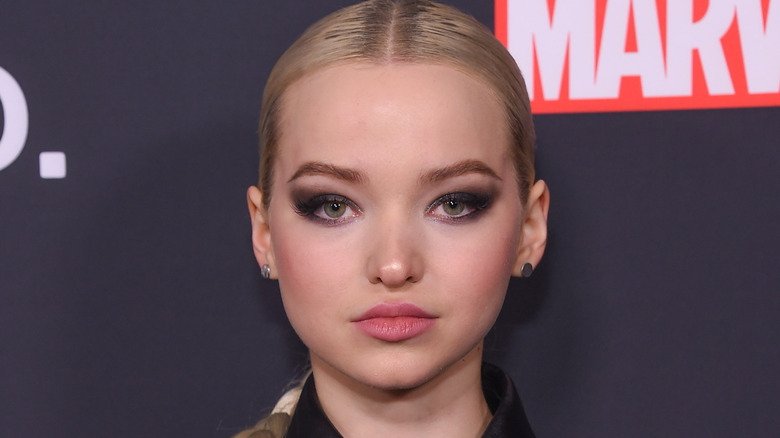 DFree/Shutterstock
One of the most horrific tragedies in Dove Cameron's young life came when Cameron's dad took his own life when she was a teenager, after which the actor and singer opted to legally change her name in his honor. What you may not know is Cameron was actually born Chloe Celeste Hosterman, but she explained the name change on Twitter after a fan asked back in 2017. "My father always called me dove. he took his own life when i was 15, i didn't get to say goodbye, so i changed it in honor of him," she tweeted. That same year, she explained to Entertainment Weekly that her late father was closeted at the time of his suicide. "When I found that out, I was like, everything adds up. He was such a sensitive person," she shared.
But that wasn't the only horrific incident Cameron experienced in her youth. When she was 8 years old, Cameron's best friend and her sister were killed by their dad in a murder suicide, per Refinery29. It was that scarring incident that inspired Cameron to seek help for the first time, and she started her therapy journey that same year. "I witnessed so much pain early on in life, and I remember thinking that it's so bizarre we pretend the pain doesn't exist," Cameron explained to BeatRoute in 2021. "These conversations help people, so let's have them! There's so much strength in vulnerability," she added.
How therapy helped Dove Cameron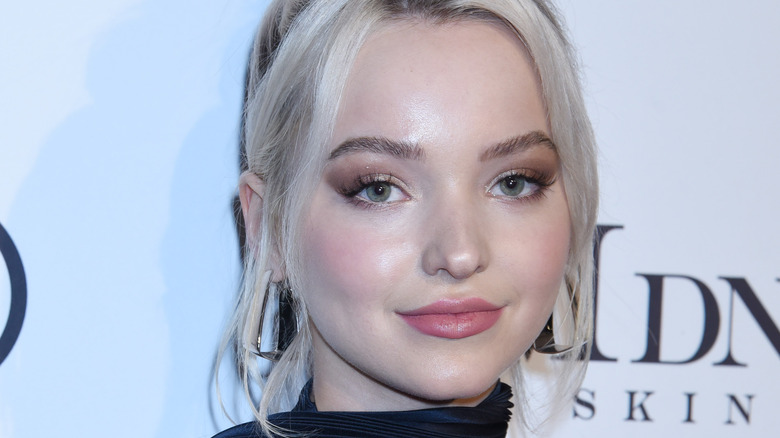 Ga Fullner/Shutterstock
True to her word, Dove Cameron has been refreshingly honest about her mental health and her need to see a therapist. "I've had the craziest childhood imaginable. It was so dark. So because of that, the light in my life has become a medication for that," she explained to Just Jared Jr. in 2017, explaining she made the decision to leave the darkness behind. "I knew what it was like to go to the darkest possible place. And because of that, you get really clear on what matters and what doesn't. That's been such a blessing," she added, sharing she sometimes still deals with anxiety but knows how to keep going even in darker moments.
The actor and singer has also expressed her hopes that one day everyone will be able to afford the opportunity to check in with a professional about their mental health. In 2019, she tweeted that she'd just finished what she described as a "therapy/intensive trauma session." She added that she felt a little better after, but noted she'd been "heavily reminded of just how much real work i have to do/pain i have to untangle. this life is hard, y'all. and mental health/needing help is nothing to be ashamed of." She then followed up in a second tweet by urging people to make use of whatever mental health help they can access. "Before you can help anyone else, you must help yourself. you matter," she wrote.
If you or anyone you know is having suicidal thoughts, please call the National Suicide Prevention Lifeline by dialing 988 or by calling 1-800-273-TALK (8255)​.
If you or someone you know needs help with mental health, please contact the Crisis Text Line by texting HOME to 741741, call the National Alliance on Mental Illness helpline at 1-800-950-NAMI (6264), or visit the National Institute of Mental Health website.