Matt Lauer Reportedly Headed For Divorce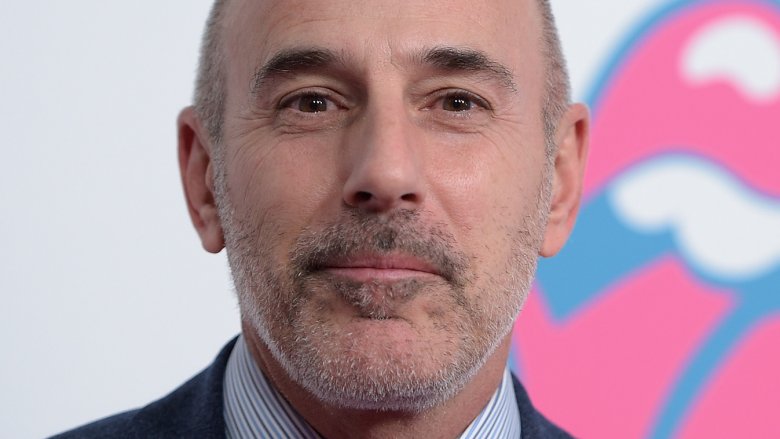 Getty Images
Sounds like the marriage of the former Today show host might be over.
E! News reports that Matt Lauer and his wife, Annette Roque, have removed their wedding rings. The pair, who wed in 1997 and share three children together, were spotted separately in the Sag Harbor, N.Y. area sans wedding bands on Wednesday, Dec. 6, 2017.
Annette's father, Henri Roque, spoke with the Daily Mail about Lauer's alleged inappropriate behavior and subsequent termination from NBC News. "I have no words for her husband. What he has done is bad," he told the paper from his home in Amsterdam. "Everybody feels betrayed."
Henri also noted that the scandal may have been the final straw for the pair's relationship. "'She is not going to stay with him and work it out," he explained. "They are not together trying to work it out."
He continued, "[Annette] is feeling shocked and she is now having sorrow for her children. Me too. Everybody is feeling quite sad," adding, "There are also the kids, I don't know what she's doing or who they are going to stay with."
Henri also set the facts straight about reports that Annette had left the United States and fled to Amsterdam after the Lauer scandal broke. According to him, Annette's been staying in the Hamptons.
As Nicki Swift previously reported, the Today show's Savannah Guthrie and Hoda Kotb announced that Lauer had been fired from the morning program on Wednesday, Nov. 29, 2017, following a "detailed complaint from a colleague about inappropriate sexual behavior in the workplace."
Later reports alleged that Lauer had a history of sexual harassment, as reported by Variety.
Since his firing, Lauer has apologized for his actions. "There are no words to express my sorrow and regret for the pain I have caused others by words and actions. To the people I have hurt, I am truly sorry," the 59-year-old said via a statement. "As I am writing this I realize the depth of the damage and disappoint I have left behind at home and at NBC. Some of what is being said about me is untrue or mischaracterized, but there is enough truth in these stories to make me feel embarrassed and ashamed."
His statement continued, "I regret that my shame is now shared by the people I cherish deeply," noting, "Repairing the damage will take a lot of time and soul searching and I am committed to beginning that effort. It is now my full-time job."
While we wait for more details to leak about the Lauer scandal, watch all of the TV journalist's most questionable on-screen moments.