The One Thing That Hurt Jennifer Aniston The Most In Her Divorce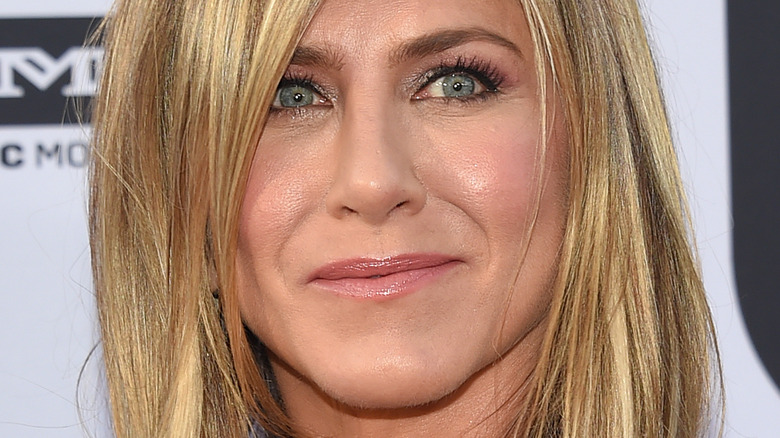 DFree/Shutterstock
Jennifer Aniston seems to be single lately, but she's certainly given marriage a chance– or two.
In 1998, she started dating fellow superstar Brad Pitt. They married in 2000 in a luxurious Malibu ceremony, but by 2005, they announced that they were parting ways. "This decision is the result of much thoughtful consideration. We happily remain committed and caring friends with great love and admiration for one another," they wrote in a statement.
Aniston went on to date Vince Vaughn and John Mayer, but she got her second chance at a marriage when she met Justin Theroux. The two exchanged "I Do's" in a secret ceremony in 2015, but they split just three years later.
While none of Aniston's marriages ended up in happily ever after, they are still "successful" by her standards. "My marriages, they've been very successful, in [my] personal opinion," she told Elle in 2019. "And when they came to an end, it was a choice that was made because we chose to be happy, and sometimes happiness doesn't exist within that arrangement anymore." Despite her optimism, she has struggled in the past.
Jennifer Aniston said she gave too much of herself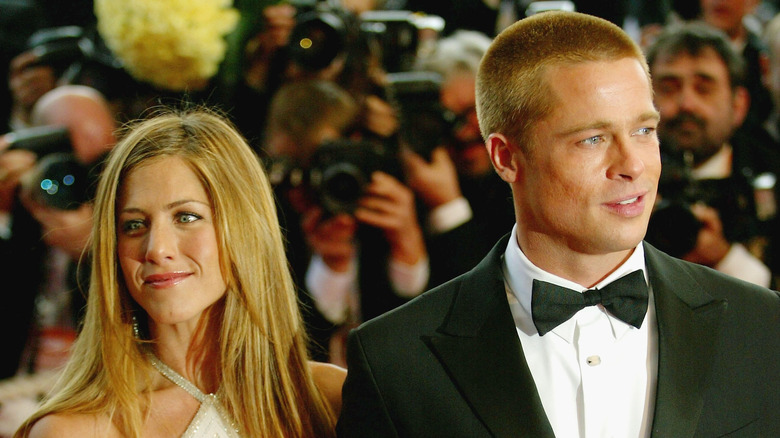 Bruno Vincent/Getty Images
When Brad Pitt and Aniston broke up in 2005, rumors swirled that Pitt left his wife for his "Mr. & Mrs. Smith" co-star Angelina Jolie. "What happened to him after the separation—it's his life now. I've made a conscious effort not to add to the toxicity of this situation," she told Vanity Fair in 2005.
But she did admit that she was distraught at the end of the relationship, around the same time "Friends" ended. Pitt hadn't shown up to the taping, and according to insiders, he had already "emotionally checked out" of the marriage. "That was really painful. It was a family, and I don't do great with families splitting up," she said of leaving "Friends," adding that Pitt had not offered emotional support. "He just wasn't there for me." She also expressed regret about not leaving anything for herself. "I wouldn't give over so much of myself," she said when asked if she would do anything differently. "I love taking care of people, and I definitely put his needs before mine sometimes. Somewhere along the way, you sort of lose yourself."
While Aniston felt hurt and disappointed during the divorce, she doesn't deem the experience as "painful." Speaking with CBS Sunday Morning, she said, "I don't find it painful," Aniston said. "I think it's a narrative that follows you because it's an interesting headline." Although divorce hurts, being the subject of endless tabloid stories seems to have hurt her more.
Jennifer Aniston is tired of the media scrutiny
Kevin Winter/Getty Images
Jennifer Aniston's divorce announcements had one thing in common: they wanted to keep the media out of it. "We would like to explain that our separation is not the result of any of the speculation reported by the tabloid media," her statement with Brad Pitt read, while her announcement with Justin Theroux said something similar: "Whatever else is printed about us that is not directly from us, is someone else's fictional narrative."
Aniston made her antipathy to media chatter clear in her 2008 Vogue interview. "There was stuff printed there that was definitely from a time when I was unaware that it was happening," she said of the controversy. "I felt those details were a little inappropriate to discuss." She also wrote a 2016 op-ed on the subject for The Huffington Post. "I used to tell myself that tabloids were like comic books, not to be taken seriously," she said. "But I really can't tell myself that anymore because the reality is the stalking and objectification I've experienced first-hand, reflects the warped way we calculate a woman's worth."
Luckily, she has a solid support system. "Just so many evolved, positive people around me," she told The Hollywood Reporter. "It's an inconvenience, but it's all relative. So, I had a choice to make: Either I'm going to surrender into bonbons and living under my covers or I'm going to go out there and find a creative outlet and thrive, and that's what I did."