The Harsh Way Camilla Reportedly Responded To Harry's Plans For Reconciliation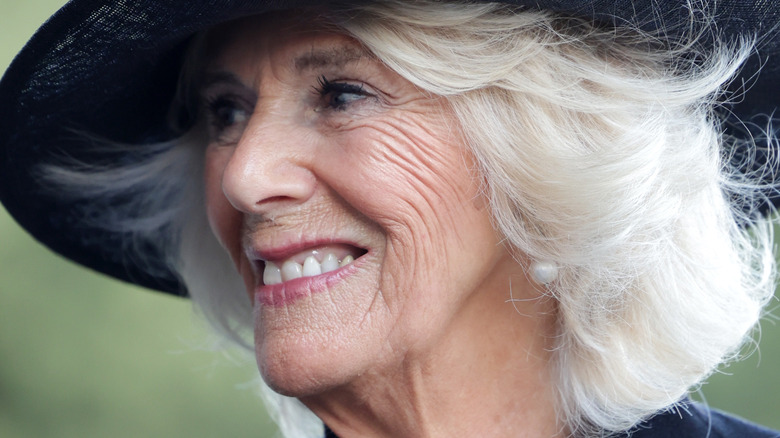 Chris Jackson/Getty Images
The royal family has undergone more than a few shakeups in recent years. Perhaps the biggest of all was the 2020 announcement that Prince Harry and his wife Meghan Markle would be stepping back as senior members of the royal family to move to Meghan's native California — a phenomenon widely known as "Megxit" or "Sussexit." Behind closed doors this caused quite an uproar among several members of the royal family, most notably King Charles III — then the Prince of Wales — and his eldest son, Harry's brother, William, Prince of Wales, then the Duke of Cambridge. 
Although Charles III did give a friendly shoutout to his younger son and daughter-in-law, the Duke and Duchess of Sussex, in his first public address as king on September 9, in which he said, "I want to express my love for Harry and Meghan as they continue to build their lives overseas." However, that does not spell the end of the royal family feud. Indeed, Harry's relationship with his older brother is still strained, as it is with his father and stepmother. 
Even though Camilla, the new queen consort, has more or less stayed out of the spotlight in recent years, it turns out that she is, in fact, none too pleased about Harry's recent decisions. And according to a new report, Camilla even had a particularly harsh reaction upon her stepson's best intentions to reach out and reconcile. And with the death of Queen Elizabeth II, it's possible there may never be a true reconciliation. 
Camilla spluttered into her tea when Prince Harry proposed a mediator to mend fences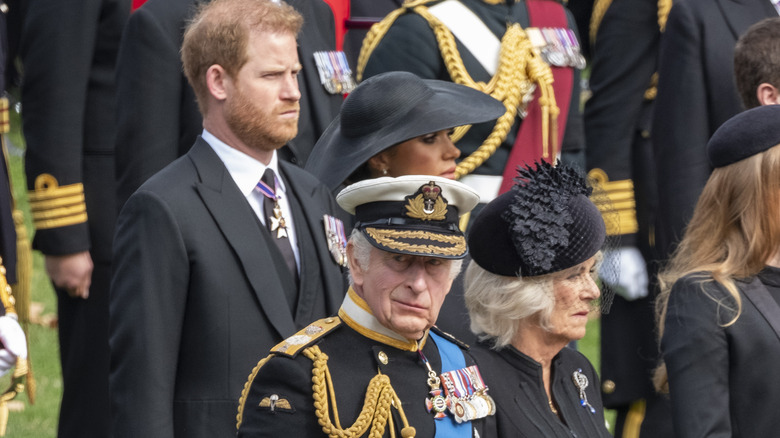 Bryn Colton/Getty Images
Although Prince Harry and his brother Prince William used to get along with their stepmother, things seem to have soured in recent years. In 2005, shortly after Camilla's marriage to King Charles III, then the Prince of Wales, Harry gave an interview to Sky News in which he called Camilla "wonderful," adding that he and William "love her to bits." In August, however, royal expert Ingrid Seward said in an episode of "Pod Save the Queen" that Harry "doesn't have great respect" for Camilla. She also said that he's "not interested in developing a relationship with his stepmother at this stage in his life."
Apparently, however, Harry has made new strides in light of his and his wife Meghan's decision to step back from royal family duties and move to the U.S. In her 2022 book, "The New Royals," royal expert Katie Nicholl revealed that Harry has recently attempted to mend fences between him and his family, including Camilla. The queen consort, however, was not having it. 
"Harry went in with hugs and the best of intentions and said he wanted to clear the air," Nicholl explained (via Vanity Fair). "He actually suggested that they use a mediator to try and sort things out, which had Charles somewhat bemused and Camilla spluttering into her tea." Camilla then apparently told Harry the idea was "ridiculous," adding that "they were a family and would sort it out between themselves." 
Prince Harry and Camilla may never reconcile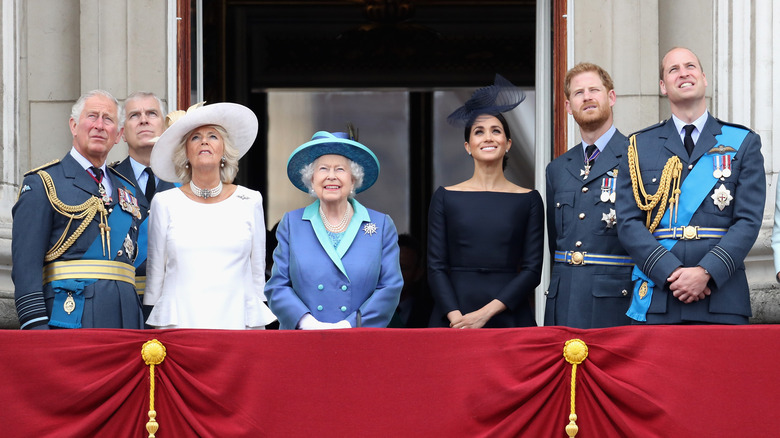 Chris Jackson/Getty Images
Of course, royal observers will remember that, when "Sussexit" hit the headlines in 2020, it was Queen Elizabeth II who was praised for her rapid and effective handling of the matter, while Charles, then the Prince of Wales, was "downright furious" about the whole ordeal. With Elizabeth gone now, the emotional and logistical rift between Prince Harry and the rest of his family will have to be mended under the leadership of King Charles and Queen Camilla — if at all. 
In addition, Camilla has expressed her concerns over Harry's upcoming memoir, set to be released in late 2022 or 2023. As Tina Brown told The Daily Express in September, Camilla "lives in dread" over the release of the memoir, in part because she fears it may harm the image she has worked so hard to rehabilitate after the divorce and subsequent death of Charles' first wife, Diana, Princess of Wales. "The rehabilitation of Camilla's image has been utterly successful, but she lives in dread of Harry's book," Brown said. "In some ways, Diana's ghost still rattles at the gate."
Naturally, Camilla and Charles are not the only royal family members worried about the memoir; Harry's only brother, William, Prince of Wales, apparently has avoided seeing Harry altogether before the memoir was released, according to The Sun, for fear that Harry might use some of their conversations against him in the book (though, of course, the death of their grandmother Queen Elizabeth II threw a wrench into that plan).