How Long Were Justin Bieber And Selena Gomez Actually Together?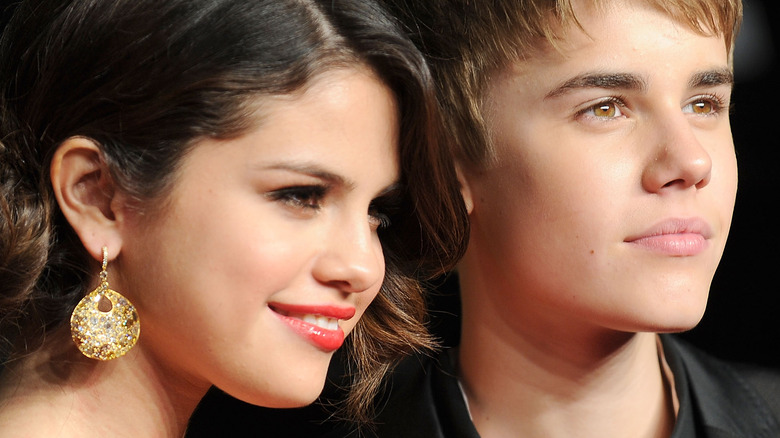 Pascal Le Segretain/Getty Images
Before Justin Bieber was married to Hailey Bieber (née Baldwin), he was first involved in a long on-and-off relationship with Selena Gomez. While the two singers had dated other people, they were together for the longest time, and at one point, fans thought they would be each other's end game. Gomez initially said that she only saw Bieber as her "little brother," but it didn't take long until they were spotted at red carpets and public events together. And as expected with young people, there was a whole lot of drama in between, including allegations of Bieber cheating on the "Wolves" singer.
In a 2015 interview with Complex, Bieber said that during their together "we were so in love" and "nothing else mattered." But he said that it got to a point where people found it difficult to separate them. "But when it's like that and you get your value from that, people will always disappoint you," he said. "Your full identity can't be in that person. My identity was in her. Her identity was in me." During one of their breakups, Gomez noted how "exhausted" she was. "I honestly am so done," she told W Magazine in 2016. "I care about his health and well-being. But I can't do it anymore."
Given the tumultuous nature of their relationship, it's challenging to pinpoint how long they were actually together, but according to what's been reported in the media, they were boyfriend and girlfriend for nearly a decade.
Justin Bieber and Selena Gomez dated on and off from 2010 to 2018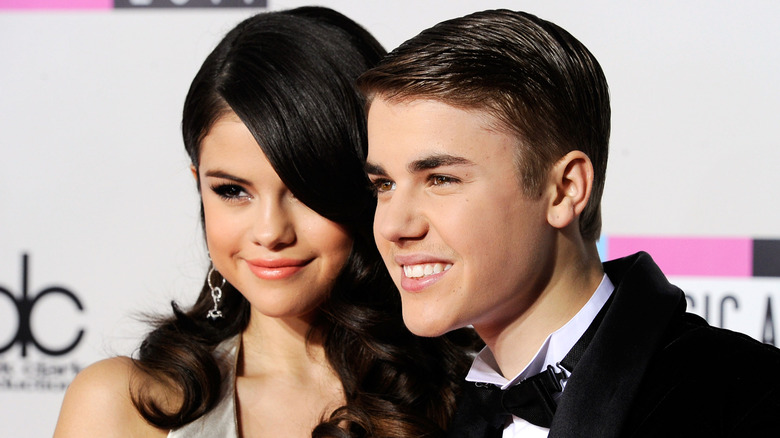 Frazer Harrison/ama2011/Getty Images
Justin Bieber and Selena Gomez were mot exactly the pinnacle of healthy relationships, but they did date each other on and off for eight years. Between 2010 and 2018, they were involved and even lived together for a few years. Bieber once described their relationship as "marriage."
"I moved in with my girlfriend when I was 18. Started my own life with her. It was a marriage kind of thing. Living with a girl, it was just too much at that age," the "Peaches" singer told Complex, adding they were bad for one another. "When stuff would happen, I would lose my freakin' mind, and she would lose her mind, and we would fight so hard because we were so invested in each other." Gomez, for her part, said she experienced some kind of "abuse" when she was with Bieber. "It's dangerous to stay in a victim mentality," she shared with NPR in 2020. "And I'm not being disrespectful, I do feel I was a victim to certain abuse."
Whenever the two decided to split, they tried dating other people. Gomez had reported flings with Zedd and singer Niall Horan and publicly dated The Weeknd for almost a year in 2017. Meanwhile, Bieber dated his now-wife Hailey Baldwin in 2015 and 2016, and was linked to Sofia Richie, Nicola Peltz, and Chantel Jeffries. In 2018, Gomez and Bieber parted ways for good, and coincidentally, it was the same year Bieber married Baldwin.
Are Justin Bieber and Selena Gomez friends today?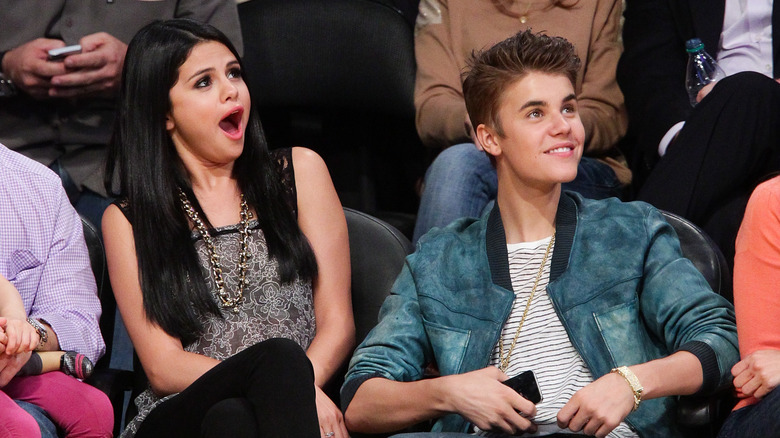 Noel Vasquez/Getty Images
In 2018, Justin Bieber and Selena Gomez split for good. According to a source close to the former couple, it was "never a healthy situation" between the two. "Their relationship was always very complex and complicated. It was just too much baggage," they told People, so no one was surprised when they broke up. "It wasn't possible for them to have a future."
When Bieber married Hailey Baldwin, rumors claimed he only did so to exact revenge on Gomez, but he clarified in an Instagram comment that that's all nonsense. "I absolutely loved and love Selena," he wrote at the time (via Elle). "She will always hold a place in my heart, but I am head over heels in love with my wife and she is absolutely the BEST THING that has ever happened to me period." An insider also told Us Weekly that "Justin has stayed away from Selena to be loyal to Hailey."
Bieber and Gomez no longer interact publicly, but they do talk about each other from time to time. In June, Gomez acknowledged that their split was rough, but she came out of it stronger and smarter. "I have to be honest, it's actually been really good for me," she told The Hollywood Reporter. "It allowed me to develop a character where I don't tolerate any sort of nonsense or disrespect in any way, and I'm really proud of how I came out of it."