Tom Brady Comes Clean About His On-Field Behavior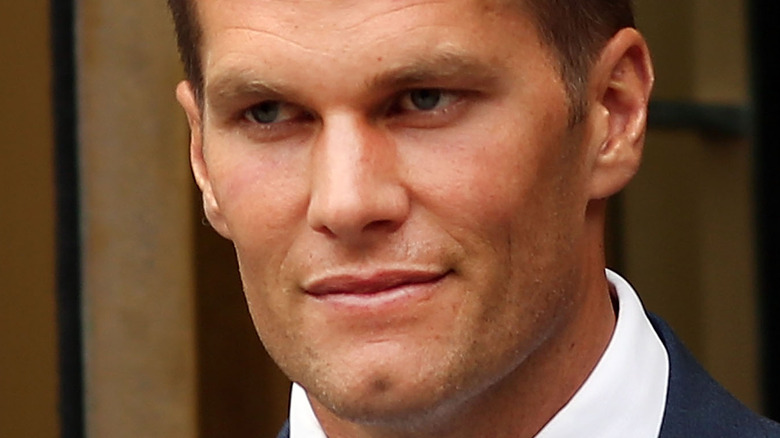 Spencer Platt/Getty Images
It's no secret that Tom Brady hit a rough patch this year. In case you have been living under a rock, Brady's personal life with wife Gisele Bündchen has been at the center of one headline after the next, and it seems as though things are on the rocks. When the NFL star elected to come out of retirement and return to the Tampa Bay Buccaneers, it may have sat well with fans, but it seems like it irked his wife. In a September interview with Elle, the supermodel expressed her misgivings about Brady returning to the field. "Obviously, I have my concerns — this is a very violent sport, and I have my children and I would like him to be more present," she shared, later adding that it's his decision to make.
But, things seemed to take a turn for the worse, and the pair has been at odds. According to Page Six, Brady and Bündchen lawyered up, and it seemed as though divorce was imminent after a blowout fight. "I never actually thought this argument would be the end of them, but it looks like it is," an insider told the outlet, adding that they didn't think there was any "coming back" from the epic argument. 
This year, Brady has also made headlines for his on-field behavior, including when he smashed a tablet on the sidelines of a game against the New Orleans Saints, per Marca. Now, another incident on the field has Brady needing to explain himself.
Tom Brady explains his role as a quarterback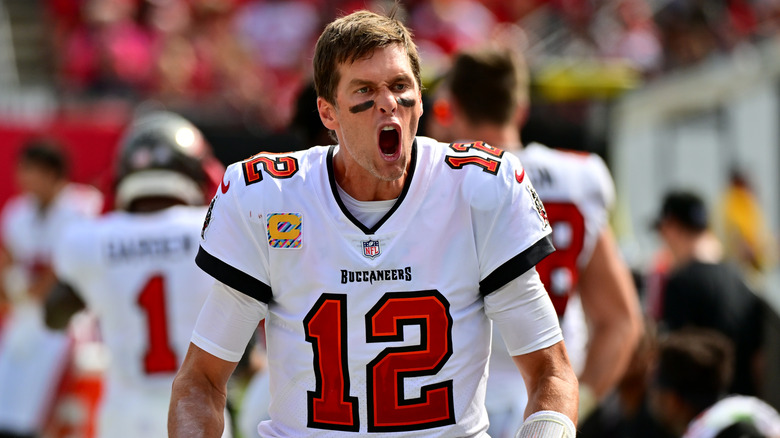 Julio Aguilar/Getty Images
Tom Brady is spilling the tea about some on-field behavior of his that has garnered plenty of media attention. In case you missed it, we're talking about the moment when the Tampa Bay quarterback yelled at his offensive linemen during a game against the Pittsburgh Steelers, which Tampa Bay ultimately lost. "I don't know if it's motivation, but I do think that it's a bad day when there's more F-bombs than touchdowns," he said on the "Let's Go" podcast on October 17. "So, that was not one of my better days. But F-bombs, they used to kind of keep from showing you in those moments, but now it's kind of for the world to see," he said, noting that it's just kind of the way things are nowadays.
When asked how his teammates felt about his behavior, the star seemed confident that things were still good. "I think I have a great rapport with all my teammates, and they know that the only reason why I'm doing it is to try to motivate 'em and try to get us to a higher level," he shared. The star also called it his "job" as the quarterback to speak up if the team isn't playing well.
As fans know, Brady initially retired in February after stints with the New England Patriots and Tampa Bay Buccaneers. However, Brady ultimately decided in March to return to the field, noting that he felt like he still had a little more juice left in the tank.