Aaron Carter Left A Devastating Message On Instagram Before His Tragic Death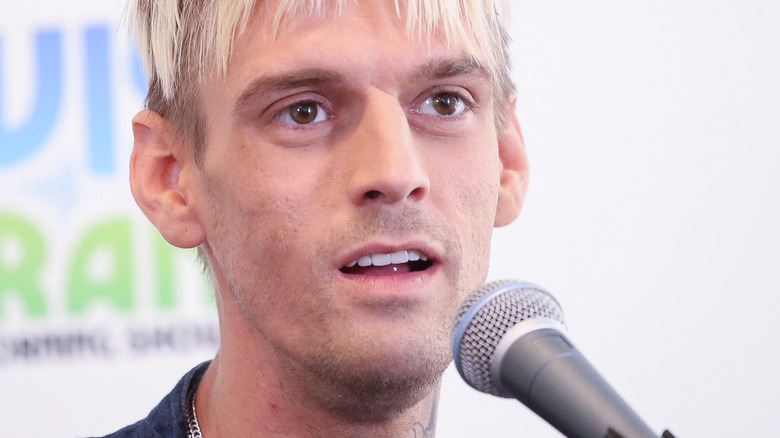 Rob Kim/Getty Images
Singer Aaron Carter is dead at 34, according to a report from TMZ. Per the outlet, the "I Want Candy" singer was found unconscious in his Los Angeles-area home and was pronounced dead at the scene. Law enforcement officials responded to Carter's home after receiving notice that a man had drowned in a bathtub — however, foul play was not suspected at that time.
Following his rise to fame in the early 2000's, Carter's career was riddled with turmoil. In 2011, Carter entered rehab, just one year after he appeared on "Dancing With the Stars." A source revealed to E! News that Carter was seeking help for substance abuse, and that he made the decision to enter the treatment center on his own. Unfortunately, Carter's first stint in rehab wasn't his last. The singer checked into a treatment center again in 2017 following a series of welfare checks at his home. Since then, Carter's life has been filled with drama, as he was involved in an on-again, off-again relationship with model, Melanie Martin, who is also the mother of their baby boy, Prince. "I love Aaron with all my heart and it's going to be a journey to raise a son without a father. Please respect the privacy of my family as we come to terms with the loss of someone we love greatly," Martin told TMZ.
Despite the turmoil, Carter has continued to provide updates about his life via Instagram. Just days before his untimely death, the former pop star shared a seemingly cryptic post with his 500,000 followers.
Aaron Carter spent Halloween alone
Following Aaron Carter's death, fans have taken to social media to share tributes to the late singer. "RIP Aaron Carter You changed pop culture forever" one person tweeted. another wrote, "Before Justin Bieber, there was Aaron Carter who had all the 90s girls in a chokehold. RIP." And while fans of the singer continue to share their favorite memories of the child star — including the time he made a Shaquille O'Neal diss track – some have drawn attention to a devastating post the singer shared just days before his death.
"This day is beautiful. Stay blessed, be kind and have a safe Halloween weekend," Carter wrote on Instagram. "If your chillen by yourself for Halloween, just know you're not alone." The post, written alongside a selfie of the singer flanked by animated butterflies, is now being flooded with comments from fans expressing grief over Carter's passing. As for the song Carter chose to accompany the post, it was Bob Marley & the Wailers' "Three Little Birds," which contains the famous verse, "Don't worry about a thing' Cause every little thing gonna be all right // Singin': "Don't worry about a thing' Cause every little thing gonna be all right!" The song choice is incredibly heart-wrenching when you consider what occurred just weeks later.
Carter's family — including his older brother, Nick Carter – have yet to speak out about the singer's death. He is survived by one son, Princeton, whom he shares with Melanie Martin.
Inside Nick Carter's last post before Aaron's death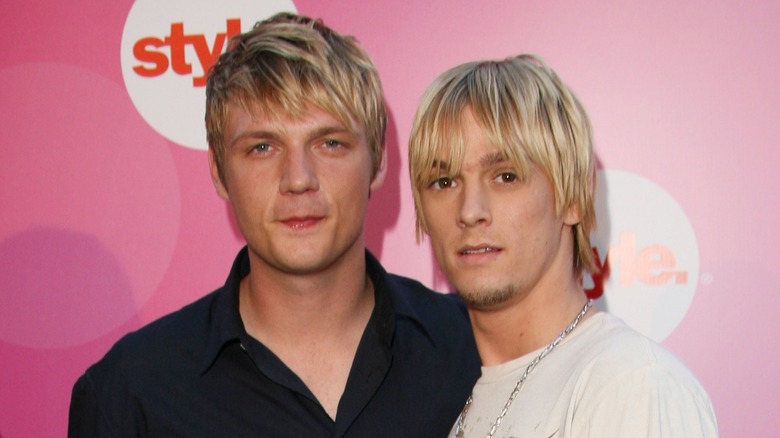 Chad Buchanan/Getty Images
Not only did Aaron Carter share a message of love and light on his Instagram account, but so did his brother, Nick Carter — but in a much different way.
Before we get to that, though, it's important to note Aaron's relationship with Nick was not positive before the "I Want Candy" singer's death. The two were not on speaking terms, and to make matters worse, Nick filed a restraining order on his brother back in 2019. He tweeted at the time, "In light of Aaron's increasingly alarming behavior and his recent confession that he harbors thoughts and intentions of killing my pregnant wife and unborn child, we were left with no choice but to take every measure possible to protect ourselves and our family." 
That said, Nick has been busy touring Europe with the Backstreet Boys and was in between concerts during the time of Aaron's death. The day before, he posted a behind-the-scenes video of the group's performance in Dortmund, Germany on his Instagram account. And, just like Aaron, Nick had been putting his focus on his family, sharing a pic of his wife Lauren and their three children dressed up in their Halloween costumes. There had been no mention of Aaron — any of the personal struggles that his little brother had been going through — on any of Nick's social media channels. However, that's not too surprising given the pair's fraught relationship — and even Aaron refrained from referencing Nick on his IG. Sadly, now they'll never have the chance to make things right.