The Unexpected Offer Britney Spears Gave Brad Pitt And Angelina Jolie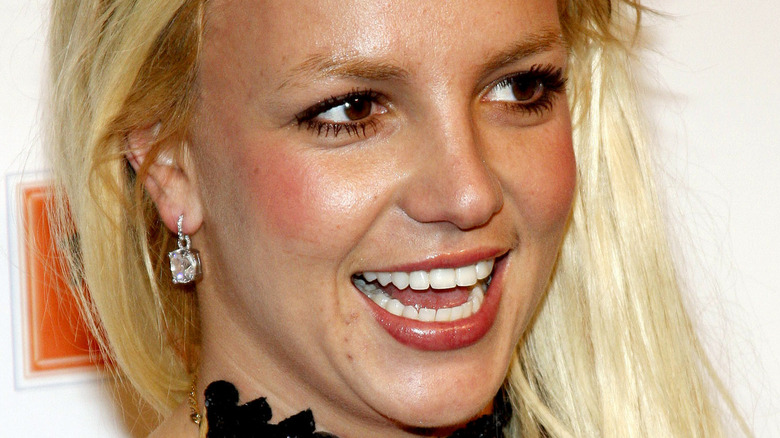 Tinseltown/Shutterstock
Nicknamed "the Princess of Pop," Britney Spears is one of the most iconic pop stars of all time. However, despite seeing success in her professional life, Spears' personal life hasn't been easy. She was under a conservatorship – which gave her father, Jamie Spears control over her life, career, and finances — for 13 years. After a lengthy legal battle and immense fan support, Spears was finally freed from her father's control in 2021.
Despite intense personal struggles, she seemingly emerged stronger on the other side, scoring huge wins in both her professional and private life. In June 2022, Spears married longtime boyfriend Sam Asghari. Just a few months later, she dropped a collaboration with Elton John, titled "Hold Me Closer." Per Page Six, the single was a smash hit, cracking the Billboard Top 10. "Hold Me Closer" became her first song to achieve the feat since 2013's "Scream & Shout," which featured Will.i.am of The Black-Eyed Peas fame.
All that being said, Spears once shared a decidedly different idea of where she wanted to see her career to go — and who she wanted to be a part of it.
Britney Spears offered to babysit for Brad Pitt and Angelina Jolie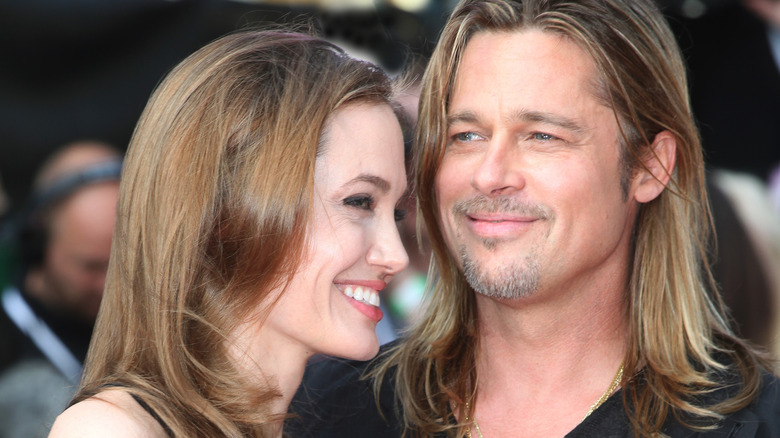 Featureflash Photo Agency/Shutterstock
When discussing her dream job, Britney Spears had an unusual answer. While one might expect the lifelong performer to choose something in the entertainment industry, her interests lay elsewhere.
"I met Brad Pitt once, but I'd like to meet him again," Spears said during a "Good Morning Britain" interview in 2015. "And I'd like to become their nanny." Given that Pitt and ex Angelina Jolie have six children, babysitting would not be an easy undertaking. However, Spears added that it sounded "fun," explaining that she wanted to work with children. If she wasn't a musician, the singer told Good Morning Britain that she would "probably be a teacher or anything relating to the kids or teaching at a dance studio with a bunch of kids." 
It seems Spears may have an ulterior motive for making the offer. During a 2016 interview with Australia's "Today" show, the singer said (via Entertainment Tonight), "My first celebrity crush was Brad Pitt," adding, "He's single now!"
Britney Spears has a big crush on Brad Pitt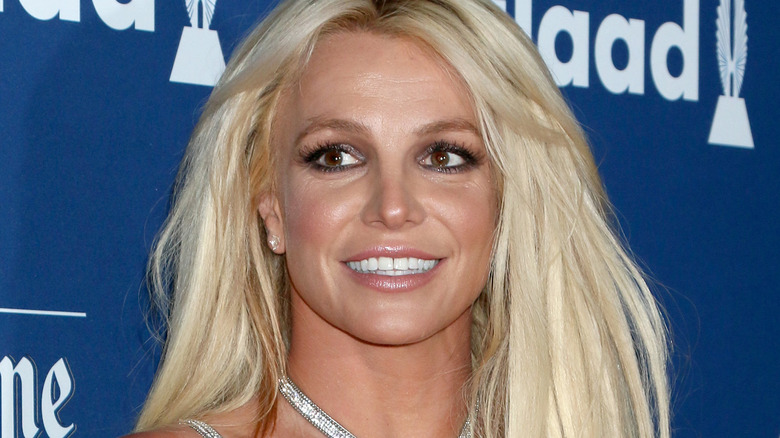 Kathy Hutchins/Shutterstock
In April 2022, Sam Asghari poked fun at wife Britney Spears by sharing a behind the scenes look at one of her prized possessions. In an Instagram video, the personal trainer revealed that Spears keeps a photo of Brad Pitt in her wardrobe.
"We got a huge problem," Asghari began, before pretending he didn't know who Pitt was. He then gave fans a look at the photo, which showed the actor in a scene from "Thelma & Louise." Asgari added, "You don't think I can do this?" Dressed — or more accurately, not dressed — like Pitt in the scene, he recited the lines from that specific scene: "Now, Simon says everybody down on the floor. If you don't lose your head, you ain't gonna lose your head."
The cute clip is made all the more charming by Spears giggling in the background. Asghari's hilarious recreation of the scene clearly scored the intended reaction from Spears, and after all, who can blame her? And that wasn't the first time Spears was caught with a Pitt picture in her house. During a 2004 interview, Diane Sawyer pulled out a framed picture that she had found in the pop star's home. A blushing Spears told Sawyer that "the crush continues" before adding, "We shouldn't show that. I'm embarrassed. It's my little thing."