What We Know About Jennifer Aniston's Half-Brothers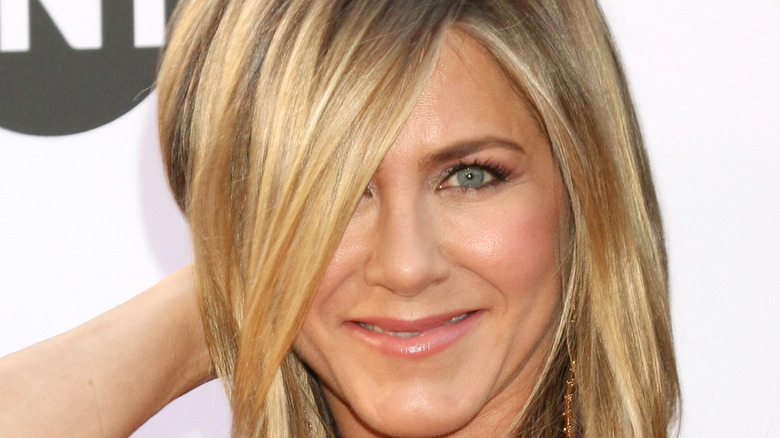 Kathy Hutchins/Shutterstock
Undoubtably one of the best-known actors of her generation, Jennifer Aniston is well-known and loved across the world for her nearly three decades in the spotlight. After skyrocketing to international fame as one of the six leads of NBC's "Friends," Aniston has been acting consistently ever since the end of her flagship role in 2004. Most recently, she has been starring as Alex Levy in Apple TV's "The Morning Show" ever since 2019. For her role as both an actor and producer on "The Morning Show," Aniston has been nominated for four Golden Globes and one Primetime Emmy. She continues to work on the award-winning series as of 2022. 
Of course, Aniston's personal life has also been of keen interest to her most diehard fans; her marriages to fellow actors (and sex symbols) Brad Pitt from 2000 to 2005 and Justin Theroux from 2015 through 2017 were consistently among Hollywood's most highly-publicized. With the recent death of her father, Greek-born actor John Aniston, in November 2022, however, many have taken an interest in her backstory, including whether she had any siblings. 
As it turns out, Aniston indeed has two half-siblings — one from each parent — and, unsurprisingly, they are much more low-key than the famous "Friends" actor.
Jennifer Aniston's elder half-brother is also in the movie industry
Jennifer Aniston was born in Los Angeles to actors John Aniston and Nancy Dow in February 1969, per IMDb. John and Nancy married in 1965, and divorced when Aniston was around 11, in 1980. Dow had been married before, however, and John got re-married after, and each had one child with their other spouse. 
Dow married famed American bandleader and pianist John "Jack" Melick in 1956, per the Daily Mail, and they remained together for five years before divorcing in 1961. In 1959, they had their only child, John Melick III, Aniston's elder half-brother by 10 years. Although he comes from a famous family unafraid of the spotlight, John may be the outlier of the family. According to IMDb, he has followed his family's footsteps and also entered the entertainment industry, but has chosen to remain behind the cameras, working primarily as an assistant director and production manager. He married Shannon Melick in 1995, and the two have two children. According to People, throughout her three-plus decades in the limelight, Jennifer has largely refrained from publicly appearing with or discussing either of her half-brothers. 
Upon Dow's death in 2016, Jennifer released a statement on behalf of herself and her half-brother, reading, "It is with great sadness that my brother John and I announce the passing of our mother Nancy Dow ... We ask that our family's privacy be respected as we grieve our loss."
Jennifer Aniston's younger half-brother Alexander AJ keeps a low profile
As much as John Melick stays under-the-radar, Jennifer Aniston's other half-brother, Alexander Aniston, may be the lowest-profile of the entire Aniston clan. 
Jennifer's father John Aniston married Sherry Rooney in 1984, per Us Weekly, and remained with her until his death in 2022. In 1989, they had their only child, son Alexander, also known as "AJ." According to People, AJ, Jennifer's younger half-brother by 20 years, has largely stayed away from the public eye, and was last seen in 2004 — when he was just 14 — attending the premiere of Jennifer's film, "Along Came Polly." 
According to TheBlast, AJ has strayed entirely from the entertainment industry, and has chosen instead to pursue a nomadic lifestyle, at one point traveling in a van along America's west coast, from Alaska to California. In addition, per The Things, AJ had two children with makeup artist Adriane Hallek: son Ryat, born 2014, and daughter Kira, in 2016. However, AJ and Hallek are no longer together.