What It Was Really Like On Set During Ellen's Final Episode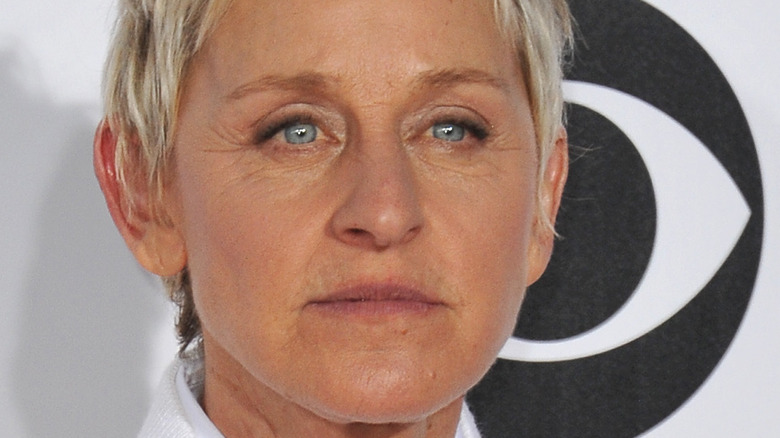 Jaguar PS/Shutterstock
When Ellen DeGeneres revealed her talk show was coming to an end after almost 20 years, it wasn't the shock one might have anticipated. While DeGeneres was once a beloved figure in pop culture, allegations of creating a toxic workplace damaged her reputation. As a result, ratings for "The Ellen Show" plummeted, leading to its cancellation in 2022, via NPR.
"Ellen's public image is that of a sweetie who's nice to everyone and is a real pussycat," a source told RadarOnline in 2017. "But when the cameras aren't rolling, she treats staffers as if they are her peasants!" After reports of DeGeneres' inconsistent behavior, audiences started reconsidering her treatment of not just employees, but guest on her show. From revealing Mariah Carey's pregnancy to shaming Dakota Johnson after ditching her birthday party, her record isn't exactly helping her case.
Though she was once widely loved, the comedian's years of questionable behavior caught up to her, spelling out the end of her talk show career. However, for her part, DeGeneres maintained a positive front regarding the cancellation. 
Ellen's final episode was emotional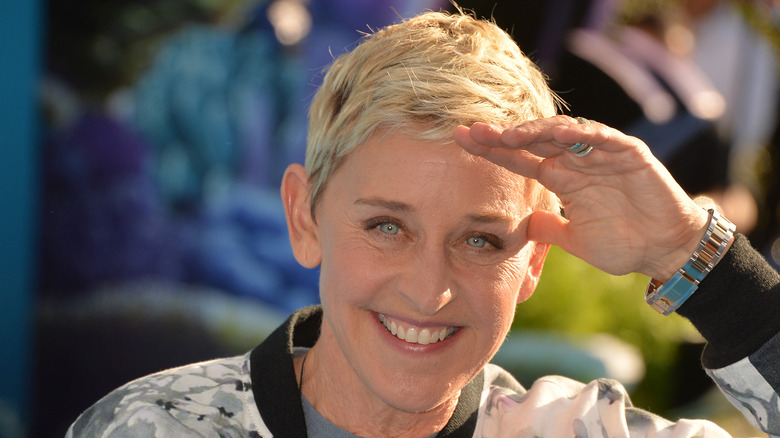 Featureflash Photo Agency/Shutterstock
In May of 2022, Ellen DeGeneres hosted "The Ellen Show" on final time. With wife Portia De Rossi in the audience, the host gave a teary-eyed monologue reflecting on the ups and downs of her 20 years as a host, especially with regard to the amazing change in the treatment of LGBTQ+ entertainers. She then called the series "the greatest experience," adding that helping as many people as she has was "beyond [her] wildest imagination." Of course, in typical "Ellen" fashion, instead of ending the monologue on an emotional note, she brought out  DJ tWitch for one final dance.
Per People, the episode was full of callbacks to DeGeneres' many years onscreen. Notably, Jennifer Aniston was both her first and her last guest. Both times the "Friends" star brought her the same present: a door mat. While the first was a welcome mat, the second read, "Thanks for the memories." Her other guest, P!nk, serenaded the host with her favorite tune "What About Us," and she praised DeGeneres' history of giving back.
"Whereas maybe I help people find their pain, you help people find their joy, and we need that so badly in the world, and you are as kind as you seem, and you support people, and when you shine your light on them, it's like staring into the sun," said the singer. After the sentimental episode, the show ended on a solemn note, with DeGeneres whispering "bye" and sitting back on the very same couch she opened the series with in 2003.
Ellen DeGeneres reflects on end of series
Frazer Harrison/Getty Images
Following the ending of her hit talk show, many were asking the same question: what is Ellen DeGeneres doing next? According to her, the plan is to push herself creatively. "When you're a creative person, you constantly need to be challenged," she explained, "and as great as this show is, and as fun as it is, it's just not a challenge anymore."
DeGeneres noted her next project being grounded in her comedic roots. Titled "About Time For Yourself... with Ellen," DeGeneres' new comedy docuseries follows her retired life alongside wife Portia De Rossi. The new show is scaled back from her previous work and it will air on her YouTube channel. Interestingly, she also addressed the criticisms rumored to end "The Ellen Show." In an interview with People, DeGeneres said, "people are going to say things and have opinions, and I just need to know who I am and keep my head up." She then added that the experience taught her that she is "stronger than [she] thought] and that [she's] capable of letting things just repel off of" her.
DeGeneres addressed the change of pace regarding the end of "Ellen," noting that the show itself isn't what she'll miss the most. Explaining that her production team was "a family," she elaborated that much of the staff was with her the entire run, and their daily presence in her life will be missed. 
Regardless of what went down behind the scenes, DeGeneres left a massive impact on the television industry. "Ellen's" cancellation leaves a void — for better or worse.