Why Matthew Perry Almost Didn't Come Back For The Final Season Of Friends
Alex B. Huckle/Getty Images
The following article includes mentions of substance abuse.
Matthew Perry may be forever known as one of the six main stars of NBC's "Friends," though it wasn't always so easy behind the scenes. Of course, as many fans know, the actor was plagued by addiction issues throughout the show's run, which saw him enter rehab at least twice during production. In addition, in the years since the show's end in 2004, he has revealed that his desire to make people laugh while onstage could be so intense that he "felt like I was going to die," and sources have even revealed that Perry was "in love" with his co-star, Courteney Cox, who played Perry's onscreen wife Monica. 
However, it turns out there was even more to the actor's personal life which we didn't see; so much so, in fact, that Perry almost didn't return for the final season of the iconic show. 
Matthew Perry on Friends' final season: 'I just can't do it'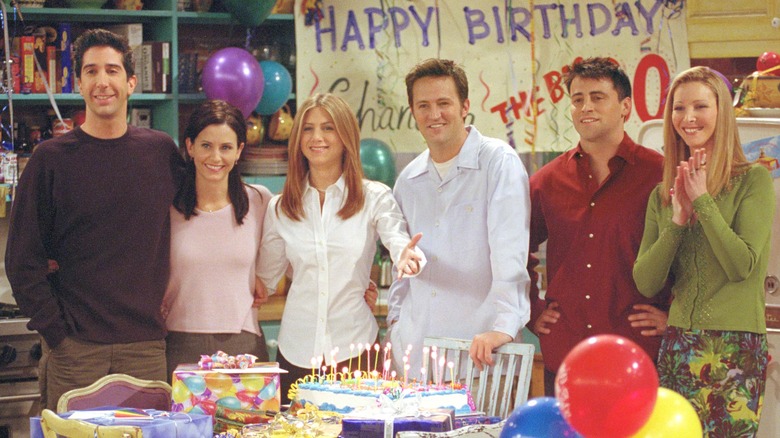 Getty Images/Getty Images
In March, Danny Bonaduce, an actor and friend of Matthew Perry, appeared on the "Behind the Velvet Rope" podcast, where he made a stunning revelation about Perry's attitude toward "Friends" near the end. "The last season of 'Friends,' he said, 'I just can't do it. I'm not going to do it,'" Bonaduce recalled. "But he had already done it. This was a tale in retrospect, he had already done it." This was likely due to Perry's many addiction struggles, which famously plagued him throughout the show's run. It's possible that by 2003, he simply felt too exhausted to go on. Perry has previously spoken about not remembering filming three seasons of the show ("somewhere between season three and six"), as it was at the height of his addiction.
At this time, Perry had already gone through at least two stints of rehab while on the show: once in 1997, around season 3 or 4, and again in early 2001, during production of season 7. However, his drug and alcohol addictions continued to haunt him and, as of November, he has only been consistently sober since around mid-2021, according to a profile in The New York Times. 
Matthew Perry was high on opioids while filming the final episode of Friends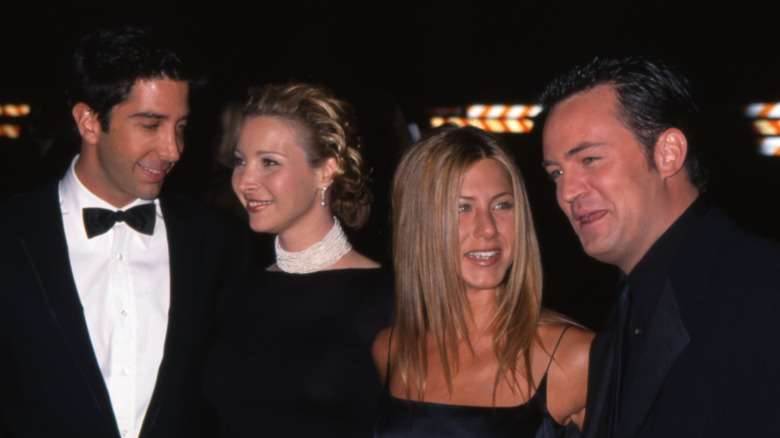 Michael Ochs Archives/Getty Images
In his new memoir, "Friends, Lovers, and the Big Terrible Thing," released November 1, Matthew Perry revealed that he was actually high on opioids while filming the final episode of "Friends," which left him emotionally numb. 
"It was January 23, 2004," he wrote. "The keys on the counter, a guy who looked a lot like Chandler Bing said, 'Where?' 'Embryonic Journey' by Jefferson Airplane played, the camera panned to the back of the apartment door, then Ben, our first AD, and very close friend, shouted for the last time, 'That's a wrap,' and tears sprang from almost everyone's eyes like so many geysers ... But I felt nothing. I couldn't tell if that was because of the opioid buprenorphine I was taking, or if I was just generally dead inside." At the time, Perry says, he had been taking the opioids — meant to be a "detox" medication to help him stay away from stronger ones — for eight months. 
Of course, Perry was not alone, as what he was going through was very apparent to his fellow cast and crew members, who were quick to express their support and sympathy for him. "I remember going up to him the first episode of the last season and saying, 'I'm so happy you're back,"' "Friends" creator and executive producer Marta Kauffman told The New York Times in 2002. "I hadn't realized how much he hadn't been there." 
If you or anyone you know needs help with addiction issues, help is available. Visit the Substance Abuse and Mental Health Services Administration website or contact SAMHSA's National Helpline at 1-800-662-HELP (4357).