The Truth About Matthew Perry And Courteney Cox's Relationship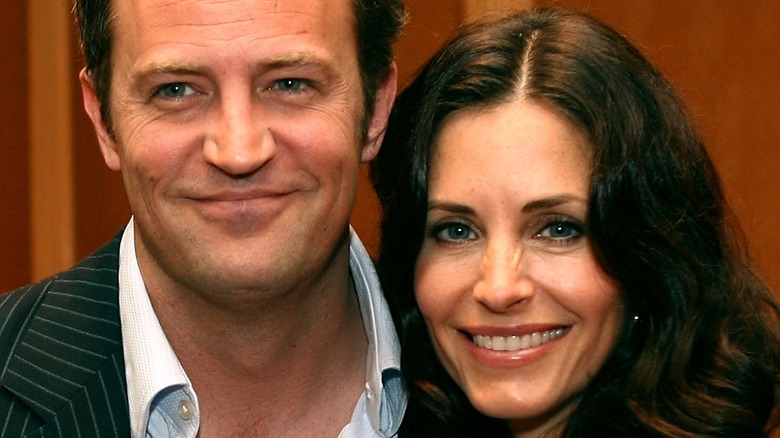 Kevin Winter/Getty Images
Matthew Perry and Courteney Cox will forever be recognized as two of the leads in NBC's hit comedy series "Friends." Of course, fans will remember that Chandler, played by Perry, and Monica, played by Cox, ended up as a surprise couple within the show at the end of Season 4. When it comes to real life, however, the two may be friends, but there has been no indication that their romantic relationship extended off-screen. 
Cox met and "fell in love" with actor David Arquette (who had appeared in an episode of "Friends") during production of the first "Scream" film in 1996, in which they both starred. They would go on to get married in 1999, and remain together for the rest of the time "Friends" was on (they would get divorced in 2013). 
Although he would never get married, Perry himself would go on to have a number of relationships with well-known women, including actors Julia Roberts and Lizzy Caplan, though never with Cox. So, does that mean that the relationship between Matthew Perry and Courteney Cox was purely platonic? Well, as it turns out, the truth is a bit more complicated. 
Matthew Perry has 'always been in love' with Courteney Cox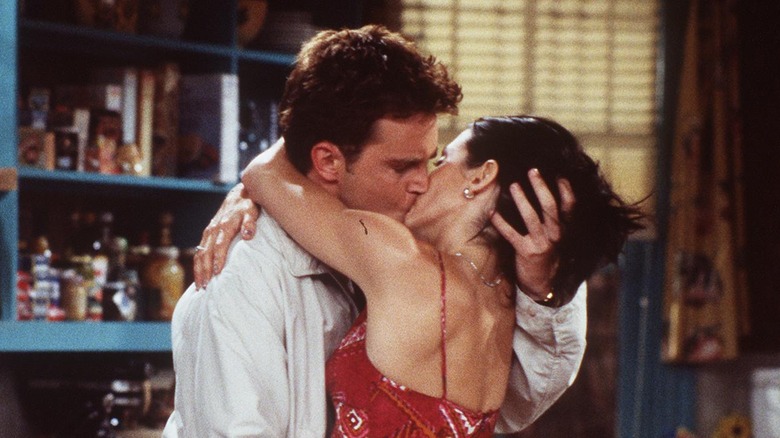 Getty Images/Getty Images
Although the relationship between Courteney Cox and Matthew Perry never turned into anything more behind-the-scenes, it seems as though at least one of them would have liked it to. According to a 2019 Us Weekly report, Perry developed feelings for Cox during their time on "Friends," and the feelings have not gone away in the time since the series ended, nearly 20 years ago. 
"Matthew's always been in love with her," a source close to Perry told the outlet. They added that Perry has "never fully been able to get over her." Of course, he has gone through a number of relationships since his time on "Friends," including Academy Award-winning actor Julia Roberts, from 1995-1996 (during which she made a guest appearance on the show, playing a character who dated Chandler); "Mean Girls" star Lizzy Caplan, from 2006-2012; and most recently literary manager Molly Hurwitz, to whom he became engaged in 2020 after two years of dating. 
However, his engagement with Hurwitz did not work out, and they broke up around June 2021. Perry was quite cryptic about the circumstances that led to their breakup. "Sometimes things just don't work out and this is one of them," he told People at the time. "I wish Molly the best."
Courteney Cox is optimistic about Matthew Perry's future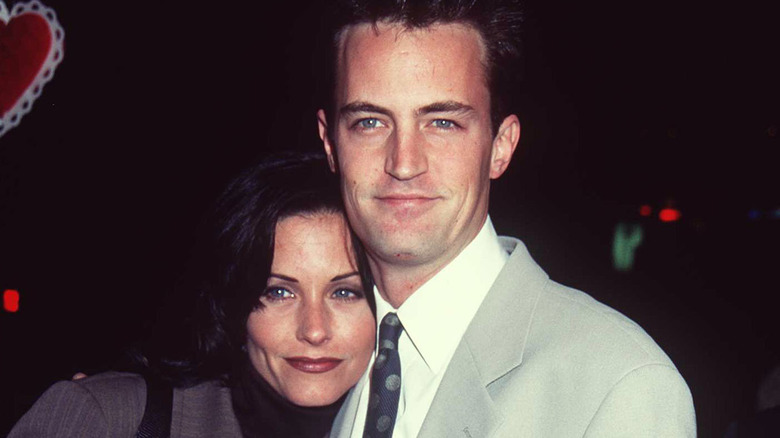 Getty Images/Getty Images
In the long-awaited "Friends Reunion" in May 2021, castmates David Schwimmer and Jennifer Aniston, who played on-again-off-again couple Ross and Rachel, famously revealed that, like their characters, they each had crushes on one another, though they never acted on it. However, when it came to Matthew Perry's feelings for Courteney Cox, the actor kept his mouth shut. 
Perry did, however, talk about how nervous he would be onstage, always paranoid that his performance would not come off as humorous. "I felt like I was going to die if [the audience] didn't laugh," Perry said. In a February 2022 The Times interview, Cox opened up about Perry and what he revealed at the reunion, saying that "that's a lot to think how much he relied on that for his own self-worth."
When it came to Perry's personal issues, however, Cox had an optimistic outlook. "He's just struggled for a while," she said, likely referring to, among other things, the substance abuse problems Perry has been open about. Although he has been sober since 2001, according to I Am Sober, this was a major problem he had to deal with during production, and even had to check himself into rehabilitation centers at least twice during production of "Friends," in 1997 and 2001. Cox, whose platonic relationship with Perry seems to have stood the test of time, said, "I think he's doing great now."