Body Language Expert Hints Prince Harry Is Unlikely To Soften Against His Family Anytime Soon – Exclusive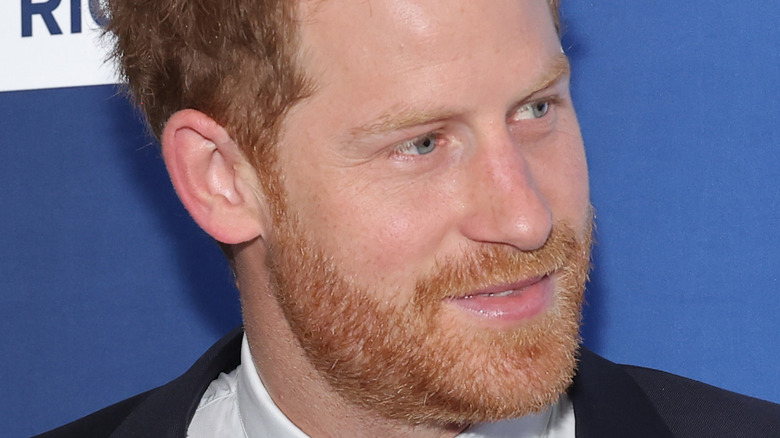 Mike Coppola/Getty Images
The royal family is once again the talk of the town (are they ever not?) now that Netflix has released its new docuseries about Prince Harry and Meghan Markle. Netflix is premiering the highly anticipated documentary in two parts, with its first three episodes dropping on December 8, per Hello! magazine, while the final three will premiere a week later, on December 15. "The series explores the clandestine days of their early courtship and the challenges that led to them feeling forced to step back from their full-time roles in the institution," reads Netflix's official synopsis (via Hello!). 
If you've paid attention to royal news in the past few years, you know at least a little about the troubles Prince Harry and Meghan have faced with the royal family and their decision to leave it. And this docuseries has had a similar number of difficulties, from disagreements about the production to changing directors, to requiring sensitivity after the death of Queen Elizabeth II.
The trailer for the two-volume series "Harry & Meghan" got fans excited and critics, like Piers Morgan, calling the ex-royals "repulsive hypocrites" in a tweet. "It's a dirty game," Harry said in the trailer. "The pain and suffering of women marrying into this institution, this feeding frenzy." In an exclusive interview with Nicki Swift, body language expert Mark Bowden seems to think Harry is unlikely to change his mind about the royal family anytime soon.
Body language expert says Prince Harry wanted to retrospectively protect his mother
In an exclusive interview, Nicki Swift spoke with body language expert Mark Bowden about Prince Harry's movements and speech in the docuseries. He examined a moment in Episode 2 of "Harry & Meghan" when Harry discussed the treatment that all women marrying into the royal family seem to go through. "As far as my family was concerned, everything that [Meghan] was being put through, they'd been put through as well," Harry explained, as photos of Princess Diana, Sarah Ferguson, and Kate Middleton appeared on the screen. Without naming names, Harry implied Prince William was unsympathetic, saying, "Why should your girlfriend be treated any differently?" Harry continued: "I said the difference here is the race element."
Bowden talked about Harry's "baton gestures" and "illustrators," referring to Harry's physical movements as he spoke. Bowden explained that Harry's movements were "in perfect time with his speech," which "suggests that he does truly feel that the family saw no difference" in how the women were treated — but that Harry "sees that previous women were being given more status in this false equivalence."
Bowden also noted this was "congruent with other elements of the documentary," where Harry talked about the unfair way his mother, Princess Diana, was treated. While that would not have necessarily had anything to do with race (though probably class), Bowden wondered if Harry thought history repeated itself with Markle. "Psychologically, there may be a deep and understandable desire to retrospectively protect his own mother by protecting his then girlfriend, now wife," Bowden said.