What Prince William Had To Say When Prince Harry Proposed To Meghan Markle
Chris Jackson/Getty Images
Prince William and Prince Harry's relationship has been the subject of media scrutiny for quite some time now. When their mother, Princess Diana, died in a car crash, William and Harry were 15 and 12, respectively. The tragedy forged a unique bond between them, with author Katie Nicholl claiming that their father, then-Prince Charles, didn't pay enough attention to them at the time (via Insider). "[Harry and William's] relationship is incredibly intimate," biographer Andrew Morton wrote in a 2019 edition of "Royals Monthly" (via Us Weekly). "Nobody apart from each other knows exactly ... what's gone on in their heads and their hearts for the last 20-odd years. They both experienced the loss of their mother. The only people that they could trust to talk about it in a candid way was each of them."
But, in a move that alienated him from his brother, Harry and wife Meghan Markle announced their departure from the royal family in 2020. A source told People that the brothers' relationship was "forever changed," adding, "They won't get back to the way they were. Harry is looking straight ahead at his future with his family." Since Harry's move stateside, the media speculates that the pair continue to be at odds with one another, with no intention of patching things up anytime soon. Add in Queen Elizabeth II's death, Charles' ascension to the throne, and one controversial Netflix documentary — and things are increasingly complicated. 
Let's reminisce on simpler times, like when William supported his brother after he proposed to Meghan.
Prince William was 'very excited' following Prince Harry's proposal to Meghan Markle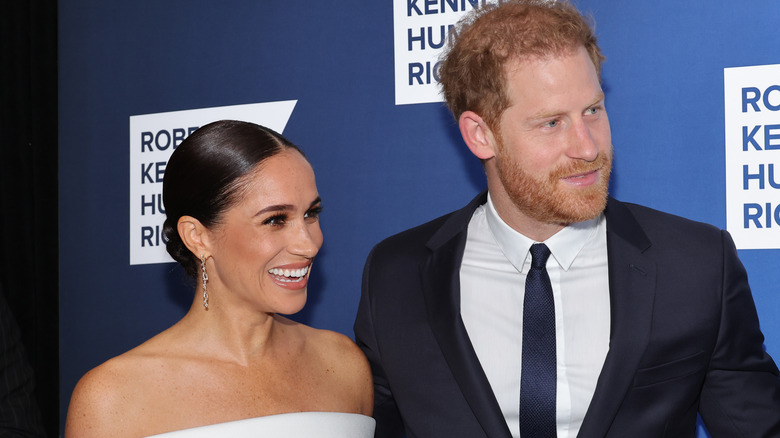 Mike Coppola/Getty Images
Prior to stepping down from royal duties, Prince Harry had a good relationship with his brother's wife, Kate Middleton — even calling her "the big sister he never had" (via Yahoo). Likewise, Prince William appeared to support the Duke of Sussex in his relationship with Meghan Markle. "We are very excited for Harry and Meghan," he and Kate said in a statement after Harry popped the question (via US Weekly). "It has been wonderful getting to know Meghan and to see how happy she and Harry are together." 
On a separate occasion, William again expressed happiness over Harry's engagement, telling the media that he was "very excited, delighted for them both," before joking, "Personally, I hope it means [Harry] stays out of my fridge and will stop scrounging my food, which he's done for the last few years!" Ah, brotherly love.
William was joined in his well wishes by other members of the royal family. "We're both thrilled. We hope they'll be very happy indeed," then-Prince Charles and Camilla Parker-Bowles tweeted (via Vogue). Camilla sweetly added that, "America's loss is our gain," in a nod to Meghan's citizenship. The royal family's backing makes sense on paper. Plus, Harry apparently had an extensive vetting process when it came to his significant others. "He had a list," Meghan teased her husband in the Netflix docuseries, "Harry & Meghan" (via Glamour). (Harry, apparently, still doesn't see the humor in this.)
Prince William had some concerns about Meghan Markle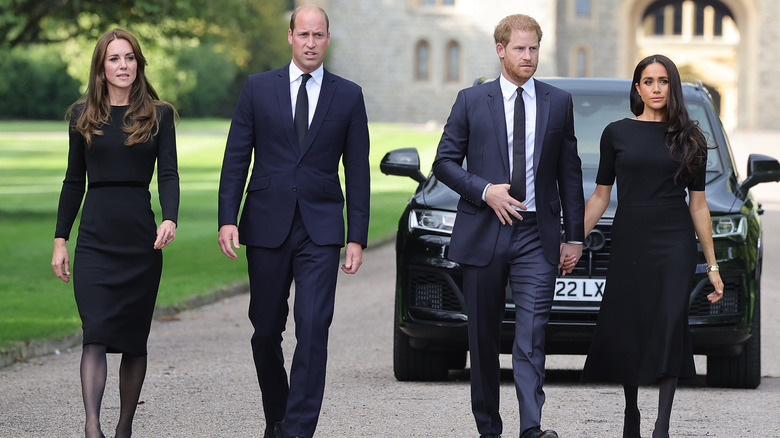 Chris Jackson/Getty Images
While all of the royals publicly expressed their delight over Prince Harry's engagement, that doesn't mean they didn't have concerns behind closed doors. According to People, Prince William dated Kate Middleton for eight years, and he felt that his younger brother's nearly year-long courtship wasn't sufficient time to get to know Meghan Markle before proposing. When Harry ignored William's advice, the heir to the throne reportedly turned to his uncle, Charles Spencer, resulting in an "even more bitter explosion," author Robert Lacey wrote in his book "Battle of Brothers" (via Us Weekly). "[Harry] didn't blame his uncle. ... Yet he was furious with his elder brother for dragging other family members into the row," Lacey added.
Apparently, this was the start of tension between the two, but things went even further south after "Megxit," a.k.a Harry and Meghan's decision to step down from their royal duties. Before that drama went down though, William and Kate disagreed over the Duke and Duchess of Sussex's decision to live outside of Kensington Palace. "It's a shame," a source told People at the time. "There was power in that unity and great strength in the foursome, but I see why it is happening." 
All things considered — including Harry and Meghan's explosive Netflix documentary — it's likely there's even more division among the foursome now, although relationships can always turn around for the better.