The Little Known Friendship Between Macaulay Culkin And Bob Saget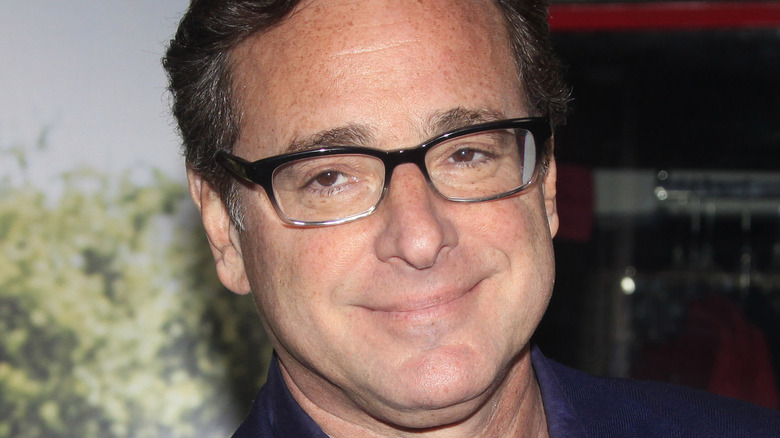 Joe Seer/Shutterstock
Bob Saget died unexpectedly on January 9, 2022 at the age of 65 while he was staying at the Ritz-Carlton in Orlando, Florida. The actor's death was discovered when housekeeping found him after he didn't check out. It took a month for the cause of Saget's death to be revealed, and it turned out he hit his head. "The authorities have determined that Bob passed from head trauma," his family revealed, according to People. "They have concluded that he accidentally hit the back of his head on something, thought nothing of it and went to sleep. No drugs or alcohol were involved."
Friends, family, and fans flooded the internet with condolences and expressions of grief. Kelly Rizzo shared about her loss and how lucky she was to have spent seven years with him. John Stamos, his "Full House" co-star, also shared his disbelief about the tragedy. While Saget seemed to be friends with everyone, he had a friendship with Macaulay Culkin that few people seem to know about it and it was really cute. They even recorded a two-hour long podcast together! 
Bob Saget and Macaulay Culkin hung out in Times Square
Bob Saget first revealed that he was friends with Macaulay Culkin thanks to a selfie that he posted on Instagram back on December 3, 2015. The photo was taken by actor Seth Green and features his wife, Clare Grant, along with Saget and Culkin in the background, boasting some very long hair. The four are standing in Times Square in New York City and Saget captioned it "Fun times last night after show in the #TimesSquare with friends, before tagging everyone.
People were all about the adorable photo. "Kevin McCallister is lost in NY again!?" someone wrote, referencing "Home Alone." Someone else just couldn't get over the group. "[A]nd the award for most random selfie ever goes to," they commented. Someone else had a similar idea. "I never thought I would see this combination of celebrities hanging out," they wrote. Neither did we! The most common hashtag in the comments was "squad goals," and they're not wrong. It might be a random group, but it sure looked like a fun one. 
Bob Saget was all about friendship
Bob Saget, Macaulay Culkin, and Seth Green go way back, and Saget loved to celebrate these friendships on Instagram. On February 8, 2020, Saget posted a photo with Green and wrote, "Happy birthday to my son @SethGreen who also happens to be the dearest friend you can have. So fortunate to have Seth in my life. I'm Bob Saget and I support this message." The paternal undercurrent to these friendships was obvious with Culkin too, and it's not so surprising considering the fact that Saget unofficially became America's Dad.
Saget joined Culkin on his podcast "Bunny Ears" in 2019 and posted about it with a photo of the two of them on the couch. "Had fun doing my friend Macaulay Culkin's @bunnyearspodcast comin' out soon," Saget wrote. "He's the son I always wanted to have. We coulda had a full home alone." In the photo, Culkin is deliberately looking in the distance and Saget explained this too. "(For those who apparently need the information, Macaulay purposely looks off camera during regular staged photos – – It's his thang and I dig it.)," he added.
The podcast is well worth a listen. Saget and Culkin went so far over time that it had to become two parts, and Culkin explained this in the second podcast. "Last week we left off with Mr. Bob Saget, who is a gift and a treasure," Culkin began. He couldn't have said it better!