Carrie Underwood Shares First Full-Face Selfie Following Injury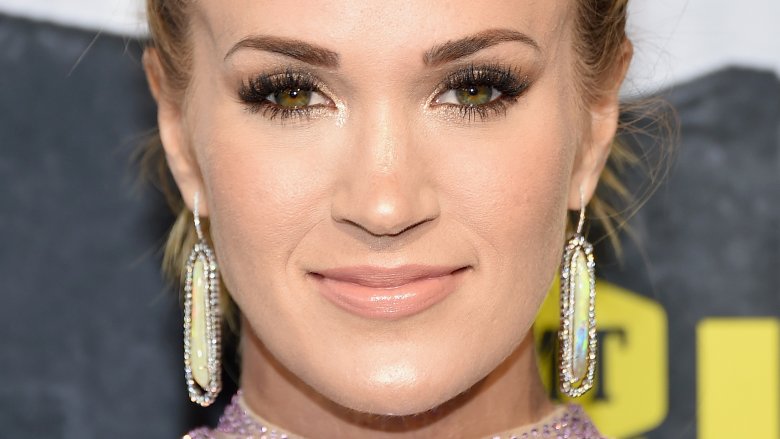 Getty Images
Carrie Underwood is done with hiding.
On Saturday, April 14, 2018, the "Cry Pretty" singer took to Instagram to share her first full-face selfie after seriously injuring her wrist and face in a fall last November. Spoiler alert: She looks as gorgeous as ever.
"Had a great rehearsal for the @acmawards!" she captioned a snapshot of herself all glammed up as she prepares to take to the stage for her first public appearance following her accident at the Academy of Country Music Awards. "Can't wait until tomorrow night! #CryPretty #ACMAwards."
The day before, Underwood shared another pic of herself rehearsing with her band for the event, which she captioned with, "Getting ready for the weekend...."
As Nicki Swift previously reported, the 35-year-old singer suffered a nasty fall on the steps of her home in Nashville, Tenn. in November 2017. As a result of the accident, the Grammy winner had to undergo surgery on her broken wrist and receive 40 to 50 stitches in her face. In late December, she warned her fans that she may look "different" the next time they see her due to her injuries.
While Underwood took to lying low in the months since as she recovered, she recently made her way back into the spotlight. In addition to posting photos of herself on social media and dropping her new single, the American Idol alum shared a health update with her fans.
"I'm doing pretty darn good these days!" the "Champion" singer wrote in a letter on her website. "My wrist is almost back to normal, about 90% there ... and the docs say that last 10% will come in time. And my face has been healing pretty nicely as well. I definitely feel more like myself than I have in a while."
While the accident was understandably "traumatic" for Underwood, an Entertainment Tonight source recently revealed that she feels more than ready for her musical comeback this weekend. "She is better now," the insider said. "She is totally back to normal and feeling great and healthy. She doesn't think she will walk the red carpet at all because she's just not ready to be bombarded by cameras."
The ACM Awards will air live on CBS at 8 p.m. EST on Sunday, April 15.