How William Petersen And Jorja Fox Really Get Along In Real Life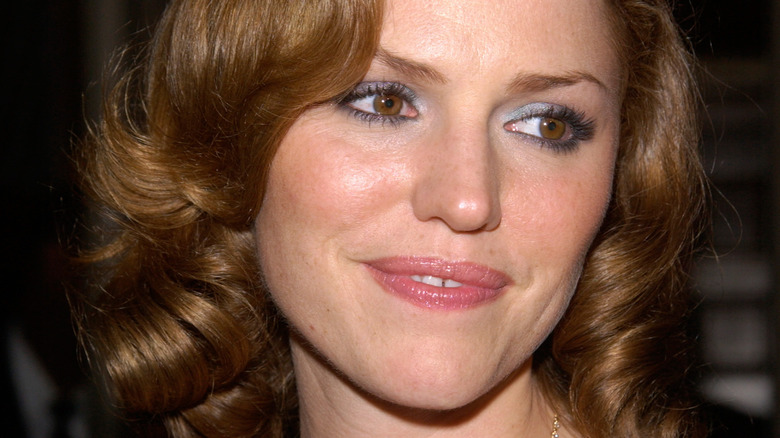 Featureflash Photo Agency/Shutterstock
It's no secret that "CSI: Crime Scene Investigation" characters Gil Grissom and Sara Sidle have had some serious ups and downs over the years — but what do we know about the actors who play them?
To recap, both William Petersen and Jorja Fox are "CSI" universe OGs. As many may remember, their characters had an on-off relationship for much of their time on the show. We're talking breakups, makeups, marriage, long-distance, and separation... and ultimately, reconciliation. Yup, it's a lot — and did we mention all that happened in just the original iteration of the show? The on-screen couple returned for the spinoff series, "CSI: Vegas" in 2021. Granted, this time, things were a little easier for the now-settled couple. In fact, the first season of the new show saw the lovebirds get a much-needed happy ending. Unfortunately, that would mark their final season on the show (but more on that later). 
Given the characters' tumultuous relationship, we can't help but wonder about the actors' IRL dynamic. Was there ever tension between the pair? Alternatively, does their relationship mimic that of their on-screen counterparts: constantly coming back together? Luckily for Grissom and Sidle stans, it seems like the latter is true. 
William Petersen and Jorja Fox love working together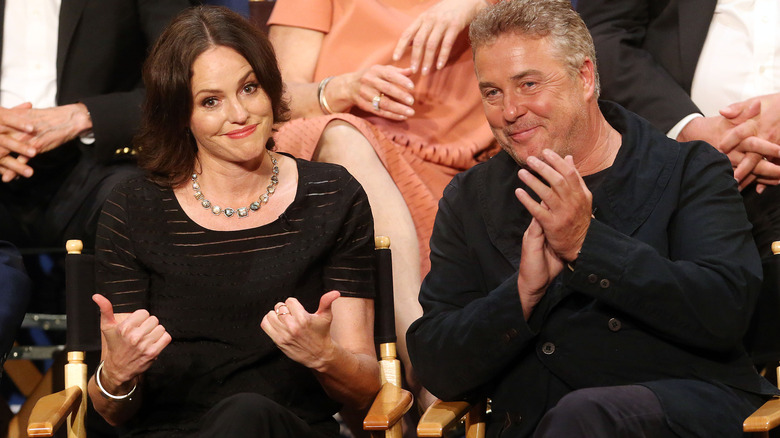 Frederick M. Brown/Getty Images
If William Petersen and Jorja Fox have one thing in common with their "CSI: Crime Scene Investigation" characters, it's that they love working together. So much so, in fact, that the opportunity to work side-by-side is what got both of them to return to the franchise for "CSI: Vegas." 
Speaking to TV Insider ahead of the spinoff's premiere, Fox shared that at first, she wasn't entirely convinced she should return. After all, she explained that Gil Grissom and Sara Sidle had finally got their happily ever after. So, what tipped the scales? "Getting to work with William Petersen again? They had me at hello!" she quipped. Petersen shared those sentiments, reminding the outlet that he and Fox had a winning formula that was easy to slip back into. "It's like riding a bike: you just get right back on. We got a tandem and we know how to do it." Speaking to AP News, Fox doubled down on that, even pointing out that the relationship between Grissom and Sidle — while on a TV show — was "the longest relationship of my life." And, in a statement reminiscent of what she told TV Insider, she beamed, "Once I knew that [Petersen] was in ... then I just got super excited about it." 
Talk about colleague goals!
That's why, for Season 2, they both bowed out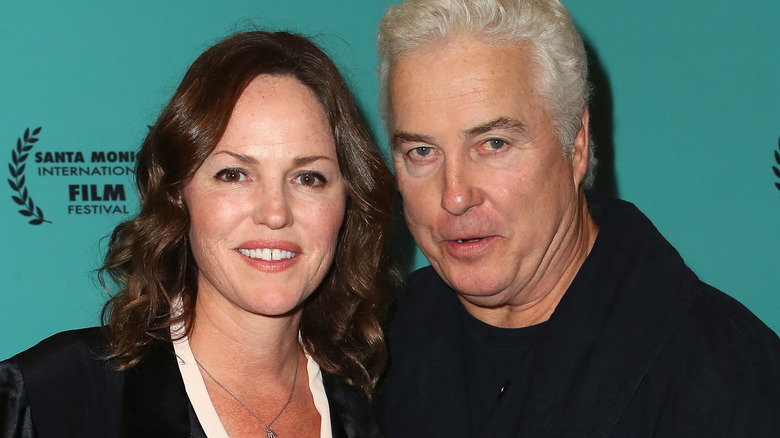 David Livingston/Getty Images
Given the mutual admiration they have for each other, we're not exactly surprised that William Petersen and Jorja Fox are the definition of "ride or die." Case in point: soon after it was revealed that Petersen wouldn't be returning for the sophomore season of "CSI: Vegas," Fox announced that she would be making her exit, too ... precisely because her longtime co-star wouldn't be there. 
Though Petersen's departure from the show was seemingly the plan all along, it may have had something to do with his hospitalization in the middle of shooting. Either way, though, his leaving the show marked a tuning point for Fox. Taking to Twitter, she revealed, "After much deliberating, I have decided not to 'Sidle up' for CSI Vegas [Season 2]." Granted, on top of not being able to work with Petersen — the deciding factor in returning to the franchise in the first place — her decision to leave the show also had something to do with her love for the characters. And, more importantly, for their characters' long-awaited happy ending. "I personally just can't split Sara and Grissom up again. So goes Grissom ... So goes Sara. Wherever they go, they belong together," she wrote.
"CSI: Vegas" fans might be disappointed that they won't see this longtime pairing on their screens anymore, but one thing's for sure: Grissom and Sidle, like Petersen and Fox, have always been the real deal.