Justin Long Reunited With One Of His Exes Before Kate Bosworth Engagement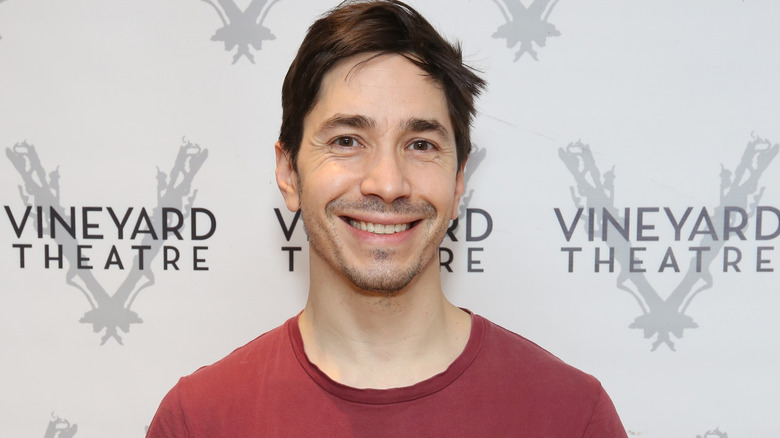 Walter Mcbride/Getty Images
Justin Long found his one in Kate Bosworth. "I've never had anything like this before. I've never experienced this," he said on "Dear Chelsea" in May 2022. The interview marked the first time he confirmed his relationship with Bosworth after a period of speculation. Long and Bosworth sparked dating rumors in May 2021 when they worked together on a project shot in Arkansas, and Bosworth shared an Instagram post of the two looking rather comfortable with each other. "Holy moly @justinlong you are a truly spectacular / fun / funny / kind / rare / thoughtful / totally. fckn. rad human being," she captioned the series of snapshots.
There was a reason why Long and Bosworth kept the romance low-key. "There's something about it, for me, that I feel like I need to protect and keep sacred because it feels sacred," he told host Chelsea Handler. Before allowing Handler to reveal Bosworth's identity, he noted that he felt torn about exposing his girlfriend on his podcast, "Life is Short with Justin Long," in December 2021. "I want to scream it from the rooftops, but I also want to be protective," he told his guest Fortune Feimster.
After sparking engagement rumors earlier this year, Long and Bosworth confirmed the news on Instagram on April 4. Long might have found his soulmate, but that doesn't mean he isn't appreciative of the partners he had before Bosworth. He is especially grateful for one ex-girlfriend in particular — and she feels the same way.
Justin Long was a guest on Drew Barrymore's talk show
Justin Long and Drew Barrymore reunited on "The Drew Barrymore Show" in September 2022, a few months after he revealed his relationship with Kate Bosworth. And she had a strong opinion about it. "All I want in life is your success and happiness," she told him. "I'm just so happy because you deserve to be happy. I'm so thrilled for you." The former couple, who dated on and off between 2007 and 2010,  reminisced about their relationship.
"We laughed so much. Like that was so much a part of our connection was that we love funny people," she said. "We enjoy laughing at all times." They also revealed that they kept in touch after going their separate ways, indicating there weren't hard feelings between them. "I love that we maintained our love because I know for my end it will never go away," Long said. "I'll love you always, you know?" Noticeably touched, Barrymore opened up about how much he meant to her.
This wasn't the first time Barrymore had publicly praised her former lover. In March 2020, Paper Magazine shared a photo of Long on Instagram with the caption: "Might get fired for this but. F**k it. Justin Long appreciation post." And Barrymore had her own special reply. "Your [sic] not wrong! He's great." Long showed once again he and Barrymore were still on great terms. "Ah what do YOU know?!" he replied to her comment. 
Drew Barrymore has a proven record of being a great ex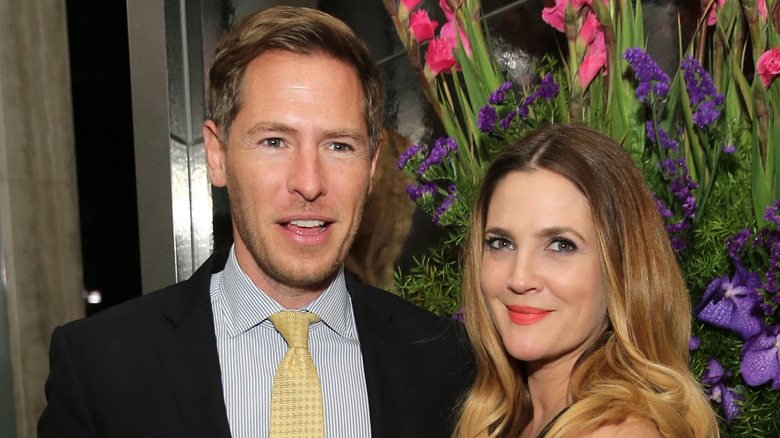 Neilson Barnard/Getty Images
Drew Barrymore divorced Will Kopelman in 2016 after four years of marriage. When Kopelman moved on with Alexandra Michler, Barrymore showed she was happy for her ex-husband. "I just feel like I won the lottery with her," she said on "Armchair Expert with Dax Shepard" in September 2021. Barrymore has two daughters, Olive and Frankie, with Kopelman, which means Michler will inevitably be in her life. 
"I feel like I'm lucky that there's this new beautiful soul that came into our lives," she told Shepard. That doesn't mean she and Michler spend Saturday afternoons shopping together. "I don't try to be her best friend," Barrymore explained. "She knows that I absolutely worship the ground she walks on, and I'm her biggest cheerleader, but I give them space." Olive and Frankie seem close with their stepmother, even acting as flower girls at her and Kopelman's wedding.
Barrymore praised Michler once again shortly after on her own show. "I went trick-or-treating on Sunday with Will and his beautiful wife Allie, my daughters' wonderful stepmother," she said on "The Drew Barrymore Show" in November 2021. "I think, honestly, this is so ideal." While Kopelman is more reserved than his ex, he has given a hint at the nature of their relationship. When Barrymore shared old footage from an interview she gave as a child, her ex-husband couldn't help but point out: "This is both Olive and Frankie all at once" (via Hello!).