Why Chad Michael Murray's Wife Sarah Roemer Had Drama With Sophia Bush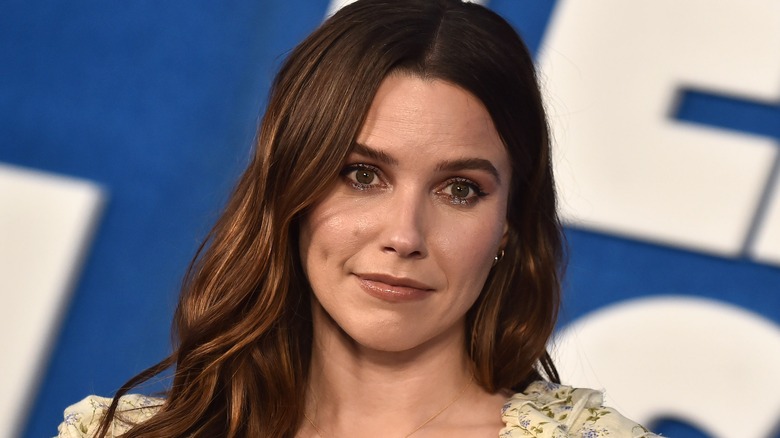 DFree/Shutterstock
For a few months way back in 2005, "One Tree Hill" fans momentarily lived out their dreams — or at least their dream for their favorite stars. Chad Michael Murray and Sophia Bush, aka Lucas and Brooke on the hit TV series, struck up a romance in real life and even made it down the aisle. The former lovebirds exchanged vows in an intimate ceremony in Santa Monica, California, with Murray noting that for him, Bush was The One. "I woke up one day and I said, 'This is the woman I want to spend the rest of my life with,'" he told MTV at the time
The two shocked everyone when they announced that they were splitting up just five months later, around the same time rumors of Murray cheating on Bush with his "House of Wax" co-star Paris Hilton surfaced. "This is a difficult and unfortunate situation," Bush said in a statement. "I am glad this is being resolved sooner rather than later." But, while it was pretty evident that they called it quits on a bad note, they continued working together on the show until Murray's exit in 2009.
The exes mostly kept quiet about their marriage and subsequent breakup in the years following the separation announcement, but Bush reportedly attempted to have it annulled, only to have her request denied. She only started talking about their relationship long after "One Tree Hill" ended, but one of her comments landed her in hot water with Murray's current wife, Sarah Roemer.
Sarah Roemer seemingly shaded Sophia Bush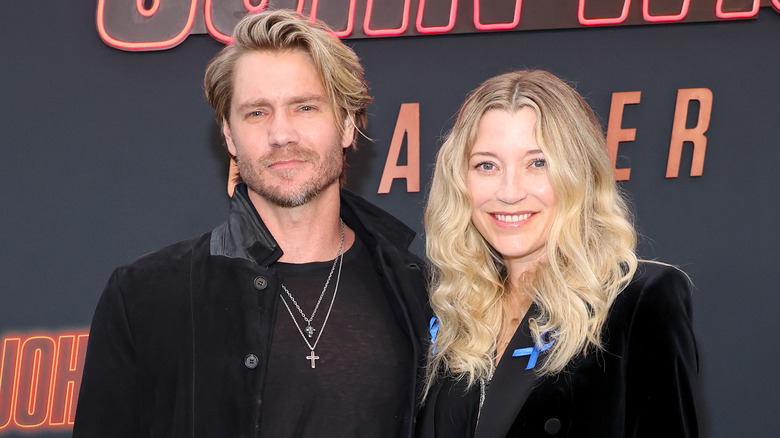 Monica Schipper/Getty Images
If there's one thing Sophia Bush regrets, it's marrying Chad Michael Murray. After years of staying mum, the "Chicago PD" alum sat down with Andy Cohen on "Radio Andy" and revealed that saying "I do" to him was "not a thing I actually really wanted to do." She also insinuated that she was practically forced to marry her ex by the people who ran "One Tree Hill" as she was apparently the "only person who gets a person to work on time."
Her comments eventually reached Murray's camp and, well... let's just say Bush's statements left a bad taste in the actor's mouth. "This story is ludicrous," his rep noted at the time. "Chad conducts himself in a completely professional manner and would never marry for any reason but love. Thirteen years since his divorce from Sophia, he has a very happy family life with his wife and children. He has completely moved on and doesn't feel the need to engage in this type of behavior."
His wife, Sarah Roemer, felt the need to chime into the drama, too. In a not-so-subtle (and since-deleted) Instagram post, Roemer seemingly mocked Bush's comments by posting a meme of two women talking and a text that read: "Wait a second... my producers also made me marry Chad Michael Murray!" In the caption, she wrote: "#doitforthecrew #ikid #ilovemyhusband #familyman #IwanttobeChadwhenIgrowup #13yearslater #iwishpeaceandloveforall."
Where do Sophia Bush and Chad Michael Murray stand today?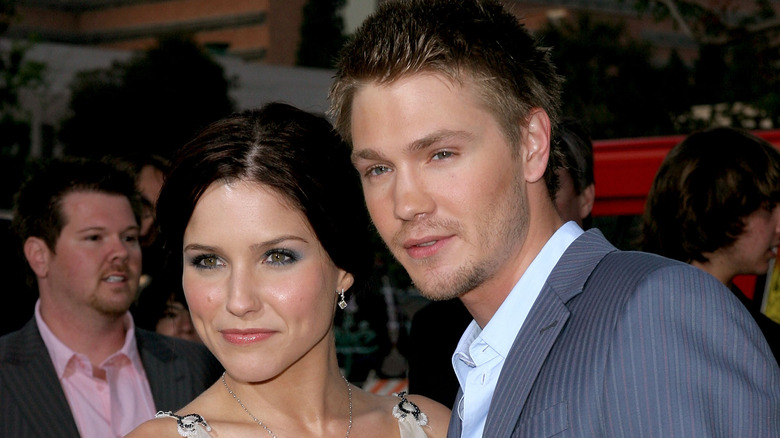 Matthew Simmons/Getty Images
Sophia Bush ended up defending herself on Twitter following the incident, saying that she was making fun of herself, and not Chad Michael Murray, or anyone else associated with him. She also refused to discuss him in public spaces moving forward, claiming that she was "not allowed" to. On the "Inside of You" podcast, she noted that she had learned her lesson because whenever she would talk about Murray, her words were always taken out of context. "I've tried to poke fun at being a dumb kid, and whenever I've done that, it gets twisted into I'm talking s*** about somebody who I don't even know anymore, who's clearly a grown-up," she said.
But she did commend Murray in her guesting on the "Drama Queens" podcast, when her "One Tree Hill" co-star Hilarie Burton opened up about Murray defending her when showrunner Mark Schwahn allegedly assaulted her. "He had the most power, so he could come up and shove our boss off you and get in a fight. And I'm glad that he did. I want everybody to follow that lead," Bush said. "Thank God, Hilarie, that you had that moment with Chad, who was already so at odds with our boss."