Demi Lovato's Trainer Opens Up About Singer's Behavior Before Alleged Overdose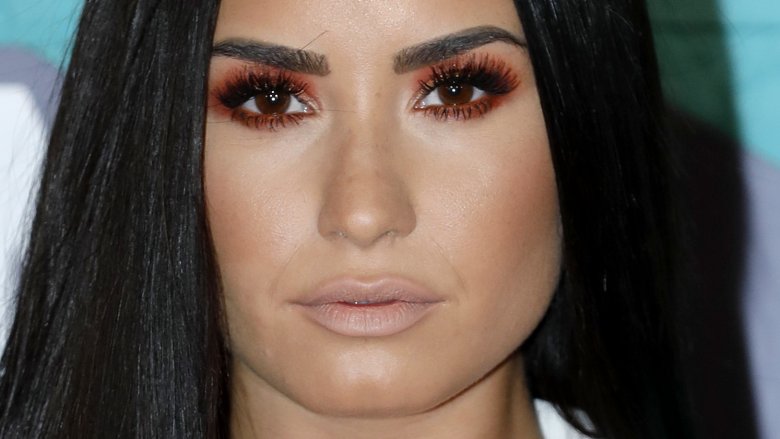 Getty Images
Demi Lovato's jiu-jitsu trainer, Danielle Martin, has spoken out about the "Sorry Not Sorry" singer's behavior before her suspected drug overdose and subsequent hospitalization.
Speaking with Radar Online in an exclusive interview, Martin revealed that Lovato "wasn't herself" when she'd met with her on Monday, July 23, 2018, just one day before Lovato was reportedly found unconscious in her Hollywood Hills home. Martin, who has trained Lovato for two years, shared that "something was absent in [Lovato's] spirit" in the days before her reported overdose. Describing the former Camp Rock star at that time, Martin recalled thinking, "She's not healthy, she's just alive."
According to Martin, Lovato remarked that she was "okay" and was "just tired." But Martin allegedly suspected that something else may have been going on in the celebrity's life. "I knew something was wrong," Martin said. "The last thing she told me was 'I love you so much.'"
However, Martin, of course, couldn't have expected something so tragic would soon happen to Lovato, especially since they'd made plans to meet up again that week. "On Monday, she asked me 'are we training tomorrow too?' So you can imagine how I feel when I found out about the overdose," Martin told the gossip rag.
Martin revealed to Radar Online that she'd previously worried about Lovato's sobriety in the past and would sometimes assume the worst when Lovato would miss one of their scheduled training sessions without warning. "I would ask myself what happened, where is she, she never showed," Martin said. "It's a very bad feeling. And then it actually happened."
As Nicki Swift previously reported, Lovato was taken to Los Angeles' Cedars-Sinai Medical Center on Tuesday, July 24, after she was found unresponsive in her bedroom. Lovato, who was reportedly treated with the medication Narcan, was thought to have overdosed on heroin. However, a hospital nurse reportedly later told police that Lovato had used methamphetamine before her hospitalization, though, if that were the case, Narcan would not have worked on Lovato. While this is mere speculation, it's possible that Lovato had taken multiple drugs before her alleged overdose, as she'd been out the night before partying as she celebrated a backup dancer's birthday.
Following her hospitalization, Lovato's rep announced that the singer was "awake and with her family" (via ABC News). While the rep didn't provide any details about Lovato's situation, the spokesperson did note that "some of the information being reported is incorrect." However, just what news is allegedly wrong is unclear.
While she'd allegedly refused loved ones' help at an intervention weeks earlier, Lovato has reportedly agreed to enter rehab following her recovery and release from the hospital.
Lovato has a long history of drug and alcohol abuse, about which she has, for the most part, been very open. In her October 2017 documentary Simply Complicated, Lovato revealed that her addictions may have been influenced by her own father's substance abuse. "My dad was an addict and an alcoholic," she shared, "and I guess I always searched for what he found in drugs and alcohol because it fulfilled him and he chose that over a family."
By the age of 17, Lovato, who was working on the Disney Channel at the time, had used cocaine after being introduced to the drug by friends, and she quickly became hooked on it. "I was scared because my mom always told me that your heart could just burst if you do it," she revealed. "But I did it anyways and I loved it. I felt out of control with the coke the first time that I did it."
Following an incident in which she punched a backup dancer in the face while on tour with the Jonas Brothers, Lovato sought treatment at a rehab center for the first time in November 2010. While at the facility, Lovato was diagnosed with bipolar disorder. Years later, Lovato was still struggling with sobriety, despite publicly claiming to be living clean. In November 2012, she believed she nearly overdosed after having used both cocaine and Xanax.
However, Lovato later managed to get sober and she celebrated six years without drugs or alcohol in March 2018. Unfortunately, Lovato hinted that she may have relapsed when she released the song "Sober" that June. "Mama, I'm so sorry I'm not sober anymore / And daddy please forgive me for the drinks spilled on the floor," Lovato sings on the track. "And I'm sorry for the fans I lost who watched me fall again / I wanna be a role model, but I'm only human."
If you or someone you know is struggling with addiction, please call the Substance Abuse and Mental Health Administration's 24/7 National Helpline at 1-800-662-HELP.