Zoë Kravitz Had A Sweet Nickname For Her Step-Dad Jason Momoa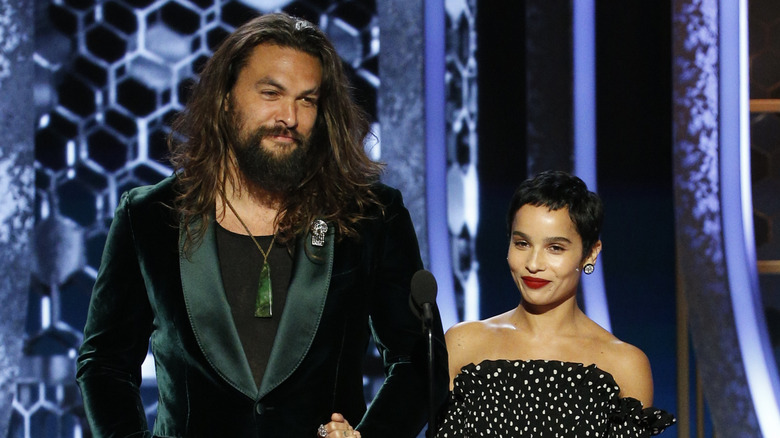 Handout/Getty Images
Zoë Kravitz and Jason Momoa's relationship isn't something you can really consider conventional. Despite being only 11 years Kravitz's senior, Momoa became the "Big Little Lies" star's stepfather when he got together with her mom, Lisa Bonet. The two appear to be more like siblings considering the proximity in their age, but Momoa turned out to be a father figure to Kravitz.
Momoa doesn't always talk about his relationship with Kravitz publicly, but he once expressed support for her and her ex-husband Karl Glusman, and said that he wishes that someday, his daughter Lola would grow up to be just like her. "I love her husband. I love her dad [Lenny Kravitz]. I hope and pray my daughter is that talented and loving and open and close to her family," he told Men's Health. The "Aquaman" actor also dished that he got a glimpse of what Kravitz was like growing up, including the time when she started dating boys. "I was baffled," he mused.
Kravitz and Momoa only got closer over the years, and they even have terms of endearment for one another. They got matching tattoos, too.
Zoë Kravitz calls Jason Momoa 'papabear'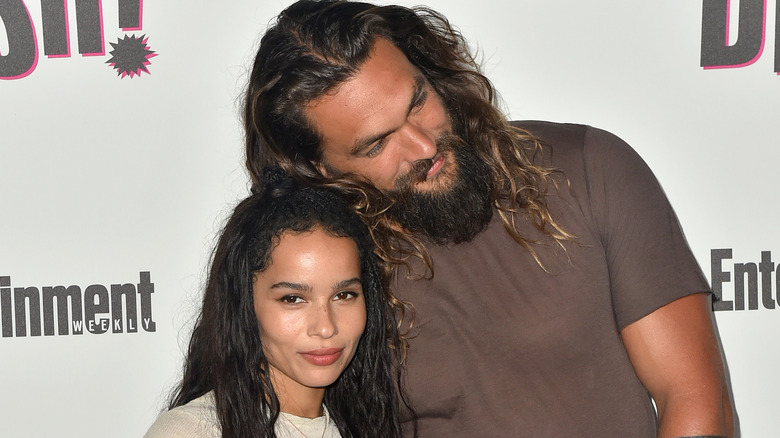 Jerod Harris/Getty Images
Aside from the occasional red carpet appearances and Instagram posts, Zoë Kravitz and Jason Momoa show how close they are with how they refer to each other online. In a since-deleted Instagram post from 2017, the "Batman" actor called Momoa "papabear," while Momoa called her "Zozo." If that doesn't melt your heart, we don't know what will!
Kravitz and Momoa would make it a point to refer to one another as such whenever they posted each other online, especially when they celebrate birthdays, or when the other would reach a career milestone. In 2019, when it was first announced that Kravitz bagged the Selina Kyle/Catwoman role in "The Batman," the "Fast X" star made sure to tell the world of how proud he is of his "zozo bear." In a post, he wrote, "I'm so proud of u zozo bear. On and off screen OHANA. DC WB ohana Lola and Wolfies big sister is CAT WOMAN. Unbelievable so freaking stoked. Your going to have so much fun Aloha P bear."
That's not all! They have matching tattoos as well. As pointed out by Cosmopolitan, Kravitz has the French phrase "être toujours ivre" inked on one of her arms, which supposedly means "to always be drunk." In another Instagram post, Momoa revealed that he has the exact same one, and that he got it with Kravitz when he was filming "Game of Thrones."
How did Zoë Kravitz react to Jason Momoa and Lisa Bonet's divorce?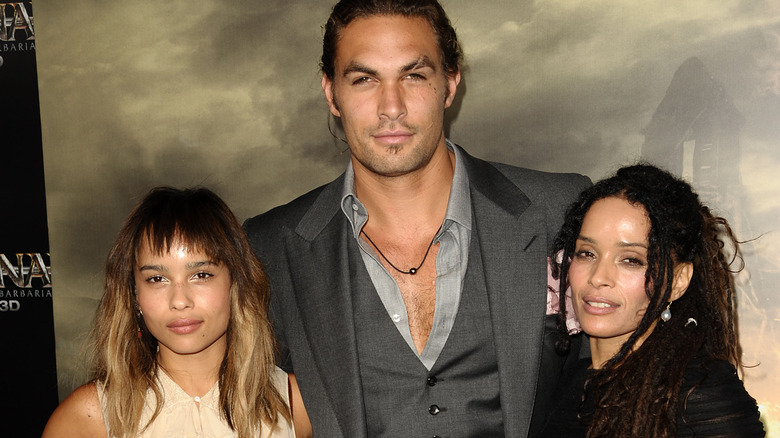 Jason Laveris/Getty Images
Jason Momoa and Lisa Bonet announced that they were calling it quits in 2022, announcing via an Instagram post that they were "parting ways in marriage." While Zoë Kravitz remained quiet throughout the whole ordeal, a source familiar with the situation noted that the actor was supportive of her parents' decision. "Zoë is very close to Lisa and will be of great support as she navigates through this," the insider shared with E! News. "She also really likes Jason and has a good relationship with him so it's all very sad that this chapter is closing. She loves them both but understands that it was time for them to move on."
And besides, the split didn't stop them from being a family. During the premiere of "The Batman," Momoa, along with his two kids with Bonet, made sure to be in attendance to support Kravitz. "We're just so proud," he told ET. "Lisa couldn't be here so we're representing, me and the babies. We're very excited to just be here ... It's still family, you know?"
Guess that proves that Momoa will always be Kravitz's papa bear!