Lesser-Known Facts About Sarah Ferguson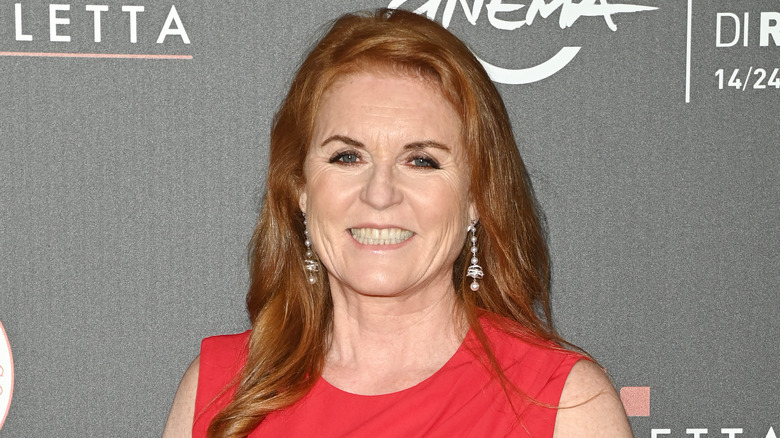 Daniele Venturelli/Getty Images
This feature references child abuse and suicide. 
Sarah Ferguson became a member of the British royal family in 1986 when she married Queen Elizabeth II and Prince Philip's son, Prince Andrew. Though the pair subsequently separated, they continued to co-parent their two daughters, Princess Beatrice, and Princess Eugenie, and have seemingly remained a tight family unit ever since. However, Fergie's life hasn't always been easy. Following her 1996 divorce from Prince Andrew, she was forced to make her own way in the world, which included earning her own money. A successful career in the United States drew criticism but saw the Duchess of York acquiring endorsement deals and establishing herself as a multifaceted celebrity in her own right. 
From her complicated friendship with Princess Diana to Prince Philip's alleged hatred of his daughter-in-law, Ferguson has had to navigate a challenging landscape away from the safety of the royal fold. Reflecting on her ability to survive a number of personal scandals, controversies, and tragedies in her personal life, Ferguson told the Financial Times that she was more than happy to handle the rough with the smooth — something she's managed in more recent years by spinning her exceptional life experiences into her writing. "It's not about 'why me?', it's 'I've been put here for a reason,'" she mused. "I'm the luckiest girl ... I have had the most extraordinary life." Indeed, she has — as these lesser-known facts about Sarah Ferguson more than perfectly prove. 
Sarah Ferguson was once arrested with Princess Diana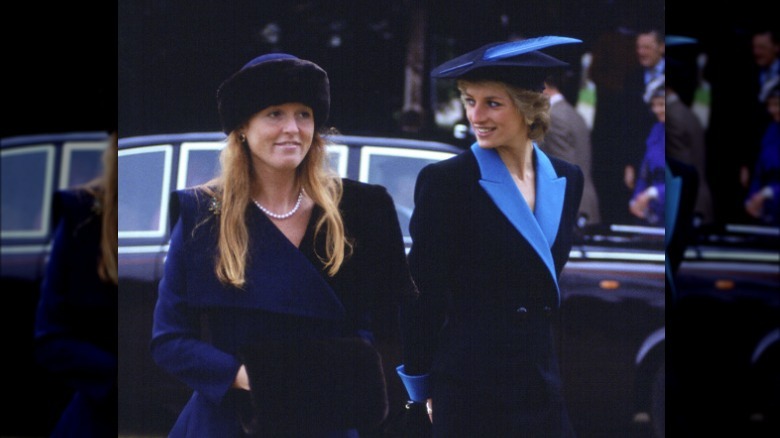 Tim Graham/Getty Images
While Princess Diana married Prince Charles on July 29, 1981, Sarah Ferguson tied the knot with Prince Andrew five years later on July 23. As a result, the two women found themselves grappling with becoming members of the royal family at similar times, which led to them spending a lot of time together. 
During an appearance on "The Kelly Clarkson Show," Ferguson revealed that Princess Diana even attended her bachelorette party ahead of her wedding to Andrew in 1986, and the pair got into a lot of trouble together. For starters, they were dressed up as police officers for the raucous party. "We sat down, and the waiter came up to us and said, 'Excuse me, this is a members club. And it's for fun, and we don't serve police officers here,'" she told Clarkson of the eventful evening. 
The night got even worse after the pair were thrown out of the nightclub, and they were reportedly arrested for impersonating actual police officers. Once in the police van, Fergie claimed that Diana got them into even more trouble when she started eating some potato chips she found in the vehicle, stating, "She just looked around and saw a smokey bacon-flavored crisp and started taking them and eating them. And the policeman in the front said, 'You can't do that!'" Clearly, being out on the town with Princess Diana was an unforgettable experience — plus, who else can brag that they once got apprehended by authorities with the former Princess of Wales?
She couldn't believe Prince Andrew wanted to marry her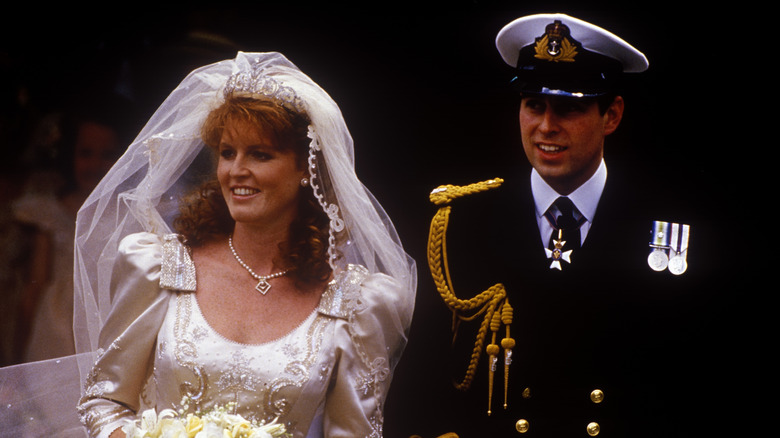 John Shelley Collection/avalon/Getty Images
Sarah Ferguson tied the knot with Prince Andrew in a fairytale ceremony at Westminster Abbey in London. However, the future Duchess of York apparently couldn't believe that she was marrying a prince, or that Andrew would choose her over his many other suitors. In her 1996 book "My Story" (via International Business Times) Fergie explained, "Why did Prince Andrew marry me, he could have married a lovely model, he had hundreds of models chasing him, but he married funny old me and that's because it was meant to be." 
Any initial insecurity seemingly floated away once the couple got closer to the altar, with Ferguson writing in her book, "All I knew is that I would go anywhere for love. I do believe in romance and that wonderful moment where you fall in love and you are just so with your man that you are like under the skin."
After welcoming their two daughters, Princess Beatrice and Princess Eugenie, the Duke and Duchess of York announced their separation in March 1992. Their divorce was finalized in May 1996, but the pair have remained close ever since. In fact, the Yorks still live together at Royal Lodge in Windsor, and their relationship appears to be perfectly amicable. In 2021, Ferguson even dispelled rumors that she might be about to remarry her ex-husband, telling The Telegraph, "All I can say is that we're happy with the way we are right now."
She had an epic feud with Prince Philip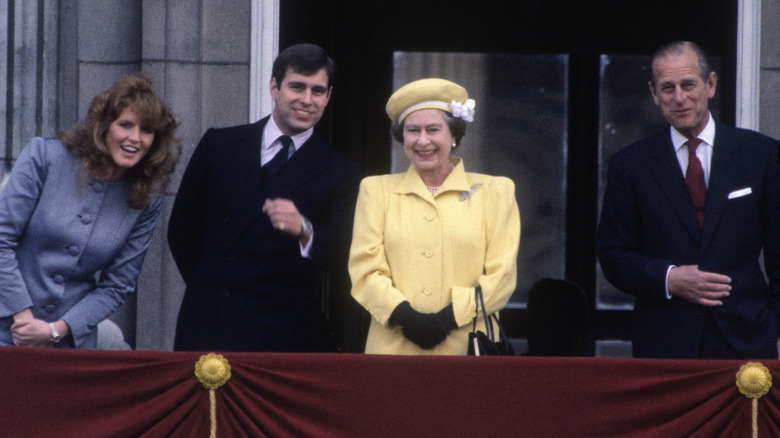 David Levenson/Getty Images
When Sarah Ferguson married Prince Andrew, she became a member of the royal family. However, that doesn't mean she was welcomed into the famous brood by every member of the family. Instead, Ferguson was apparently majorly disliked by Andrew's father, the late Prince Philip. In "The Final Portrait" (via Daily Beast), Philip's official biographer, Gyles Brandreth, appeared to confirm the rumor that Philip's disdain stemmed from a 1992 incident wherein she was photographed having her toes sucked by a man other than her husband — among other indiscretions that he allegedly felt brought shame upon the family. 
An undercover investigation by the News of the World in 2010 only worsened matters, after Fergie was caught on camera accepting an initial payment of $40,000 in exchange for access to Prince Andrew, per the Independent (she made a public apology and sources told the Mirror that Andrew promptly forgave her). 
In 2018, Ferguson scored an invitation to Prince Harry and Meghan Markle's royal wedding, but not everyone in the family was necessarily pleased with her attendance. "Prince Philip, who has always detested the Duchess of York, may never be in a forgiving mood," royal author Christopher Andersen told the Daily Beast of the invite. During a March 2023 appearance on the "Life's a Beach" podcast, Ferguson acknowledged how intimidating Philip could be, claiming, "You had to be on your best. If you asked a silly comment, you were certainly told it was a silly comment ... Terrifying!" 
Is there any romance between Fergie and Prince Andrew?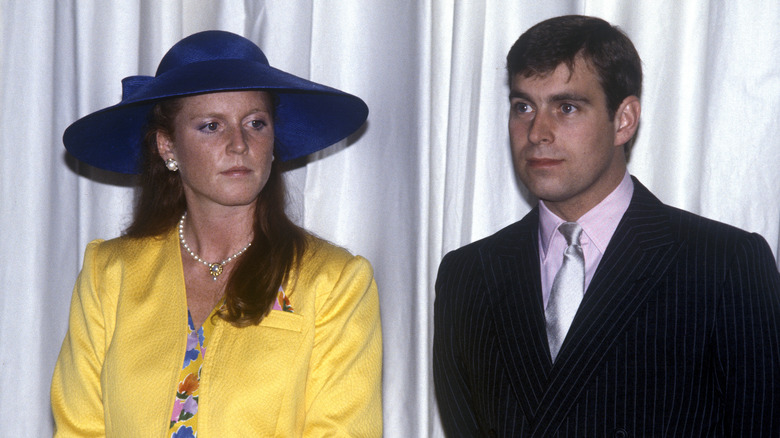 John Shelley Collection/avalon/Getty Images
Following their 1996 divorce, Sarah Ferguson and her ex-husband Prince Andrew remained close, even sharing the same residence whenever they were both in the United Kingdom. Over the years, rumors have swirled that the Duke and Duchess of York may get remarried, but not everyone is so sure that there is any real romance between the pair. In May 2023, the Express reported that the former couple has their own separate bedrooms at Royal Lodge in Windsor and that they're not particularly romantic with one another. 
However, Ferguson has often defended her close relationship with her ex-husband and the tight family unit they've created in spite of their divorce. In 2023, she told the Independent, "I married a wonderful, very kind, and a very good man. I fell in love with him. And therefore, nothing was unsurmountable." Earlier in the interview, she'd reasoned, "We're a very strong family unit. No one can break the York family." Regardless of whether they're romantically involved again following their 1992 separation, the Duke and Duchess of York appear to be on very good terms. Ferguson's support for her ex might be unconventional, but it clearly works for her family. Still, it remains unclear if Ferguson and Andrew are a romantically involved couple or simply super close exes.
Sarah Ferguson accepted money from Jeffrey Epstein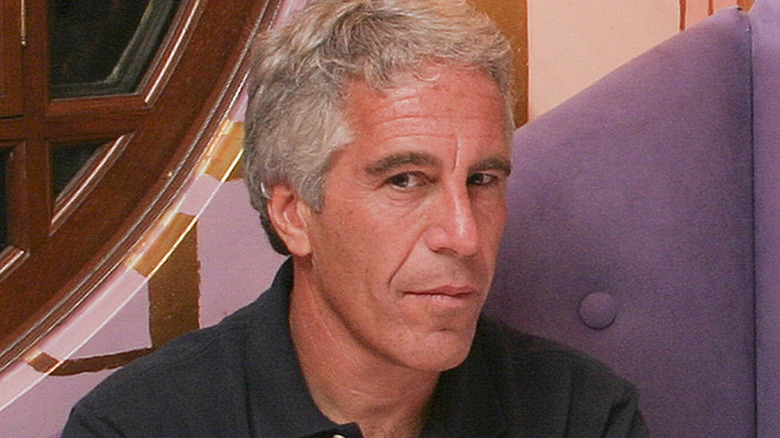 Rick Friedman/Getty Images
Prince Andrew's misguided friendship with the late convicted sex offender Jeffrey Epstein has made the royal the subject of some damning reports. In August 2021, Andrew was forced to take a step back from his public duties as a member of the royal family, and stripped of the military titles he once held. One of Epstein's alleged victims, Virginia Giuffre, even brought a civil lawsuit again the prince, alleging that he perpetrated sexual assault against her. Per BBC News, Andrew settled the lawsuit in 2022, reportedly paying out £12 million, which equates to approximately $14.8 million. While Prince Andrew's connection to Epstein has been explored at length, it's also been alleged that Sarah Ferguson once accepted money from the convicted pedophile. 
In 2011, The Telegraph reported that Ferguson had accepted £15,000 (approximately $18,500) from Epstein, which was paid to her personal assistant and orchestrated by her ex-husband. Responding to the shocking revelation, Fergie said via The Telegraph, "I personally, on behalf of myself, deeply regret that Jeffrey Epstein became involved in any way with me. I abhor pedophilia and any sexual abuse of children and know that this was a gigantic error of judgment on my behalf." The Duchess of York also promised to repay the money as soon as she could and confirmed that she wouldn't be associating with Epstein anymore. In August 2019, the disgraced financier was found dead in his prison cell. It was determined that he died by suicide.
If you or someone you know may be the victim of child abuse, please contact the Childhelp National Child Abuse Hotline at 1-800-4-A-Child (1-800-422-4453) or contact their live chat services.
If you or anyone you know is having suicidal thoughts, please call the National Suicide Prevention Lifeline​ by dialing 988 or by calling 1-800-273-TALK (8255)​.
Sarah Ferguson was estranged from Princess Diana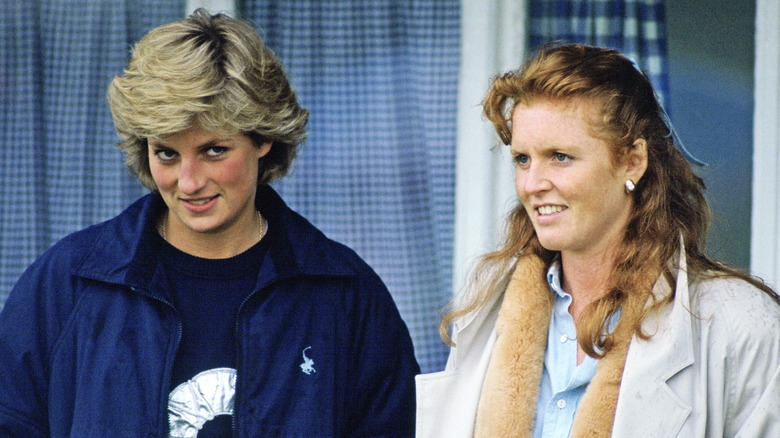 Tim Graham/Getty Images
As two women marrying princes in the British royal family just years apart, Princess Diana and Sarah Ferguson had a special bond. However, their friendship wasn't always smooth sailing, and Ferguson was unfortunately estranged from Diana at the time of her death in August 1997. The Princess of Wales died due to injuries caused by a car crash in Paris as her driver tried to flee from the paparazzi. In a 2007 interview with Harper's Bazaar, Ferguson opened up about the chasm between them, saying, "But because we were like siblings — actually, we were fourth cousins and our mothers, who went to school together, were also best friends — we rowed. And the saddest thing, at the end, we hadn't spoken for a year, though I never knew the reason." 
Tragically, the two duchesses weren't on speaking terms when Diana passed away, but Ferguson had apparently been attempting to mend the relationship. "I tried, wrote letters, thinking whatever happened didn't matter, let's sort it out," she told Harper's Bazaar. "And I knew she'd come back. In fact, the day before she died she rang a friend of mine and said, 'Where's that Red? I want to talk to her.'" Sadly, that conversation never happened, but it's clear that there was a lot of love between the late Princess of Wales and the Duchess of York, even if their friendship was going through a rough patch.  
She felt 'liberated' after the queen's death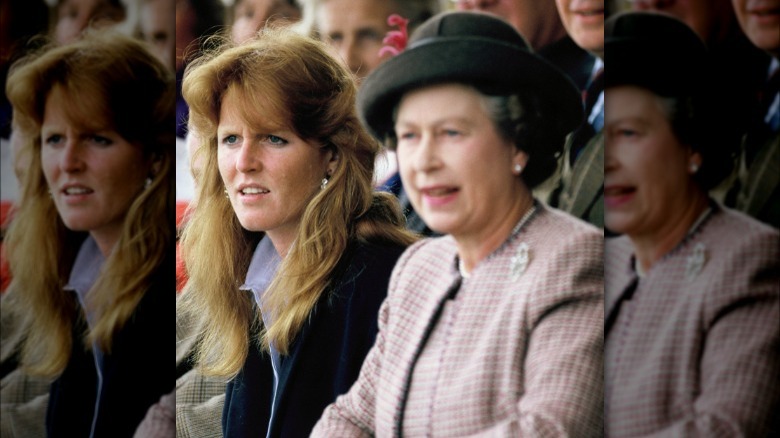 Georges De Keerle/Getty Images
Queen Elizabeth II passed away on September 8, 2022, following a reign lasting seven decades. Understandably, members of the royal family were shocked by the massive loss, and for some, her death required adjustments in their personal lives. During an appearance on "Good Morning America" in March 2023, Sarah Ferguson opened up about what her life was like since Queen Elizabeth II's death. "I feel liberated, and I don't know whether it's the queen passing on that I now think I can just sort of say openly what I want to say without worrying I'm going to offend somebody," she explained. "I'm really truly authentic Sarah now." 
Since the queen's death truly marked the end of an era, it makes sense that Ferguson would feel such a shift in her own life. In the aftermath, it was also announced that Prince Andrew and Ferguson would be caring for the late monarch's beloved corgis, Muick and Sandy. Meanwhile, a source told The Telegraph that Ferguson and the queen had remained close even after the Duke and Duchess of York divorced, having forged a wonderful bond due to their mutual love of dog walking and horse riding.
Sarah Ferguson is in her 'gran' era
Sarah Ferguson has raised two daughters: Princess Beatrice, who was born on August 8, 1988, and Princess Eugenie, born on March 23, 1990. Now in their thirties, both princesses have settled down and started families of their own. Eugenie married Jack Brooksbank on October 14, 2018, and the couple welcomed their son August on February 9, 2021. Their second child is due in 2023. Beatrice tied the knot with millionaire property developer Edoardo Mapelli Mozzi on July 17, 2020, and their daughter Sienna was born in September 2021. Beatrice is also a stepmother to Christopher "Wolfie" Woolf, Mozzi's son from a previous relationship.
Now that her daughters are all grown up, Ferguson has found herself enjoying life as a grandmother. "[My grandchildren] just follow me around like Peter Pan," she told People in March 2023. "I'm 'Super Gran Pan!'" She also revealed, "August is teaching me about trains," proving that she's a hands-on grandmother with her daughter's kids. With another grandchild on the way, Ferguson is about to find herself even more busy, especially when it comes to entertaining the little ones.
She was incredibly close to Lisa Marie Presley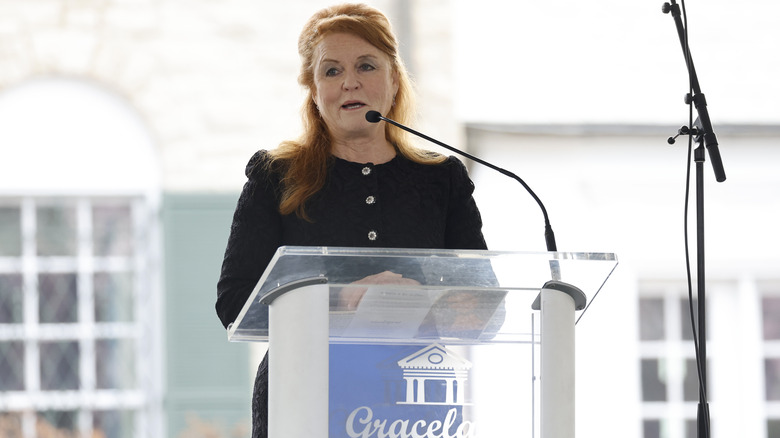 Jason Kempin/Getty Images
The world was shocked when news broke that Lisa Marie Presley, Elvis Presley's daughter, had died at the age of 54 in January 2023. Lisa Marie's family and friends made passionate tributes about the singer following her sudden and unexpected death. Sarah Ferguson took to Twitter to share her grief, having lost someone she considered to be a close friend. Sharing a photo taken with Lisa Marie, Ferguson wrote, "I say hello to you every day and I love you my sissy and I will continue to say hello to you every day. You were my sissy." 
Ferguson reportedly met Lisa Marie in 2009 in the United States, with the musician attending the duchess' 50th birthday party that year along with many other celebrities. The Duchess of York even spoke at Lisa Marie's funeral at the Graceland residence, paying tribute to her friend by saying, per Hello!, "We need to stoke our flames within to celebrate extraordinary Lisa Marie. I stand here with great honor because we called each other Sissy ... I've been here with you all for all your lives and I stand here with great honor. So, Sissy, this is for you with affection."
Sarah Ferguson has a lot of regrets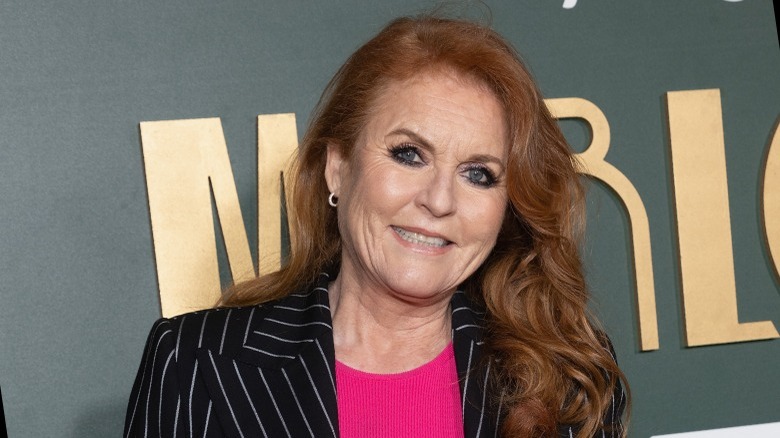 Jo Hale/Getty Images
Like anyone, Sarah Ferguson has regrets, and the Duchess of York has seemingly done a lot of self-reflection over the years. In 2011, she spoke to People at amFAR's annual Cinema Against AIDS gala, saying, "There are a lot of things I wish I had done differently ... But you don't get do-overs in life. You just have to move forward." While Ferguson didn't elaborate on her regrets, she did make some very relatable statements that will resonate with anyone who has contemplated their life choices. "I don't focus on the past because there's nothing I can do to change things," Fergie told People. "I have so much to be grateful for, especially my daughters."
Having lived much of her life in the public eye, Ferguson has often found herself criticized and scrutinized by the press. Despite facing judgment from the tabloids and having to justify many of her actions, the duchess has somehow managed to find positivity and move forward in new ventures. While that can't have been easy, she is living proof that it's possible to overcome your darkest days and emerge better for it. "I'm looking to the future," she told People.
Sarah Ferguson is not averse to plastic surgery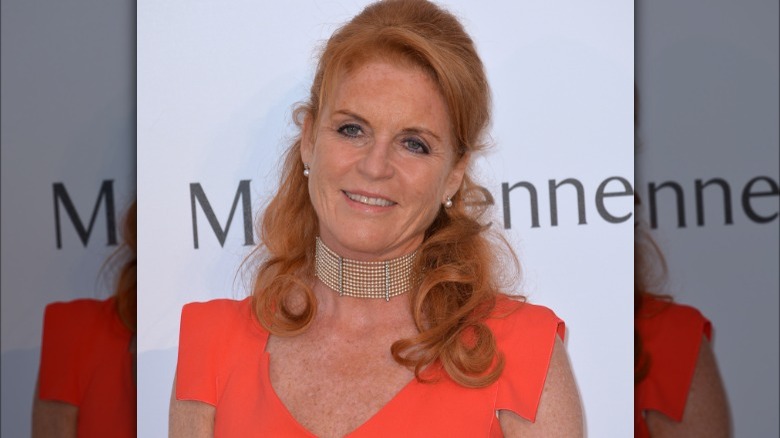 Featureflash Photo Agency/Shutterstock
Just like many of her peers, Sarah Ferguson has considered plastic surgery, and she isn't afraid to talk about it. During a 2023 interview with the Independent, she explained, "My mother [Susan Barrantes] never did do anything before she died. And she was a very handsome woman. And I have got to 63 and four people have come up to me and said, 'It's time for a facelift.'" 
In 2019, Ferguson spoke to the Daily Mail about some of the procedures she had done ahead of her daughter Princess Eugenie's wedding, which took place in October 2018. "Above all, it was being joyful for Eugenie that made me look good," Ferguson said of her appearance at the nuptials. "But I'd had some laser treatment on my face which helped, too." In particular, Ferguson pointed to Dr. Gabriela Mercik's 6-Dimension Ultimate Laser Treatment facelift, saying, "I've been her guinea pig with new treatments, too. I'm really happy to be open about what I've had done."
While speaking to the Daily Mail, the Duchess of York also revealed that she'd tried Botox in the past, but that she wasn't always a fan of the results. "I really don't like the frozen look," she told the publication. Ferguson's honesty about cosmetic procedures is refreshing, and this candor is exactly what makes the duchess so relatable.
She's made some impressive business deals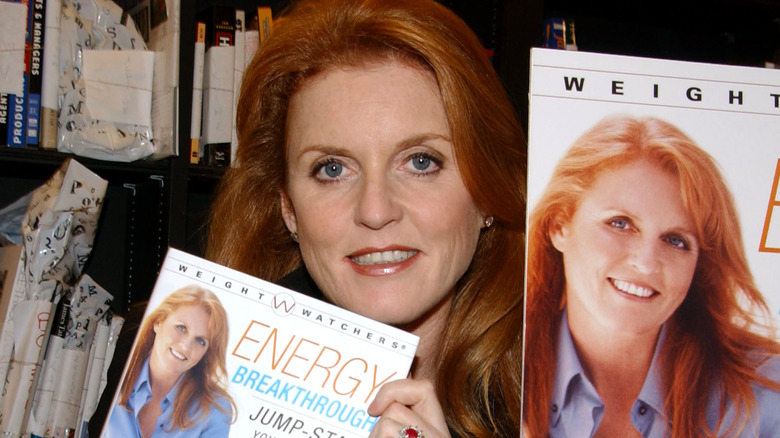 Sebastian Artz/Getty Images
Once she was no longer married to Prince Andrew, Sarah Ferguson needed to make her own money, much like Prince Harry and Meghan Markle have been seen doing since stepping down as senior royals. Throughout her career, Fergie has made some very lucrative deals with global companies, helping to promote some of the world's most famous brands. 
Following her 1996 divorce from Prince Andrew, Ferguson decided to become a spokesperson for weight-loss company Weight Watchers. Announced in January 1997, the deal was reportedly worth $1.7 million per year, and was inspired by Ferguson's awful treatment by the tabloid press who consistently coined fatphobic headlines about the duchess.
In 2018, it was revealed that Fergie was set to promote another weight-loss method, this time a ketogenic diet headed up by dietician Gianluca Mech. The Duchess of York also endorsed fine china company Wedgwood, which apparently netted her $750,000. Other endorsement deals and promotional opportunities followed, proving that Fergie is a relatable public figure that consumers trust.
Sarah Ferguson is a celebrated author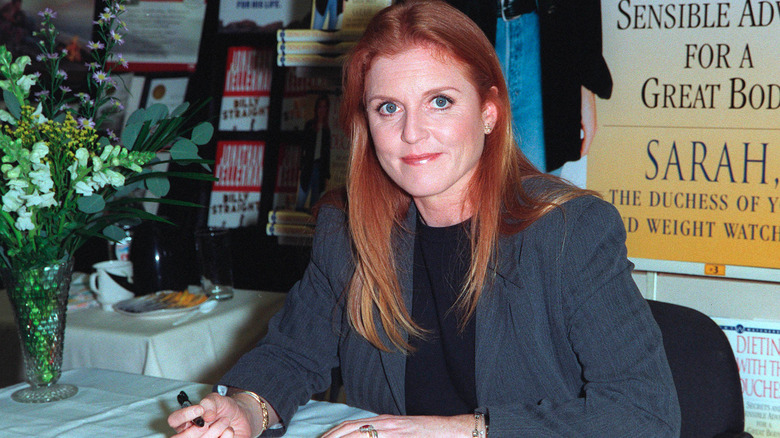 Featureflash Photo Agency/Shutterstock
Alongside her valuable endorsement deals, Sarah Ferguson has built a new career for herself outside of the royal family as an author. She started her writing career as a children's author, releasing "Budgie the Little Helicopter" in 1989, which was soon turned into a popular animated TV series. She has since released a plethora of books, including everything from autobiography "Finding Sarah" to the "Little Red" children's series.
In recent years, Fergie's success as a writer has only continued to blossom. For instance, in May 2022, Ferguson signed an incredible 22-book deal with the Australia-based Serenity Press to write a series aimed at young adults. In a statement to People, Ferguson said of the deal, "Young adults are perhaps the fastest-growing category of new fiction today. There's just something about adolescence ... that makes it the perfect backdrop for powerful storytelling." During a separate 2023 interview with People, Ferguson elaborated on her passion for writing thoughtful books for young people, saying, "I think that grief and loss and pain are issues that we really need to address very early on, and that's why I do all my children's books, of which I've written 48."
Meanwhile, Fergie's historical romance novel "A Most Intriguing Lady" was released in March 2023, and proved that the duchess is adept at writing for all audiences. With a huge back catalog and some amazing deals in the pipeline, Ferguson no longer needs to prove her talent when it comes to writing.
Sarah Ferguson cries at Hallmark movies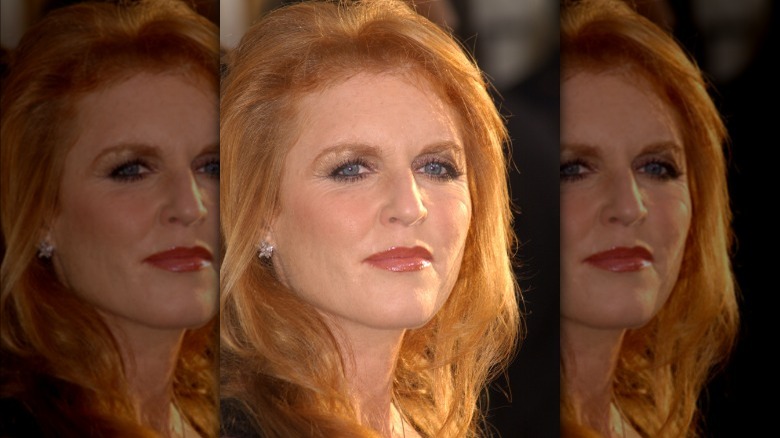 Featureflash Photo Agency/Shutterstock
While it might be hard to imagine a member of the royal family curling up to watch a romantic film on Hallmark, that's exactly what Sarah Ferguson likes to do in her spare time. During an interview with People to celebrate her new romance novel "A Most Intriguing Lady," Ferguson revealed, "I'm heavily into romance, and I love historical romance." She continued, "I cry at Hallmark, you know? Just mentioning Hallmark, I could cry. I love romance, and I love the beauty of love and joy and magic." Sometimes, royals really are just like us.
Ferguson elaborated on her love of Hallmark movies during an interview with Hello! in March 2023, saying, "I am deeply romantic. I cry at Hallmark films. My dream is to be in a cameo role in a Hallmark movie. I want to go and make gingerbread in a Christmas movie!" As a celebrated romance novelist and a member of the royal family, Ferguson would be the perfect fit to star in a Hallmark Christmas movie. If we had any say in the matter, we'd be finding her a role pronto!