Teresa Giudice Faces Backlash Over Daughter's Birthday Photo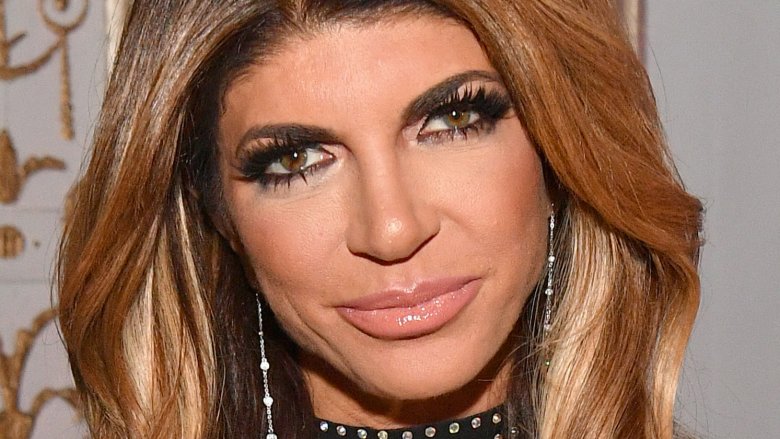 Getty Images
Real Housewives of New Jersey star Teresa Giudice is the latest celeb to face a nasty round of mom-shaming on social media.
When the reality TV star took to Instagram earlier this week to celebrate daughter Audriana's ninth birthday with a seemingly innocent photo, she probably never considered it'd create such a fuss.
"Happy Birthday to my beautiful @audrianagiudice8 hope you enjoyed your party today," Giudice wrote to her 1.3 million followers, captioning a snapshot of herself with her youngest child. Complete with heart and kiss emojis, the proud mom added, "Love you, Mommy #9 #friendsparty #happybirthday."
Unfortunately for the Bravo TV star, some fans took offense to the photo, claiming that Audriana — who wore a midriff shirt and makeup — wasn't dressed appropriately for her age. And while one person rationalized, "I do not see anything wrong with that top and maybe she is wearing makeup because [it's] her birthday" (via Page Six), the post was soon flooded with judgmental comments.
"Am I the only one creeped out that she's obsessed with making her little girls look like grown women?" one Instagram user asked, adding, "Something is NOT right there." Meanwhile, another person wrote, "This is disgusting, and wrong. This is a crazy world as it is, and you're not keeping her safe feeding her to the world like this. It's not fair this innocent child is learning how to sexualize herself, because you're teaching her that her physical appearance is how to get validation from others like you." In reference to Giudice's previous 11-month stint in prison on charges of mail, wire, and bankruptcy fraud, the commenter continued, "Would have thought you'd have more time to think about life and it's consequences in jail." Yikes.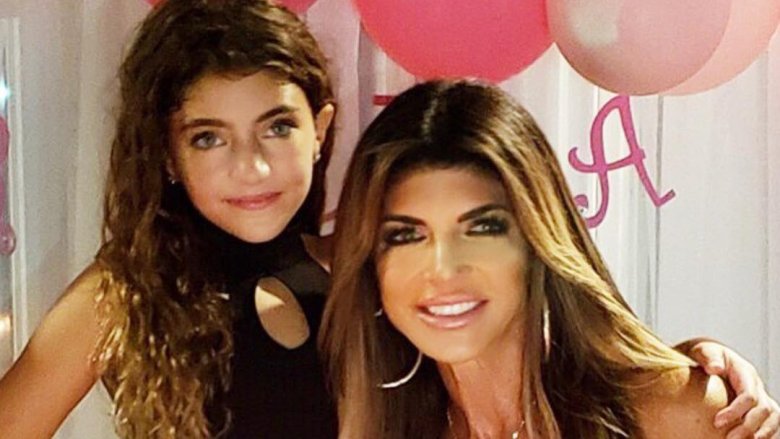 Instagram
At the time of this writing, Giudice has yet to publicly respond to these comments. Sadly, this isn't the first time the mom-of-four has faced serious hate online for sharing photos of her family on Instagram. As Nicki Swift previously reported, the 46-year-old was slammed in late August for similar reasons after posting a pic of her children out at dinner while vacationing in the Bahamas. Giudice also shares daughters Gia, Milania, and Gabriella with husband Joe Giudice, who is currently serving time behind bars. Thankfully, some fans came to her defense at the time, including one person who commented, "Your girls are all so beautiful. Despite it all you are doing an amazing job" (via Yahoo!).
Unfortunately, Teresa Giudice isn't the only celeb to be parent-shamed by anonymous social media users this year. Former Fixer Upper star Joanna Gaines was slammed by anti-vaxxers earlier this month after posting a snapshot of her youngest child, son Crew, with her husband of 15 years, Chip Gaines, at a routine doctor's visit. 
Meanwhile, fellow reality TV star Kendra Wilkinson has had to defend her parenting skills on multiple occasions amid her divorce from former football pro Hank Baskett. "I don't get the hate at all. We can sit here n judge all day but what good is that doing?" the Kendra on Top star fired back on social media following a round of criticism in June 2018. Noting that the former couple's children, 8-year-old son Hank IV and 4-year-old daughter Alijah, would be "devastated" to know what some online trolls said about their mom, Wilkinson added, "We are all doing the best we can. ... It's a shame that our kids have to grow up in a world of such harsh criticism."
In February of this year, singer-songwriter John Legend, who also shares two young children with supermodel wife Chrissy Teigen, was dad-shamed after posting a pic of himself carrying their 2-year-old daughter, Luna. While later reflecting on the admittedly odd backlash, he told Entertainment Tonight, "People, you know, I think people kind of — they see one photo and they want to make judgments about how people live their life." The recent EGOT winner went on to add, "I think the best advice for all of us is, let parents be parents and don't criticize based on what you see on social media."
We couldn't have said it better ourselves. Perhaps it's time for all of these parent-shamers to back off a bit before jumping to conclusions online.